Duke in Pics: Veterans Day Commemoration
Ceremony in front of Duke University Chapel on Friday draws a few hundred community members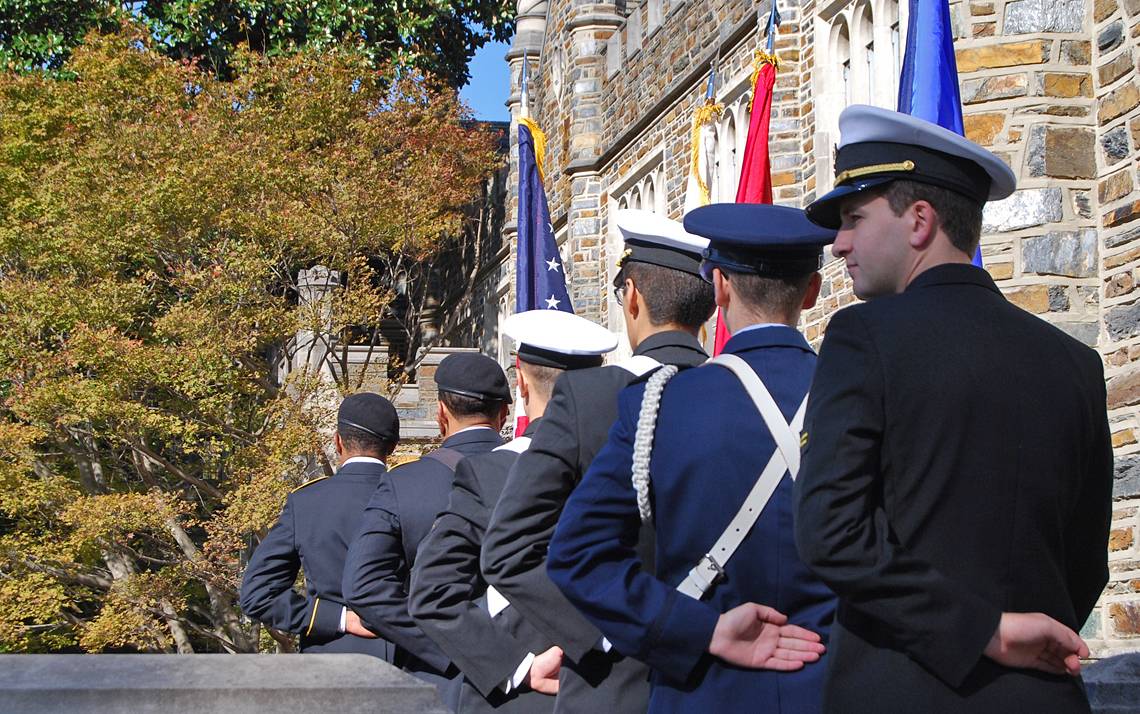 Duke honored military veterans Friday with music, pageantry and remembrances at the foot of Duke University Chapel. The half-hour Veterans Day commemoration drew a crowd of a few hundred people who watched silently under blue skies.
There are roughly 800 members of Duke's staff and faculty who identify as veterans.
"Today, we want to take a little bit of time to take a step back and to really reflect on the selfless service that each one of them has provided to this nation that allow us to enjoy the freedoms that we sometimes take for granted," said Kyle Cavanaugh, Duke's vice president of administration. "So on behalf of Duke, and for me personally, I want to extend my sincere thank you."
Here are some scenes from Friday ceremony.
Lt. Gen. Robert Yerks, left, and his son Gary Yerks, also an Army veteran, were on campus in advance of Duke's season-opening men's basketball game Friday night.
Robert Yerks has a long history with the Blue Devils' Hall of Fame coach Mike Krzyzewski. While working at West Point, Yerks was an advisor to the men's basketball program. At the time, Krzyzewski was playing guard for the team which was then coached by Bobby Knight.
Vietnam Veteran Phail Wynn Jr., far right, Duke vice president for Durham and regional affairs, delivered the keynote speech. Wynn is the son of a World War II veteran and the father of a member of the United States Marine Corps. He brought up that fact while speaking with Sgt. Carlos Aguilar, who is with the Duke Marine Corps ROTC, before the ceremony.
"My son's an active duty Marine," Wynn said.
"Oh! Where is he?" Aguilar responded.
Like any proud parent, Wynn whipped out his phone and the two shared a moment looking at photos.

After members of Duke's Air Force, Army, Marine Corps and Navy ROTC groups presented the flags, the event began with Duke a cappella group, Out of the Blue, singing the national anthem.
Luke Powery, Dean of Duke University Chapel, offered the opening prayer.
"As they have worked for peace, let us all strive for peace, remembering 'blessed are the peacemakers, for they will be called children of God,'" Powery said. "… Let our veterans know that their living was, and is, not in vain."
The event ended with Sterly Wilder, Duke associate vice president for alumni affairs, and Antwan Lofton, Duke assistant vice president for Staff and Labor Relations and Staff and Family Programs, leading a procession to a wreath-laying ceremony at Memorial Wall, which stands between Duke University Chapel and the Duke Divinity School.
"Let us take a moment to reflect on the freedoms we have," Lofton said.
Watch this video recording of Friday's ceremony: