The 2017 Halloween Photo Contest Winners Are …
This year's Blue Devil Halloween Photo Contest received nearly 75 submissions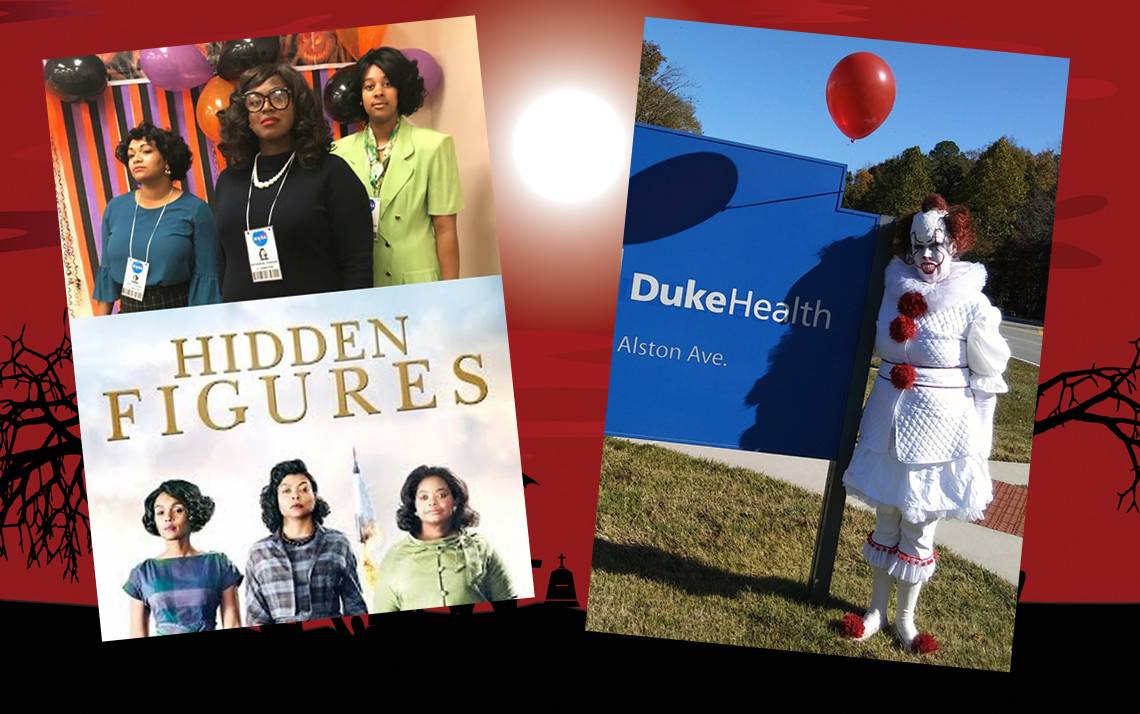 The costumes were spooky, kooky and goofy. Thank you to Duke staff and faculty for submitting pictures in the 2017 Blue Devil Halloween Photo Contest. This year's competition saw nearly 75 entrees, which garnered nearly 3,800 likes in total.
Without further ado, here are the winners.
Individual Winner: Stephanie Polewczak
This one was an early front-runner for spookiest of the bunch, and voters agreed by selecting it as the favorite individual costume.
Stephanie Polewczak, a patient account associate with Patient Revenue Management Organization (PRMO), won with 186 likes on Facebook as of 1 p.m. Friday. She dressed as the clown "Pennywise" from the movie "It." In her photo was a red balloon, which marks the demonic clown's presence.
"It was so much fun driving to work," Polewczak said. "I had my station wagon filled with red balloons. I found out later in the day that someone told my sister-in-law that she saw me on her way to work and freaked out."
Team Winner: Ashley Eli, Katherine Jordan and Theresa Alston-Williams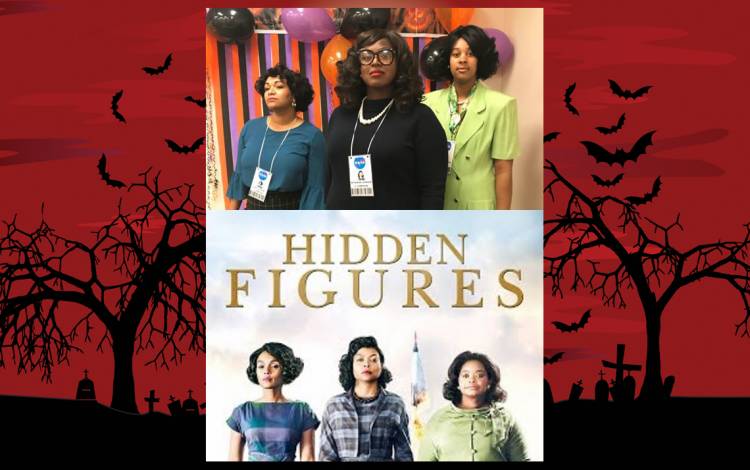 Ashley Eli, Katherine Jordan and Theresa Alston-Williams, with Performance Services in Duke Health, won the group category for dressing up as Mary Jackson, Katherine Johnson and Dorothy Vaughan, the NASA workers depicted in the 2016 movie "Hidden Figures." They received 357 likes for their photo.
"The three of us didn't have a costume the day before Halloween," said Theresa Alston-Williams, who dressed as Jackson. "We felt it was important to portray them because they were such a dynamic and powerful group of women in history. Hopefully, our costumes have inspired more people to go out and see the movie or read the book."
Polewczak and the Duke Health Performance Services team will receive coffee mugs decorated with their winning photos.
In addition to the public vote, prizes will be awarded for spookiest and most creative costumes. Working@Duke judges picked those winners, who will each receive a bag of chocolate candy.
Spookiest: Michala Ritz
Michala Ritz, a clinical research specialist in Genitourinary Cancers, gets the "spookiest" prize. Ritz dressed up in a green jump-suit with white polka dots, wore a red wig and painted on clown make-up. In her submission, she held a pumpkin with a white mask similar to Jason's in "Friday the 13th." Simply put, a combination of clowns and one of film's scariest characters is a terrifying combination.
"I will find you," the photo caption read.
Most Creative: Tied
Dogs Playing Poker: Daniel Griffin, Lesley Jones, Allison Belan and Ashley Postlethwaite
The Duke University Press' Strategy & Systems team is comprised of Daniel Griffin, Lesley Jones, Allison Belan and Ashley Postlethwaite. They dressed up as the painting "Dogs Playing Poker" by donning dog masks and attaching to themselves green tables with a poker set, cigars and cups. The attention to detail pushed this group photo to the top.
Imperator Furiosa: Tyler Lee
Tyler Lee, a program coordinator for Duke Institute for Brain Sciences, dressed as the "Mad Max: Fury Road" character Imperator Furiosa. She created the character's robotic arm and mimicked her oil-stained forehead while posing next to a semi-truck. Her submission looked magazine ready and was a worthy replica of actress Charlize Theron's character.
Congratulations, everyone.
View all 2017 submissions by visiting the Working@Duke Facebook album.