Seeking Faculty Excellence Through Development and Diversity
New vice provost Abbas Benmamoun's mission is to help faculty succeed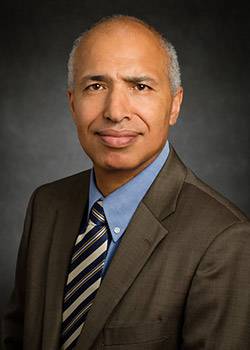 Abbas Benmamoun understands the value of education and finding talent in places where it's not expected. He understands it in a way particular to someone who came out of a small community in the mountains of Morocco.
That vision is central to his new role as Duke's vice provost for faculty advancement. Since arriving in July from the University of Illinois, Benmamoun has met with faculty and administrators across the campus with a simple message but a complex task: To maintain and enhance excellence, Duke must continue to recruit, support, and retain the best talent from the greatest variety of backgrounds.
"The success of this office must be measured by the success of the university," Benmamoun said in an interview in his office on the first floor of the Allen Building. "We want to create an environment where the best faculty can succeed. We want them to be willing to come here and be reluctant to leave."
His appointment culminates a three-year effort that started with a faculty task force on diversity recommending creation of a position tasked with increasing faculty diversity and providing greater support for all faculty.
That combination of tasks attracted Benmamoun, who had spent more than 20 years at Illinois as a linguistics scholar, chair, school director, associate provost, and vice provost for faculty affairs. He said he was happy at Champaign, but Duke's approach of pairing diversity with excellence "is essential to a university's success."
"This is one of the reasons why I came here," said Benmamoun, who also has a faculty appointment as a professor of linguistics. "When you have diversity on your team, you are more innovative, more likely to succeed. When you have diversity of experiences, background and expertise, the team is richer for it.
"This position is configured in a way that the university can make it work. Diversity efforts have the best chance of success if they permeate every aspect of the infrastructure. They are usually not effective if you try them as an add-on or as something separate."
The vice provost position was created from a desire to strengthen faculty excellence, with diversity and inclusion as critical components, but also to provide more resources for all faculty members attempting to balance research, teaching, and service. The need is particularly acute for junior and mid-career faculty members.
We're thrilled that he is here," said Emily Klein, a Nicholas School professor who was a member of the steering committee member of the Academic Council's task force that wrote the 2015 report on faculty diversity. "We believe his vision for the office will help us achieve the diversity and advancement goals we set out in the task force report, and I'm excited that he's looking to build momentum and partnerships in units across the university."

Some of the office's work will be in coordination with Vice President Benjamin Reese and the Office of Institutional Equity. On faculty development, Benmamoun said the office will offer a clearinghouse of best practices and resources and will work in partnership with schools and departments to develop advancement programs tailored to the unit's specific needs.
Where there are issues that reach across units, he said he expected his office to take the lead and bring people from across the university to discuss related challenges.
The office will work with units to strengthen faculty development programs and resources, including mentoring programs, career development programs, and leadership development programs for unit leaders. "We will offer a number of programs and resources. For example, we will annually organize an orientation for our new faculty to introduce to them to the campus and its community. New faculty are the lifeblood of a robust and dynamic academic community and Duke's New Faculty Orientation is one of the many ways that we can provide access to key resources and programs available to assist every new faculty member in having a thriving and successful career at Duke. We will also organize programs throughout the academic year focused on junior and mid-career faculty to provide them with the resources to succeed here at Duke and continue to innovate in their research and teaching."
Benmamoun said retention is too often a missing piece of universities' faculty advancement efforts, particularly on the front end, well before a faculty is on the job market and entertaining competing offers.
There is intense competition out there for top talent and you want to be in a position to recruit and retain the best, he said. "As a leader, you want to make sure you recruit strong faculty and then hold on to them and help them succeed," he said. "It takes a lot of energy, effort and resources to recruit a faculty member. It's painful when you lose key faculty, not just because you are losing a key member of your team, but your students and other faculty colleagues miss out, and you've expended resources and have to start over."  
But Benmamoun said he is also prepared to challenge faculty members as well.  He echoed recent comments from Trinity College Dean Valerie Ashby that faculty have to be prepared to teach in classrooms filled with a more inclusive student body.
"This is something I have already been talking about with others on campus," he said. "How do we work with faculty to make sure our learning environments – and the word is plural to include the many places of learning outside the classroom -- are inclusive? Faculty have an important role in helping open educational doors for students who might not have thought that Duke is for them.
"The great thing that is clear to me is that faculty members are willing, even eager, to do this. Our role now is to make sure they have the knowledge and resources to do that."
Opening educational doors is one of the interests that drives Benmamoun in his work. His own success was aided by many mentors, the most valuable of which were his own parents.
For the past four months, he's conducted a listening tour with various constituencies around the university. He's also started hiring staff. Marnie Rhoads is director for faculty research mentoring and recognition, and Sherilynn Black, current assistant professor of the practice in medical education and Ph.D. director of the Office of Biomedical Graduate Diversity, will join shortly to direct faculty diversity efforts.
"People have already been very generous with their input and willingness to help," he said.  "I prefer people to be direct and frank. That is how we make progress.
"And what I'm telling them is that we are here to help faculty. The university leadership is very committed to this effort, starting with Provost Kornbluth. She is putting tangible resources behind this."
The resources are supporting two new faculty hiring initiatives, said Benmamoun. The Strategic Hiring for Faculty Excellence provides units with financial support to hire underrepresented faculty.  A Visiting Scholar Initiative will bring in both promising and senior scholars from underrepresented groups to campus to work with faculty and students for a semester or full academic year.
In addition, a new seed grant program offers departments funds to either launch or strengthen faculty advancement initiatives within their units.
"Most of all, what I'm hearing makes me optimistic. I am realistic about the challenges we face, inside and outside the university, but I can sense a readiness among the faculty and others, to make progress, to make this an even better institution across our teaching, research and service missions."