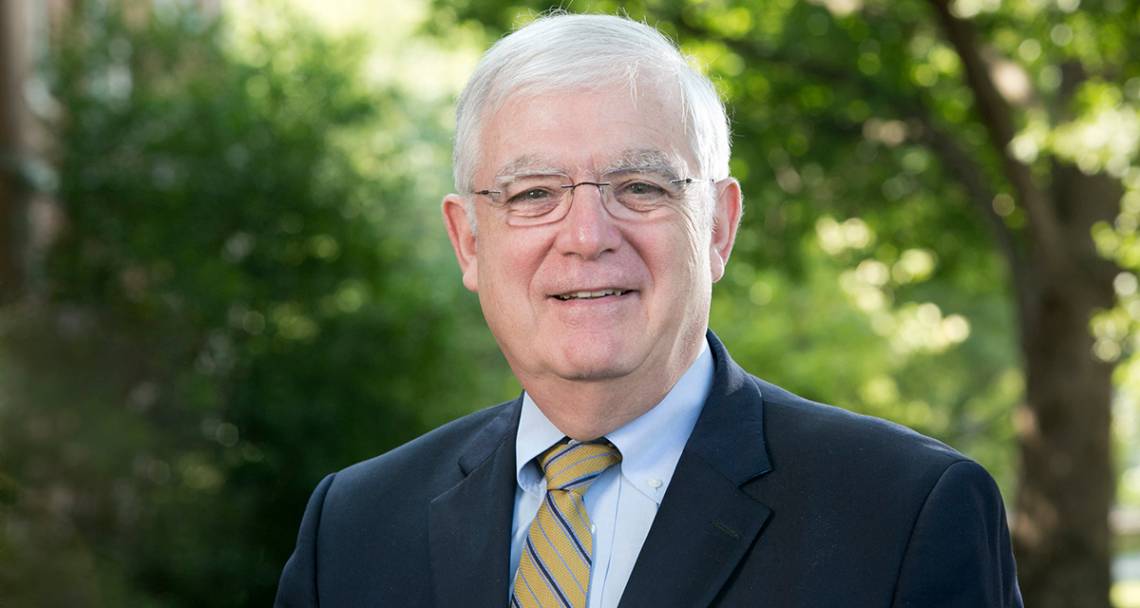 Duke's Vice President and Vice Provost for Global Affairs Michael Merson spoke today (Monday) in Washington, D.C., on the history of the global response to HIV/AIDS. The program took place at the Center for Strategic and International Studies' (CSIS) Global Health Policy Center and focused on the future of global AIDS programs.
The talk unveiled Merson's recently published book "The AIDS Pandemic: Searching for a Global Response," coauthored with Stephen Inrig, professor at Mount Saint Mary's University and a Duke alumnus. The work details the 36-year history of HIV/AIDS and the controversial efforts to stanch the spread of the disease. 
On why international organizations reacted so late to the discovery of AIDS, Merson said: "We did not act on it, for at least four or five years. There's a critical moment in 1986, when the representative from Uganda at the World Health Assembly, steps up, in front of a very hushed audience and tells the world that Uganda has AIDS."
Much of the initial AIDS epidemic responses in the early 1980s were hampered by homophobic and post-colonial rhetoric that distracted from the principal issue at hand, Merson said. But the international organizations such as the World Health Organization and the United Nations also quarreled over how to tackle the disease. "There were real conflicting views at the time on the strategic approach to AIDS: Was it a health issue, biomedical issue, development issue or a human rights issue?" Merson said.
As the founding director of the Duke Global Health Institute (DGHI), Merson has led the growth of Duke's global health portfolio, curriculum and international engagement. He still holds an appointment with DGHI as the Wolfgang Joklik Professor of Global Health. 
Merson started his career as the chief epidemiologist at the Cholera Research Laboratory in Dhaka, Bangladesh, in the 1970s. In 1978, he joined the World Health Organization (WHO) as a medical officer in the Diarrheal Diseases Control Program. And in May of 1990, he was appointed as director of the WHO Global Programme on AIDS.
Though not without its controversy, the WHO program charted territory for the future not just for AIDS treatments but also for infectious disease coordination and response. "We provided support to 120 countries," he said. "Many would say that was the greatest achievement because many of these countries didn't even know where to start in mounting an AIDS program."