Honoring Excellence in Nursing Care
Friends of Nursing program honors 36 of Duke's top nurses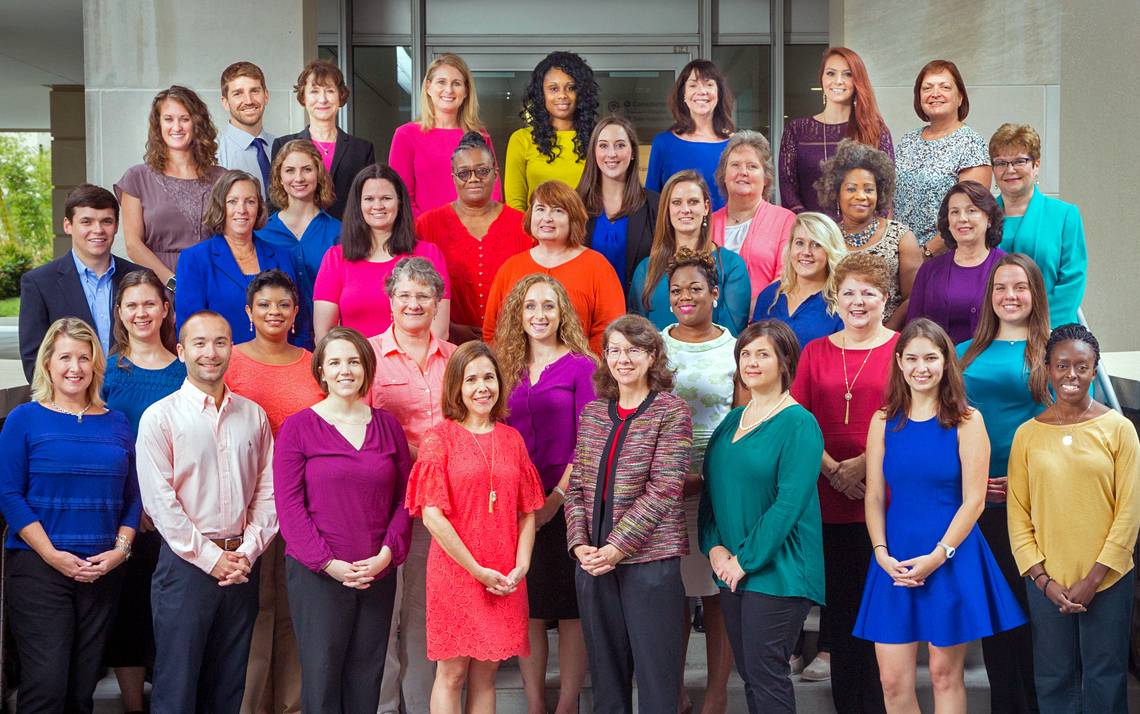 The Friends of Nursing will honor 36 of the top nurses across Duke Health System with Excellence Awards.
The Excellence Awards are presented at the Nursing Excellence Gala, which is November 4 at the Durham Convention Center. Award winners – who were nominated by patients, family members or colleagues – receive $1,000, a Friends of Nursing Pin and an engraved trophy.
"Our annual Nursing Gala, which is supported by Friends of Nursing, provides us with a wonderful opportunity to showcase nursing excellence," said Mary Ann Fuchs, vice president of patient care and system chief nurse executive for Duke University Health System. "At the November 4 event, we will celebrate all Duke Nurses, recognize the 213 nurses who were nominated for the 2017 Excellence Awards, and honor the 36 award recipients on stage."
In 1988, Martha White Blalock, a Duke patient, and her husband, Dan S. Blalock Jr., envisioned a program to support the exceptional nurses who were caring for them. After his wife's death, Mr. Blalock donated funds to begin Friends of Nursing as a way of thanking Duke Nurses for the excellent care they provide.
Since its inception, Friends of Nursing has sponsored professional development opportunities, such as seminars and Nursing Grand Rounds, funded scholarships for continuing education, financially supported learning and research dissemination, and recognized outstanding nursing practice.
Here are this year's winners:
Agnes S. Ali-Osman, BSN, RN-C, Clinical Nurse II
Duke Birthing Center
Duke University Hospital
Award for Excellence in Women's Health Nursing
Emily Bowen, BSN, RN, CMSRN, Clinical Lead
General Medicine Unit 8100
Duke University Hospital
Mary Ann & Robert H. Peter Award for Excellence in Nursing Practice
Debra Brooks, RN, CMSRN ,Clinical Nurse II Medical/Surgical/Dialysis Unit 5-1
Duke Regional Hospital
Duke Regional Hospital Medical Staff Award for Excellence in Nursing Practice
Susan D. Bruce, MSN, RN, OCN, AOCNS
Clinical Nurse Specialist
Duke Cancer Center Raleigh
Evelyn Morgan Award for Excellence in Oncology Nursing Practice
Abigail Buechner, BSN, RN, Clinical Nurse II
Neuroscience Stepdown Unit 4100
Duke University Hospital
Janet H. Clapp Award for Excellence in Nursing Practice
Joanne Carey, MHA, BSN, RN, PCCN, Clinical Nurse IV
Progressive Care Unit
Duke Raleigh Hospital
Hill-Rom Award for Excellence in Nursing Practice
Zachary Cockerham, BSN, RN, CEN, Clinical Lead
Emergency Services
Duke Regional Hospital
Durham County Hospital Corporation Board of Trustees Award for Excellence in Nursing Practice
Kimberly S. Davis, BSN, RN, CCRN, Clinical Nurse IV, and Family Education Champion
Intensive Care Nursery
Duke University Hospital
Terry L. Johnson Award for Excellence in Pediatric Nursing
Kimberly Denty, MSN, BA, RN, CPPS
Associate Vice President
Accreditation, Patient Safety and Clinical Site Development
Private Diagnostic Clinic
Nurse Research Mentor Award
Ladonna Dotson, LPN
Medical Licensed Practical Nurse
Duke Children's Specialty of Raleigh
Private Diagnostic Clinic
Award for Excellence in Nursing Practice, LPN
Sammee Everling, BSN, RN, CMSRN, Clinical Nurse III Medical/Surgical/Dialysis Unit 5-1
Duke Regional Hospital
Durham County Hospital Corporation Board of Trustees Award for Excellence in Nursing Practice
Samantha A. Fann, BSN, RN, Clinical Nurse II Medical/Surgical/Dialysis Unit 5-1
Duke Regional Hospital
Duke Regional Hospital Medical Staff Award for Excellence in Nursing Practice
Greg Flynn, BSN, RN, CCRN
Clinical Lead
Cardiothoracic Intensive Care Unit DMP 7 West
Duke University Hospital
Watson Family Award for Excellence in Patient and Family Education
Janice Fortman, BSN, BA, RN-BC, Nurse Manager
Aesthetic Services
Private Diagnostic Clinic
Wilma Minniear Award for Excellence in Nursing Mentorship
Mary Beth Gallo, BSN, RN, CDE, Diabetes Nurse Clinician
Diabetes Education Department
Duke Specialty Rehab Services Midtown
Duke Raleigh Hospital
Award for Excellence in Nursing Education
Heather Hackler, RN, CEN, Clinical Nurse IV
Emergency Department
Duke Regional Hospital
Duke Regional Hospital Medical Staff Award for Excellence in Nursing Practice
Maya Jackson, RN, CHPN, Clinical Nurse II
Home Hospice
Duke HomeCare & Hospice
Drew Award for Excellence in Hospice Nursing Practice
Brett Winters Jordan, BSN, RN, CEN, Clinical Lead
Emergency Services
Duke Regional Hospital
Duke Regional Hospital Medical Staff Award for Excellence in Nursing Practice
Doreen Knedlik, BSN, RN, CCM Case Manager
Rehabilitation Unit 7300
Duke Regional Hospital
Hill-Rom Award for Excellence in Nursing Practice
Kay Lytle, DNP, RN-BC, NEA-BC, CPHIMS, FHIMS Chief Nursing Information Officer
Duke University Health System
Clinical Associate
Duke University School of Nursing Award for Excellence in Nursing Leadership
Kimberly Mangum, BSN, RN-BC, Nurse Clinician
Duke Cardiology at SouthPoint
Private Diagnostic Clinic
Nan & Hugh Cullman Heart Center Award for Excellence in Nursing Practice
Linda Martin, RN, Clinical Nurse IV
Neurology/Oncology Unit 5-3
Duke Regional Hospital
Duke Regional Hospital Auxiliary Award
Kim McLeod-Estes, RN, CCRN, Clinical Nurse III
Medical Intensive Care Unit DMP 6 East
Duke University Hospital
Ernestine Davis & Edward L. Cole Award for Excellence in MICU Nursing
Evelin McPherson, BSN, RN, CMSRN, Clinical Nurse III Medical/Surgical/Dialysis Unit 5-1
Duke Regional Hospital
Duke Regional Hospital Medical Staff Award for Excellence in Nursing Practice
Kristin Merritt, MSN, MBA, RN, NE-BC, CCRN
Director, Neuroscience Service Line
Duke Raleigh Hospital
Myra Smith Maddocks Award for Excellence in Medical Surgical Nursing
Anna R. Nishimwe, BSN, RN, Clinical Nurse II
Intensive Care Unit
Duke Regional Hospital
Duke Regional Hospital Medical Staff Award for Excellence in Nursing Practice
Danielle Raya, RN, OCN, Clinical Nurse IV, Radiation Oncology Clinic Duke Cancer Center
Duke University Hospital
Edward & Florence O'Keefe Award for Excellence in Oncology Nursing Practice
Laura Shpak, BSN, RN, PCCN, Clinical Nurse III
Cardiothoracic Stepdown Unit 3300
Duke University Hospital
Nan & Hugh Cullman Heart Center Award for Excellence in Nursing Practice
Whitney Taheri, BSN, RN, CNOR, Clinical Nurse III
Surgical Services
Duke Raleigh Hospital
Award for Excellence in Perioperative Nursing
Dustin M. Tart, BSN, RN, CCRN, Clinical Nurse III
Cardiac Intensive Care Unit 7700
Duke University Hospital
Ernestine Davis & Edward L. Cole Award for Excellence in Coronary Care Unit Nursing
Kaitlyn Taylor, BSN, RN, Clinical Nurse II
General Medicine Unit 4300
Duke University Hospital
Norma L. Harris Award for Excellence in Nursing Practice
Gigi Thomas, RN
Ambulatory Care Lead Nurse
Duke Asthma, Allergy and Airway Center
Private Diagnostic Clinic
Hill-Rom Award for Excellence in Nursing Practice
Laryssa Thompson, BSN, RN, CCRN, Clinical Nurse IV
Intensive Care Unit
Duke Regional Hospital
Award for Excellence in Critical Care Nursing
Anna Turner, BSN, RN, PCCN, Clinical Nurse III
Cardiothoracic Stepdown Unit 3300
Duke University Hospital
Heart Center Award for Excellence in Cardiovascular Nursing in Recognition of Mary Ann Peter
Nicole Voelker, BSN, RN, CEN, Clinical Nurse II
Emergency Department
Duke University Hospital
Medtronic Physio-Control Award for Excellence in Emergency/Trauma Nursing
Stephanie Yates, MSN, ANP, CWOCN, Nurse Practitioner
Center for Advanced Practice
Duke University Hospital
Inez "Turk" James Award for Excellence in Nursing Practice