HackDuke Students Explore Their Computing Skills With 48 Hours of Coding for Good
This weekend, more than 400 student hackers representing about 23 schools across the nation spent 48 hours coding for good – with the occasional break for a Nerf gun war.
HackDuke, one of the largest student hackathons in the Southeast, is held annually throughout Duke's engineering campus. This year, HackDuke's eclectic atmosphere featured hedgehogs to cuddle and a Tesla smart car available for hacking.
While student hackathons are common, HackDuke unusual is its focus on social good. All student projects are required to address a different "track" for civic good – inequality, energy and environment, health and wellness or education.
Junior Yoon Ko, a computer science major and a volunteer leader in past events and served as a mentor and adviser to the HackDuke organizational team this year. He said it's been great to watch the HackDuke team grow.
"HackDuke holds a very special place in my heart because it was my first exposure to hacking culture," said Ko. In fact, it was the first activity he was involved in at Duke.
Maya Messinger, a sophomore computer science who was this year's logistics lead, said that she has found an amazing community in HackDuke.
"HackDuke gave me purpose by allowing me to focus on something that I enjoy and that is meaningful," she said.
HackDuke also holds educational events year-round, including Ideate, a design thinking conference held each spring. It welcomes hackers of all skill levels and provides space and support for beginning hackers.
Nick Turecky and Sara Behn, two Duke first-years and beginner hackers, teamed up with two other students to create their hack. Both decided to attend HackDuke to sharpen their skills as they continue to work their way through introductory computer science courses.
They worked on an inequality-track web app designed to pair the needs of homeless individuals and shelters with community members who want to help.
"That's the plan," Turecky said on Saturday afternoon. "As for execution, we'll see how far we get."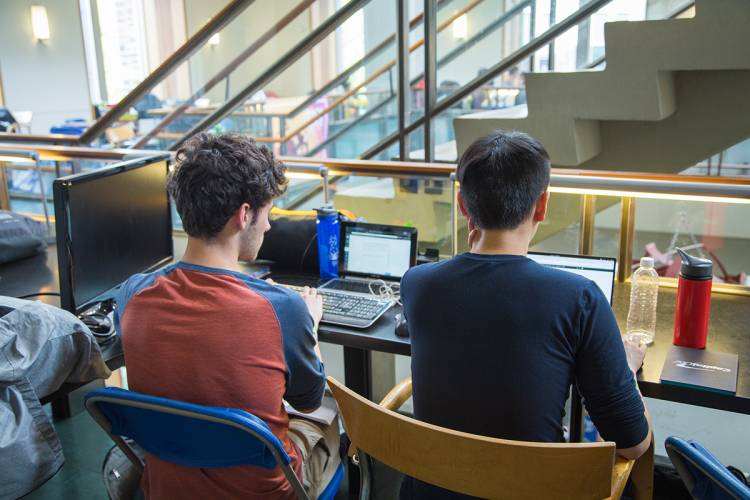 UNC-Chapel Hill sophomores Julia Tian and Michelle Sun worked on a project for the health and wellness track. They envisioned an Android app that would feature an interactive display to help people learn about common brand-name drugs and improve health literacy.
"Because we're both computer science majors interested in pre-med, we're very interested in the intersection between the tech and medical fields," Tian said.
It is ideas like this that keep Ko returning to HackDuke.
"I love that HackDuke provides an opportunity to be creative, to learn and to achieve something over a weekend," he said.
Winners for HackDuke 2017 include: