Duke Inventors Show How Their Ideas Came to Market
First Invented at Duke celebration underscores interest in translating discovery into invention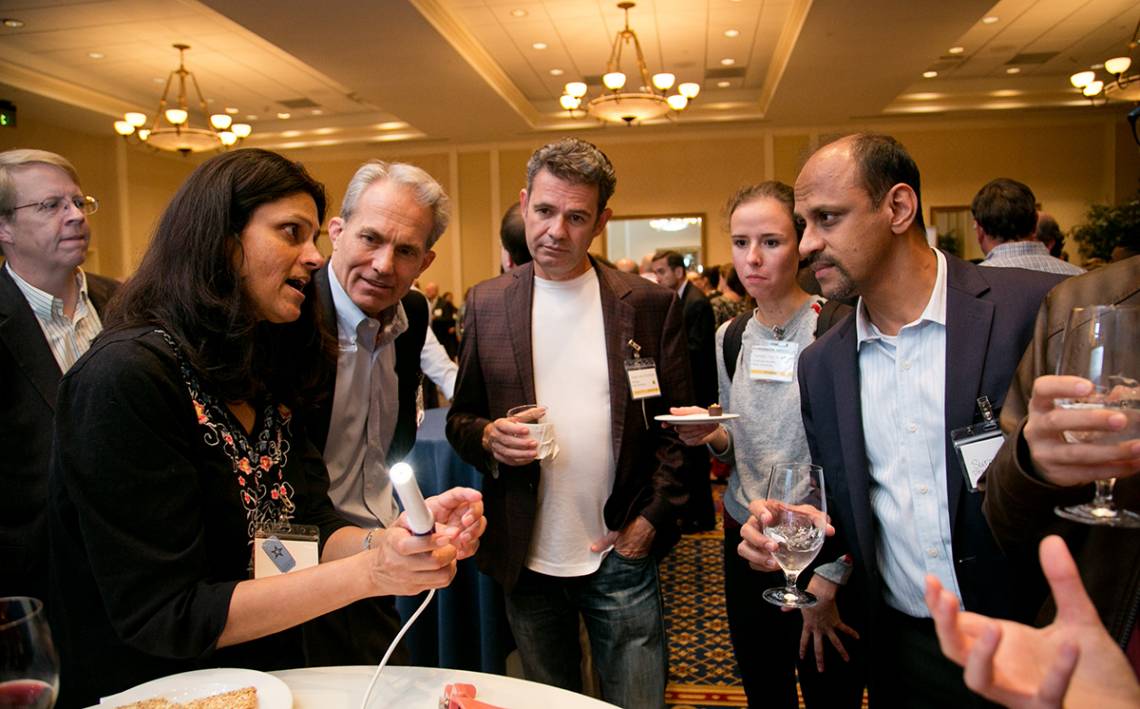 Duke University's inventive spirit was on display Monday, and university officials are hoping that researchers will have more to show in the coming years.
Students, staff, faculty and alumni were joined by community inventors, investors and entrepreneurs for a gathering of more than 300 people celebrating invention and innovation across the university's campus.
The event, which organizers plan to hold annually, was held at the Washington Duke Inn and co-hosted by Duke's Office of Licensing and Ventures and the Duke Innovation & Entrepreneurship Initiative.
Invented at Duke was started to celebrate the university's efforts to create innovations that have a positive effect on the local community and society as a whole. This year, Duke OLV recorded more than 300 new inventions, 85 patents and 11 startups come out of its office.
In remarks at the session, President Vince Price said he was excited to see the Duke community thinking creatively about how to solve the world's problems.
"Commercialization turns discovery into invention, enabling Duke researchers to fulfill our institution's mission of bringing knowledge to bear in service to society," Price said.
Price also encouraged Duke scholars from across the university to promote further growth in innovation and commercialization.
"As we see firsthand here this evening, we are having particular success in clinical innovation and commercialization," he said. "I want to expand that sort of thinking to every discipline at Duke. Earlier this month, I called on the entire university community to rethink the way we teach and conduct research and to shift our academic model to focus on problem-based learning and discovery. I believe that this new approach will lead to many more discoveries and inventions here on campus."
Robin Rasor, executive director of OLV and architect behind the event, said she's seen progress showing that Duke is on its way to this expansion across diverse fields.
"While Duke has been quite successful with pharmaceutical products on the market such as Myozyme and Krystexxa, we are pleased with the increase in a wide variety of new innovations disclosed to the office," Rasor said. "OLV is focusing on improving our services for innovators and entrepreneurs to ensure that Duke innovations reach the marketplace for the betterment of society."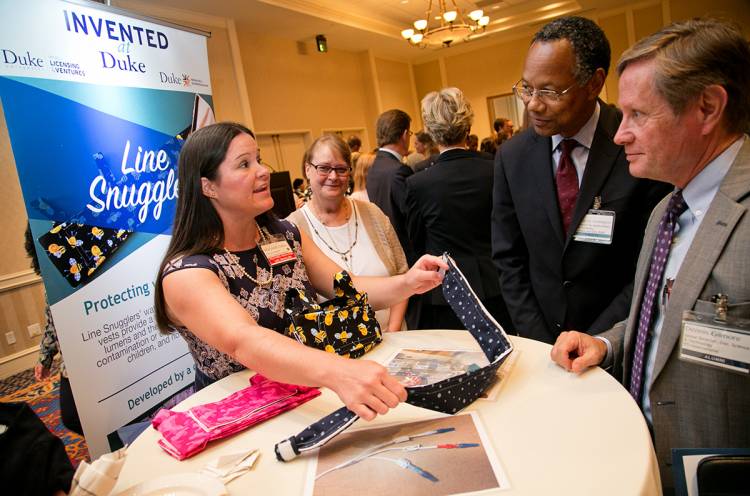 Kip Frey, interim director of Duke I&E, added that Duke's "entrepreneurial ecosystem is expanding exponentially."
"We are anxious to collaborate with departments across the university to help our innovators translate their ideas into products," Frey said. "We're also excited to expand our partnership with OLV and other university support organizations in this effort."
Price also complimented Duke's connections to the surrounding entrepreneurial community.
"One of Duke's greatest advantages is that we're sitting in the heart of one of the most innovative regions in the United States, and we have built strong relationships with private sector financial and research organizations here in North Carolina and throughout the world," Price said.
"We provide resources to connect researchers with regional partners with deep experience in bringing similar products to market and students with mentors in the social entrepreneurship space. Many of these partners are here this evening. We're doubling down on that commitment with the development of the Innovation District in downtown Durham, which will provide new opportunities for collaboration and commercialization."
Seven featured innovators staffed booths to tell visitors about their innovations at Invented at Duke:
InnAVasc Medical Inc. – A medical device company founded by Duke surgeons and scientists. The company's first technology is a vascular access graft with self-sealing technology to reduce the potential for complications during dialysis.
Lumedica – A team of engineers led by Chief Scientist Adam Wax from the Pratt School of Engineering. Wax's team has developed a new low-cost optical coherence technology (OCT) scanner, which takes images of eyes used to look at eye health. Lumedica could dramatically extend the impact of the imaging technology by making it more affordable, accessible and easier to use.
Line Snugglers – Developed by Duke clinical nurse Marybeth Tetlow, these waterproof sleeves or adjustable vests with waterproof sleeves protect and organize central line lumens and their connected IV tubing.
POCKet Colposcope is a highly portable cervical cancer screening solution to be used at the community-level setting. The technology was developed by Nimmi Ramanujam and her team at Duke's Global Women's Health Technologies Center. Cervical cancer affects the lives of 500,000 women worldwide each year and results in more than 270,000 deaths. The POCKet Colposcope brings a small, easily cleaned and highly usable device to many low- to middle-income countries.
Encapsio was developed in a Duke lab by Wyatt Shields. Fuqua MBA students Nick Kirsby and Wes Day sought out Shields' technology for a startup idea when they saw the potential for a product that is cost-effective, scalable and easily brought to market. The company is developing a system of manufacturing premium silicone microspheres for the encapsulation, protection and controlled delivery of active ingredients in product formulations. With the ability to encapsulate and deliver a variety of compounds, these spheres offer a broad range of applications – such as inks, paints, pesticides, drugs, etc.
Deep Blue Medical Advances Inc. is a startup company founded by Duke plastic surgeon Dr. Howie Levinson. The company has been advancing a T-line mesh, an object used in surgeries that uses mesh instead of traditional sutures, which often tear into tissue. The T-line mesh has several applications, including hernia surgery. The company is also working on a suture anchoring device to overcome large suture knots associated with wide sutures.
kelaHealth started as a research project at Duke and then spun out into a startup company. It is a software-as-service health informatics company founded by a team of surgeons, statisticians and engineers that uses machine learning for predicting complications during surgery. Through rigorous data analysis, kelaHealth delivers precision medicine by leveraging data from millions of patients, standardizing surgeon variability and addressing administrative and regulatory needs for quality compliance in surgical care.