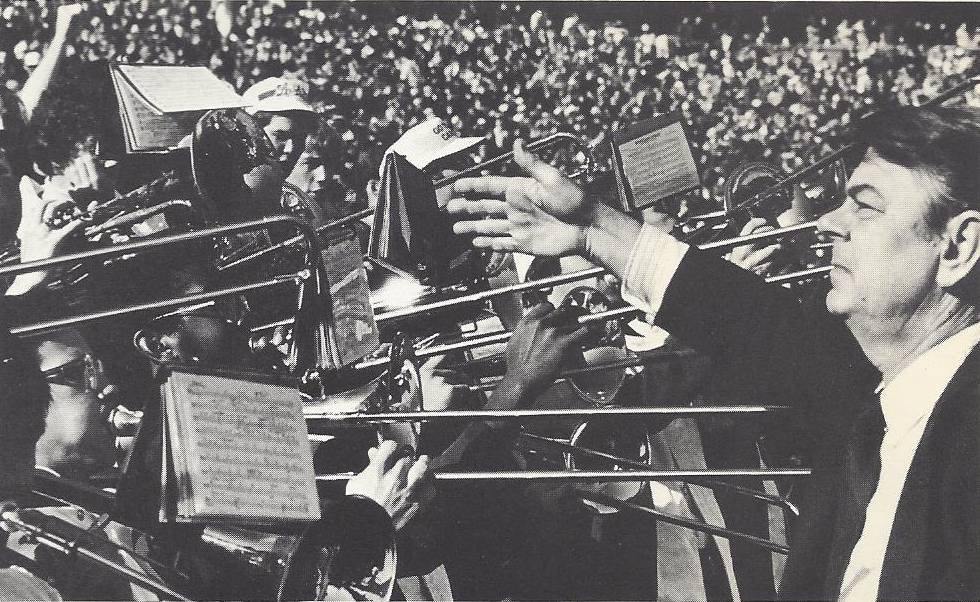 James "Jim" Donald Henry, the director of Duke Athletic Bands from 1960-1985 and on faculty until 1998, died on Friday, Oct. 20.  He was 84 years old.
Henry was born in Kingsport, Tenn., on August 14, 1933.  His parents were J.L. "Lon" and Doris Henry.  He graduated from Bristol Tennessee High School in 1951.  He attended Western Kentucky University where he earned a Bachelor's of Science degree in Instrumental Music and Music Education.  He served in the US Army for two years, as an instructor in the 4th Band Training Unit at Ft. Chaffee, Arkansas. After his time in the service he attended Indiana University where he earned a Masters in Music in woodwinds.
Henry was hired in 1960 by Duke University to be the marching band director.  The band continued to perform field shows at all home football games, and eventually began playing basketball games as well.  In 1962 Henry started the first modern-day style basketball pep band east of the Mississippi. Today the Duke Pep Band remains much as it was under Henry's tenure and is a prominent part of the Duke basketball game experience.  In addition to Duke Athletic Bands he taught woodwind classes and directed Hoof-n-Horn. He was the Director of Undergraduate Studies and Assistant Chair of the Music Department for 13 years.  He was affectionately known by his students and the Duke community as Coach Henry.

After retirement, Henry followed his passion of genealogy and traveled to his family roots in Virginia and Tennessee.  He wrote two books; John Henry Sr. (d.1828) of Scott County, Virginia and His Descendants and Bolton, Chase and Remine Families of Upper East Tennessee and Their Descendants.
Henry is survived by his daughter Dina Hester and her husband James of Durham; son Brett Henry of Mebane; grandson Daniel Henry of San Antonio, TX, granddaughter Blake Henry of San Antonio, TX, and great-grandson Aiden Gonzales of San Antonio, TX.
According to Henry's wishes, there will be no public funeral. 
In lieu of flowers, donations may be made to Duke Athletic Bands in his memory. Checks can be made out to Duke University, stating the gift is being made in the memory of James Henry to support Varsity Club – March Band/Pep Band (code 3995406)
Send checks to:
Duke University
Alumni and Development Records
Box 90581
Durham, NC 27708
Online donations can be made at:  www.gifts.duke.edu