Duke in DC hosted a half-day forum Oct. 17 for congressional staffers in which Duke faculty members and other scholars presented research and offered comments on policy solutions for the opioid crisis.
The program was the second installment of Duke in DC's Beyond Talking Points, an off-the-record seminar series tackling upcoming legislative issues. Aimed predominantly at Hill staffers, the program provides a "master class" on complicated policy topics.
Drug overdose deaths are the leading cause of accidental death in the U.S. with over 52,000 overdoses in 2015.  According to the American Society of Addiction Medicine (ASAM), the overdose death rate in 2008 was nearly four times the 1999 rate. By 2012, 259 million prescriptions were written for opioids, roughly one prescription for every American adult.
With millions of opioid scripts, legal and illegal pills roiling medicine cabinets, and a record loss of life, many feel a conversation on Capitol Hill is overdue.
Duke Assistant Professor Nicole Schramm-Sapyta began the forum with a presentation on the biological mechanisms of addiction and overdose. Jon Zibbell of Research Triangle International (RTI) then joined her for a discussion on trends, reactions, and the science behind the opioid epidemic.
The conversations ranged from telemedicine for rural Appalachia and pill quotas, to Hepatitis C outbreaks, needle exchange programs, rehabilitation methods, and the bio-psycho-social factors of addiction.
Schramm-Sapyta, chief operating officer of the Duke Institute for Brain Sciences (DIBS), spoke on the science of the multifaceted causes of addiction. She said brain chemistry is not the single determining factor of addictive behavior but part of a matrix of factors driving individuals to seek escape and emotional release.
In a video interview with Duke in DC staff after the conference, Schramm-Sapyta discussed the nuances of addiction as a complex phenomenon.
"We need to treat the underlying social causes of addiction," Schramm-Sapyta said. "People who are depressed, people who are anxious, people with untreated ADHD, are all more likely to develop addiction when they experiment with a drug of abuse." 
One of the challenging elements of the current opioid crisis is the balance between legitimate and illegitimate opioid use, panelists said. Medical professionals routinely prescribe opiates for chronic pain and have a use-case for continuing the prescription. With four in five new heroin users starting with prescription painkillers, the path to opioid abuse often begins with legal pills.
Once patients become addicted to pain pills, they find themselves seeking other avenues to continue that level of stimulation and may shift into black or grey pill market economies.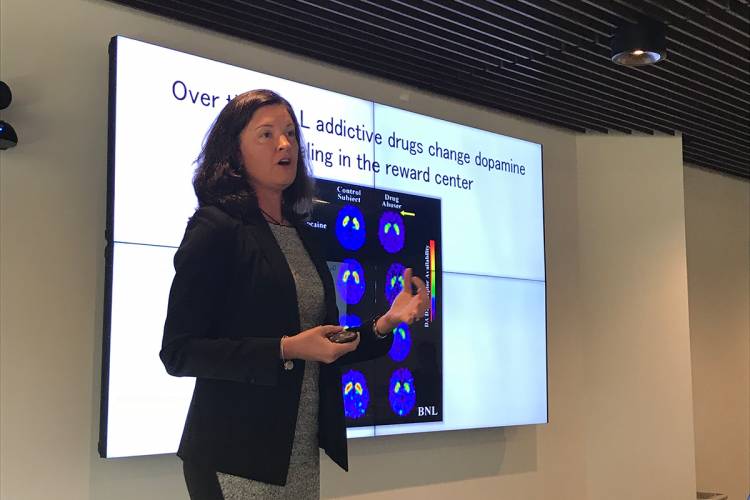 According to one panelist, it is now easier in some high schools to get heroin than pills or marijuana. Users can order fentanyl online over the dark web from China and have it arrive at their doors in a few days.
Substance abuse may calcify with an opioid addiction but begins with a long history of disadvantages suffered during childhood such as physical or sexual abuse, loss of a parent, living in an 'unwelcoming' home, growing up with alcoholic or substance-abusing parents. The point Schramm-Sapyta emphasized was that tackling the opioid crisis required looking at the societal mechanisms of addiction.
In an interview after the forum concluded, Schramm-Sapyta said the central point of the forum was that mental health services are a pervasive need in society. "People need a reason to do something every day other than get high and escape their problems." People will always search for vices and escapes from the stresses of life, but the quantity and frequency of people seeking escape via opioids warns of a greater story, she added.
The 500,000 opioid-related deaths in America from 2000 to 2014, now surpass the combined deaths in World War II, Korea, Vietnam, Afghanistan, Iraq, and Operation Inherent Resolve.