Duke's Piece of Pasadena
Roses at Brooks Field at Wallace Wade Stadium provide living connection to part of Duke football history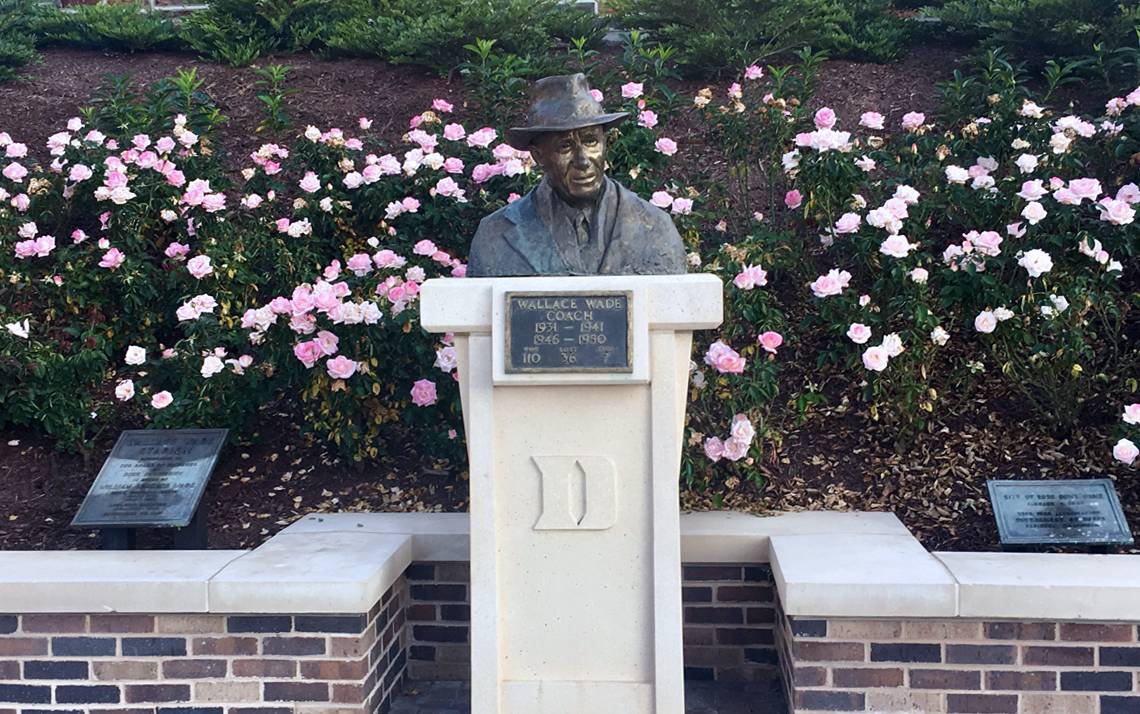 As you enter the north end of Brooks Field at Wallace Wade Stadium, you pass by a bed of pink roses. The 56 rose bushes that surround a bronze bust of former Duke football coach Wallace Wade add a colorful burst to the newly renovated Bostock Gate.
They also harken back to one of the high-water marks of the Duke Football program and one of the quirkiest events in college football history.
Called "Tournament of Roses," the variety of rose is named in honor of the Pasadena Tournament of Roses Association, which produces the annual Rose Parade and Rose Bowl Game.
Traditionally held on New Year's Day in Pasadena, California, the game has only been played elsewhere once. And that place was here at Duke in 1941.
"We have that mystique of being the only other stadium to host a Rose Bowl, so we're going to have roses in the stadium," said Scott Thompson, the grounds superintendent for Duke Facilities Management who oversees West Campus.
The story of the roses begins in the fall of 1941, when Wade's Blue Devils team went 9-0 in the regular season and earned a spot in the Rose Bowl for the second time in school history. But on December 7, 1941, Japanese bombers attacked the U.S. Naval Base in Pearl Harbor.
Originally, the Rose Bowl was called off for fear that the thousands who came out to watch would make for an attractive target for another attack. But after Duke offered to host the game, the decision was made to move it to Durham.
On January 1, 1942, in front of roughly 56,000 fans in what was then known as Duke Stadium, the Blue Devils lost 20-16 in the only Rose Bowl played outside of its traditional home.
Fast forward more than seven decades to last year, when Duke neared the final stages of its comprehensive renovation of Brooks Field at Wallace Wade Stadium. The plans for the reworked Bostock Gate called for the Wade bust to sit among roses.
"At the time, in the initial design, there was no specification of what kind of rose it was," Thompson said.
While searching for an appropriate rose variety, Thompson was told about the "Tournament of Roses" strain, which was developed in 1989 by William Warriner – who the Los Angeles Times once called the "Superstar of Rose Breeding."
Making the decision to use these roses in the stadium was easy. But finding them, wasn't.
"It's not like driving to Home Depot and finding them," said Duke Landscape Architect Mark Hough. "You have to source them. They're not commonly found in nurseries, so it was not as easy as most things we buy."
Duke, working with nurseries, was able to get 56 "Tournament of Roses" bushes grown from clippings. After several months in greenhouses, the roses were planted outside of Brooks Field at Wallace Wade Stadium earlier this year.
Thompson said the bushes are still young, but they're adjusting to their new home. And with roses scattered throughout West Campus – most notably at the top of Chapel Drive – Thompson said he's confident Duke's Landscape Services staff will make sure they thrive and continue to provide a colorful living link to one of the biggest events ever to happen at Duke.
"It's a good piece of Duke football history," Thompson said.