Ready to Play Ball
Home to Duke's newest team, the Blue Devils' softball stadium comes to life on East Campus with the first game Sept. 30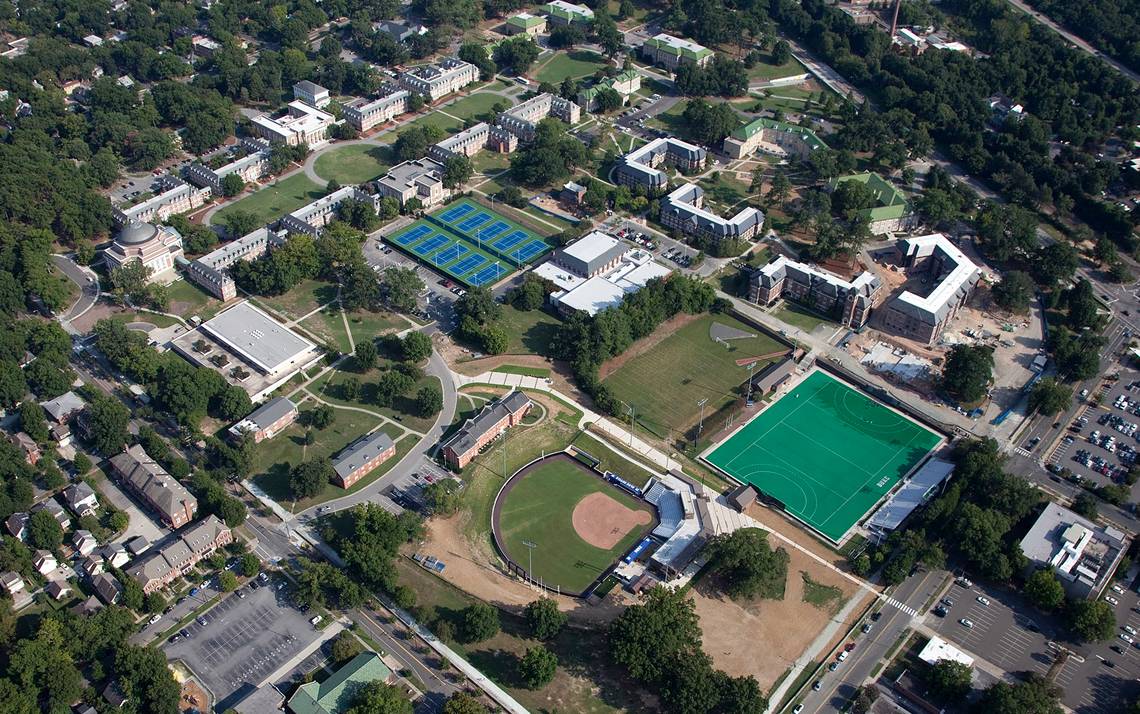 One of the first things Duke softball coach Marissa Young took note of when her program's new stadium started taking shape on East Campus was its proximity to the Bivins Building.
Looming on a grassy bank beyond the right field fence, the two-story brick Bivins Building is close enough to be a tantalizing target for power hitters, leading Young to playfully warn that home runs might put windows in danger.
"It's going to take something special to get up that far," Young admitted.
Regardless of whether a Blue Devils player banks one off Bivins, which is about 300 feet away, Duke's newest varsity sport can look forward to making many memories in its new home, which opened its doors to the team in late August. While the first official game is in the spring, the Blue Devils will celebrate the birth of the program and the opening of the stadium on September 30, when they host North Carolina State in the first of eight fall exhibition games.
EwingCole architecture firm, which has been involved in stadiums for the New York Giants and Jets, Philadelphia Phillies and universities like Monmouth, George Mason and Drexel, designed the stadium. Romeo Guest and Associates broke ground on the project in May 2016.
Built on a sandy substructure to aid drainage, the field is blanketed in Latitude 36 Bermuda grass. The stadium will feature three indoor batting cages, a locker room, team room, athletic training area, conference room and press box. It has seats for 500 fans and can hold around 1,500 with the help of the grassy embankment that surrounds right field.
"It's going to be a big selling point for us," Young said. "It's a brand-new facility. Everything we need, from our locker room to our team space is right there at the stadium for the student athletes. Over the last couple of years, the challenge was to recruit to a vision. I'm thankful that so many kids and families believed in that vision. So to see it and touch it and walk through the building that will be theirs is obviously going to speak volumes."
Adjacent to Williams Field at Jack Katz Stadium, home to Duke's field hockey program, the softball field at the Broad Street-West Markham Avenue intersection features restrooms that can serve both facilities and creates a women's sports complex.
"There were real synergies with bumping it up against the field hockey stadium and combining facilities a little bit there," said Senior Deputy Director of Athletics Chris Kennedy. "And we think the location is better for spectators and students."
But the amenities that likely reside closest to Young's heart are the ones she picked out herself. Hired in 2015, Young was able to provide input on some of the features the players will experience.
"She's the first coach, this is going to be her facility," said Steve Carrow, project manager with Duke Facilities Management. "To have her input, her likes and dislikes, it's been great. It's much better than just building something cookie-cutter and then someone coming in and having to deal with it."
Young's fingerprints can be found in the indoor batting cages, which feature nets that can be easily rearranged to create a variety of training spaces and large doors, which can be opened on nice days. A self-described "neat freak," she also made sure the dugout had under-seat storage bins for bags and gear and desks for players to watch games and take notes.
"It's been incredible," Young said. "It's been a great opportunity to think about how things are going to function for our student-athletes. Sometimes it was a little overwhelming to think about how decisions you make are going to be long-term. It was really important for me to think it through and get it right the first time around."