OLLI Convocation Celebrates 40 Years of Adventures in Lifelong Learning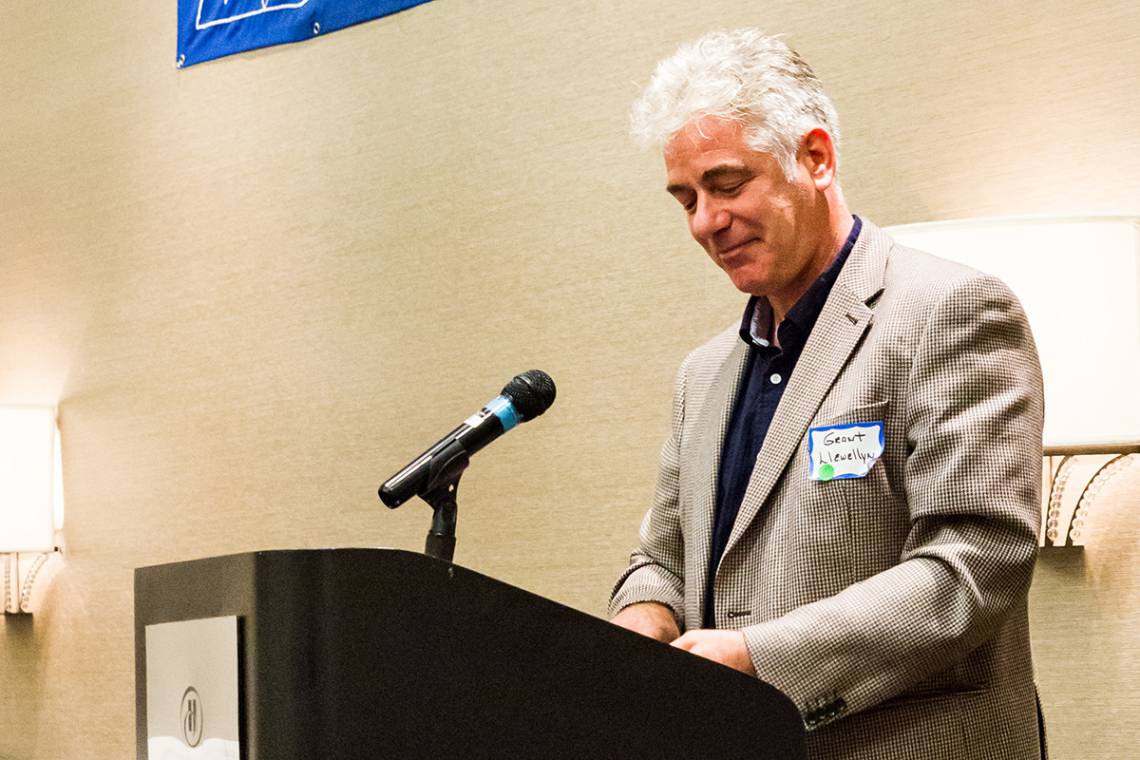 More than 350 local residents celebrated the 40th anniversary of the Osher Lifelong Learning Institute (OLLI) at a festive convocation in a ballroom of the Durham Hilton Sunday.
What began in 1977 as the Duke Institute for Learning in Retirement (DILR) with 47 people signing up for 12 courses to keep intellectually active in retirement is now a landmark of the Triangle. OLLI, a non-degree program of Duke Continuing Studies and Summer Session, today serves more than 2,200 members, with a typical growth rate of six percent a year. There are 160,000 members in the OLLI national network of programs.
The institute was founded by former Continuing Education director Jean O'Barr with the assistance of sociology professor George Maddox. OLLI at Duke is one of about 400 lifelong learning institutes for older adults affiliated with U.S. colleges.
At the anniversary reception, OLLI Director Garry Crites said the program now comprises a group of world-class instructors offering a "continuing education worthy of the Duke name." OLLI members are still dreaming as they seek to build programs and serve all of the Triangle region, Crites added, including under-served neighborhoods.
Guest speaker Grant Llewellyn, music director of the North Carolina Symphony, interwove stories from his love of music and soccer, which he described as "the everyman sport, the beautiful global game" that he played as a student at Cambridge, including against a visiting Chelsea team in a special 1981 exhibition.
Both a soccer match – with 22 players employing their feet – and a symphony concert – with some 200 players almost exclusively using their hands -- are similar, he said, in that they "happen live, in the moment," and are successful when they entertain through both individual precision and effective teamwork.
OLLI past president Jack Gartner, who introduced Llewellyn, noted that OLLI has always offered many music classes, including 10 this semester—from "Guide to Local Jazz" to "How a Symphony Works."
To coax the best performances from talented young musicians representing a "whole spectrum of personalities," Llewellyn said he mostly takes a collegial approach in pushing them to "blend and bend with the ensemble."
Harpist and OLLI instructor Winifred Garrett performed at the program while the Ciompi Quartet performed Schubert's Cello Concerto.
As the program moves into a new decade, OLLI officials and members look for new directions. While OLLI at Duke has succeeded in growing, it is not becoming more diverse. In comments prepared for the anniversary, former Continuing Studies Director Judith Ruderman, who served as director of Continuing Studies at Duke when the Bishop's House became the institute's home, called for better outreach to minority and underrepresented groups.
Sara Craven, who served as director from 1987 to 2007, noted that of the original 42 members of DILR, OLLI's forerunner, five were African- American, a higher percentage than today. "It has always been a goal to be a learning community for all," she wrote for the anniversary celebration. "We have much to learn from each other."
Steve Thaxton, executive director of the National Resource Center of the Osher Lifelong Learning Institute, located at Northwestern University, offered welcoming remarks at the ceremony. Afterwards, he said that almost all of the 120 OLLIs across the country have diversity goals and recognize the benefit of giving their members "a more worldly view."
All the programs are "anomalies, unique to the communities they serve," Thaxton said, "and those that are successful understand and celebrate that."
He said OLLI at Duke "is one that tips academic, and that makes sense, using the intellectual capital and the resources that Duke has to offer."