Improving End-of-Life Care Through the Arts
Duke panel to explore how comics, novels, poetry and other artistic expressions can improve the hospice experience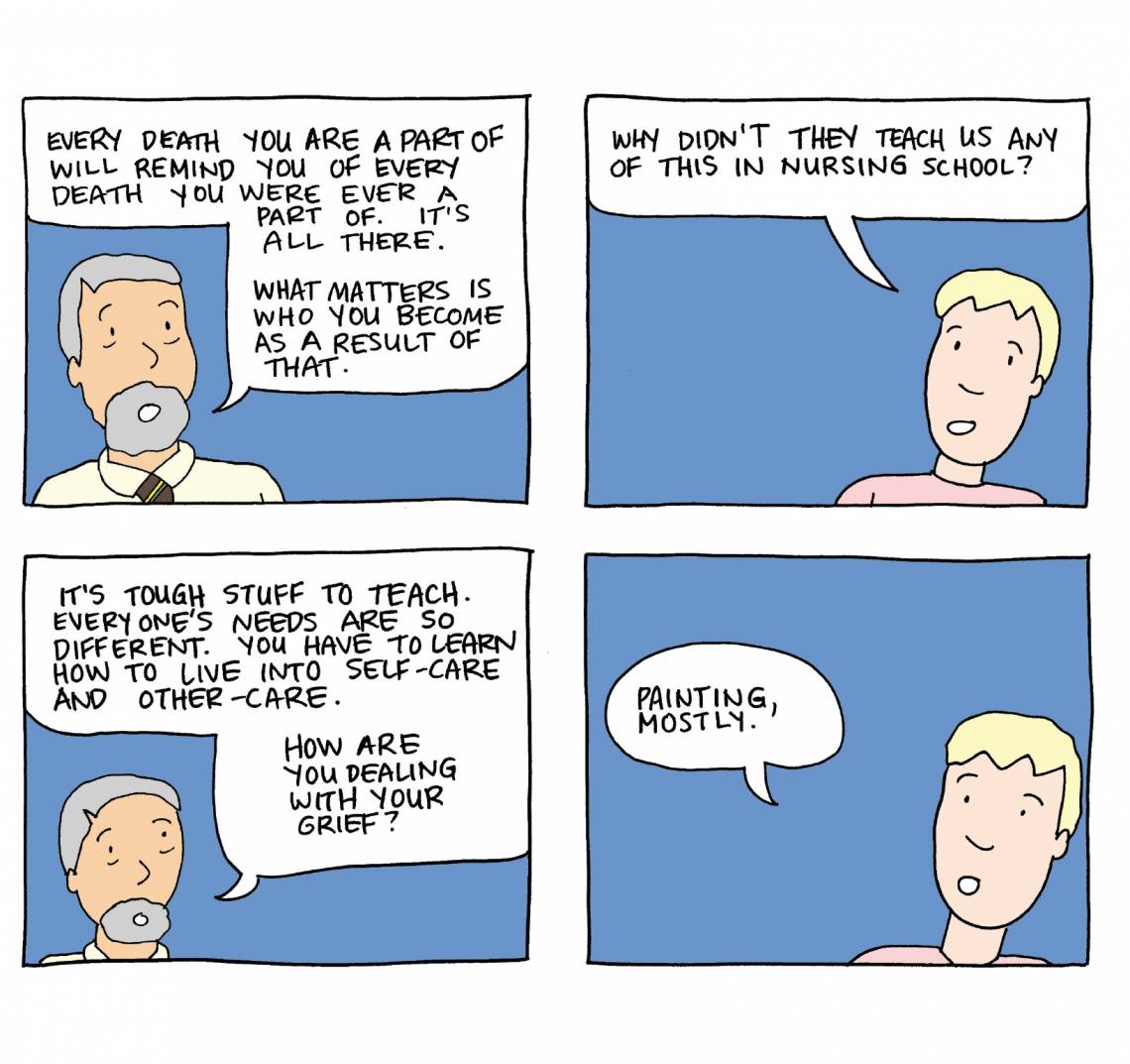 A Sept. 30 panel discussion will explore how novels, animals, poetry and comics can play a role in a hospice patient's end of life comfort and help caregivers as well.
"Novels ask us to dwell a little bit longer than memes," says Jehanne Gheith, the Duke professor organizing the discussion.
A Slavic Studies professor, Gheith is also a clinical social worker who works in hospice settings and as a grief counselor.
The panel will look at how the humanities and arts can better the hospice experience as well—for patients, professionals, and caregivers. Gheith will discuss these issues with Scott Janssen, a local social worker (Hospice of Alamance), and MK Czerwiec, artist-in-residence at Northwestern Feinberg School of Medicine and creator of the "Comic Nurse" comic strip.
Janssen will focus on the use of poetry and Czerwiec will explore comics for patients and caregivers at the end of life. Both have spent ample time working with those experiencing end of life trauma and their families, and are fascinated by the ways the humanities and art have helped them.
The use of novels, animals, poetry, comics, and other rarely considered tools of the humanities benefit the patient, the caregivers, and the patient's loved ones, Gheith says. The workshop will be interactive and may include some drawing exercises, she added. No drawing talent required!
The panel, "Poems, Prose, and Panels: The Work of the Humanities in End of Life Care" will be Saturday, Sept. 30 from 9:30 A.M. to 1:30 P.M. in The Edge Workshop Room, Bostock 127. The event is sponsored by Humanities Futures (Franklin Humanities Institute), Slavic and Eurasian Studies and the Duke Health Humanities Laboratory.