In two days of meetings this week in Washington, D.C., Trinity College Dean Valerie Ashby advocated for the university's federal priorities, including student aid, research funding and immigration, with alumni, journalists, Members of Congress and their staff.
Ashby's goal for the Sept. 26-27 meetings on Capitol Hill was to "share context around some of Duke's priorities, particularly on issues of research investments from the National Endowment for the Humanities (NEH), the National Science Foundation (NSF), the National Institutes of Health (NIH) and other research agencies."
When asked about the importance of NSF funding to Duke's research portfolio, Ashby said "NSF is especially important to the university because it supports basic research and the development of the people who create new knowledge."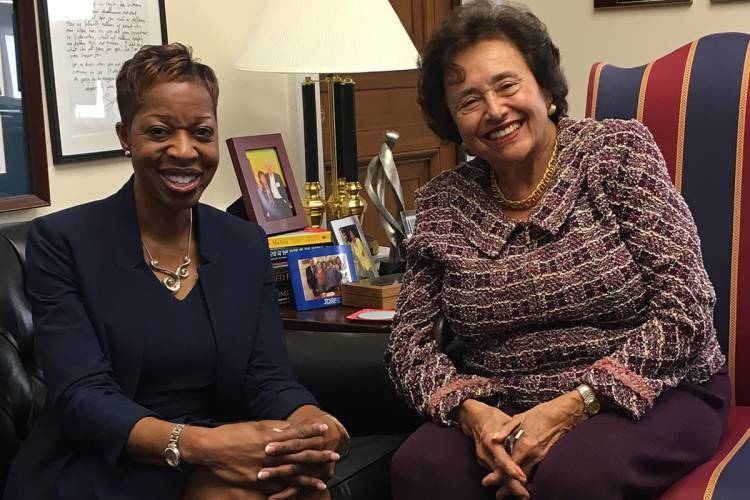 "Part of the benefit of NSF funding is that the agency requires researchers to ensure their work has a broad impact," said Ashby, a noted chemistry researcher. "For example, NSF proposals allow us to support undergraduate research. This is a core value at Duke and more than half of our undergraduate students conduct research with a faculty mentor. NSF also funds graduate student research and training programs. So in addition to funding major research projects led by faculty, NSF allows us to train the next generation of scientific leaders and scholars.
"NSF also prioritizes diversity, and this enables us to address issues of access. We can then ensure that the broadest base of students possible have the opportunity to participate in Duke research and educational programs. This helps us to recruit and retain the best and brightest students in STEM fields."
Duke University was awarded roughly $38 million from the NSF in FY16. Among other initiatives, the NSF helps sponsor or fund the Center for the Environmental Implications of NanoTechnology and the Duke Lemur Center.
According to the National Science Foundation, Duke ranks 7th nationally among all U.S. colleges and universities in total research and development expenditures (in FY2015, the most recent year for which there is comprehensive data).
"I have had NSF funding my entire career," said the Dean. "NSF literally launched my career in chemistry by providing support and training resources when I was a graduate student, and funding my research as a junior faculty member – which ultimately enabled me to earn tenure. NSF's support was an endorsement of the value of the work I was doing."
In discussions on immigration, Ashby conveyed the importance of protecting and promoting policies that allow Duke to attract and retain the best and brightest. Duke and many institutions of higher education rely on a variety of student and work visas to maintain a scholarly community that is diverse, productive and creative.
"We are a global university," Ashby said. "More than just students are impacted by immigration policies. Faculty and visiting scholars are also impacted. We are counting on the best talent participating in our research and teaching enterprise—and immigration affects our ability to recruit, retain and collaborate."
Ashby left lawmakers with a straightforward message: "excellence and innovation are tied to diversifying intellectual content, faculty and students."