Brand New and True Blue
David Shumate ready to grow into role as Duke basketball and football's play-by-play voice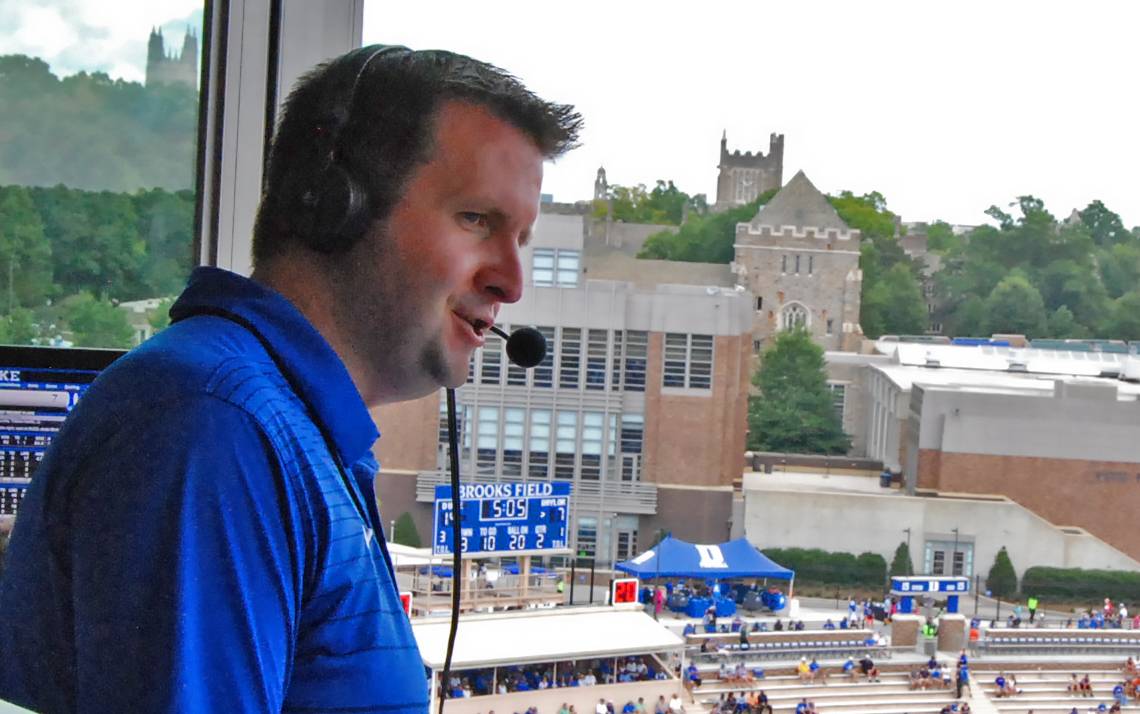 Watching David Shumate work, it's easy to see that, for him, the routine of calling a college football and basketball games on the radio is nothing new. On the mic for Duke's football victory against visiting Baylor In September, Shumate was the picture of capable calm.
Looking down on Brooks Field at Wallace Wade Stadium from the radio booth in Blue Devil Tower, the 33-year old had everything he needed.
He had lineup cards with the most important players' heights, weights and hometowns streaked in green and blue Hi-liter. He had a schedule reminding him of station breaks and sponsor mentions.
And after a broadcasting career that thus far has seen him cover plenty of ground, now he has a home.
"It's awesome," Shumate said of his first few months on the job. "I've gotten to meet a lot of fans and people who follow the program who have been very welcoming. It's great to get that kind of embrace. That doesn't happen for everyone who walks on campus."
This summer, Shumate became the Director of Broadcasting for the Blue Devil IMG Sports Network, which airs live Duke football and men's basketball broadcasts on a statewide network of radio stations, including WDNC-AM 620 and WDNC-FM 96.5 in Durham and WCMC-FM 99.3 in Raleigh. As part of the position, Shumate stepped into the role of play-by-play announcer. While not a Duke employee, the job, is one of the more high-profile posts affiliated with Duke Athletics.
That's due in large part to Bob Harris, who retired from the position in March after calling Duke games for 41 years and mastering the balance between relaying events to his audience while also sharing in the swings of emotion.
"I don't worry about replacing Bob because I don't think that's possible," Shumate said. "I mean, Bob was a legend and will always be the soundtrack for so many moments to so many people. He encouraged me not try to be him, to find my own voice."
Born in Fayetteville to a military family, Shumate is no stranger to finding his bearings in new places. He spent parts of his childhood living in Panama and Hawaii.
Until this year, his broadcasting career had a similarly meandering quality. Prior to arriving at Duke, Shumate spent five years as Director of Audio Operations for IMG, a Winston-Salem-based company that handles the radio broadcasts for nearly 200 college athletics programs, conferences and bowl games. In that role, Shumate often served as the fill-in play-by-play announcer at IMG schools when the usual inhabitant of the role was unavailable.
That's how Shumate found himself broadcasting games for schools such as Auburn, Connecticut, Oregon, Pittsburgh, Vanderbilt, Washington and West Virginia. He even subbed in for Harris four times during Duke's 2016-17 basketball season due to scheduling conflicts with football.
"The more you do it, the more you feel comfortable with it," Shumate said of the fill-in play-by-play role. "It's challenging because you have a tight window in which to earn everyone's credibility as representing them and their brand. But at the same time, it's really rewarding when a head coach invites you into your locker room and gets comfortable with you."
Shumate, who now calls Durham home, has enjoyed getting to know Duke, saying he's especially fond of taking runs during quiet moments on West Campus. He's also relished opportunities to meet Duke fans, like he did at August's "Meet the Blue Devils Day" and coach David Cutcliffe's weekly radio show.
But Shumate's bond with his audience will truly be forged on game days. And a month into the season, he's enjoyed provided soundtracks for new memories.
"Second down and 10 off their own 20 … Smith going to throw again … fires … intercepted!" Shumate called into the microphone during the Baylor game as Duke linebacker Ben Humphreys picked off a Zach Smith pass and ran it back 22 yards for a game-sealing, fourth-quarter touchdown.
"There goes Humphreys to the end zone! Touchdown!" Shumate said, his voice rising along with cheers of the crowd.