Blue Devil of the Week: A Global Family Affair
Jonathan Abels leads the Duke Center for International Development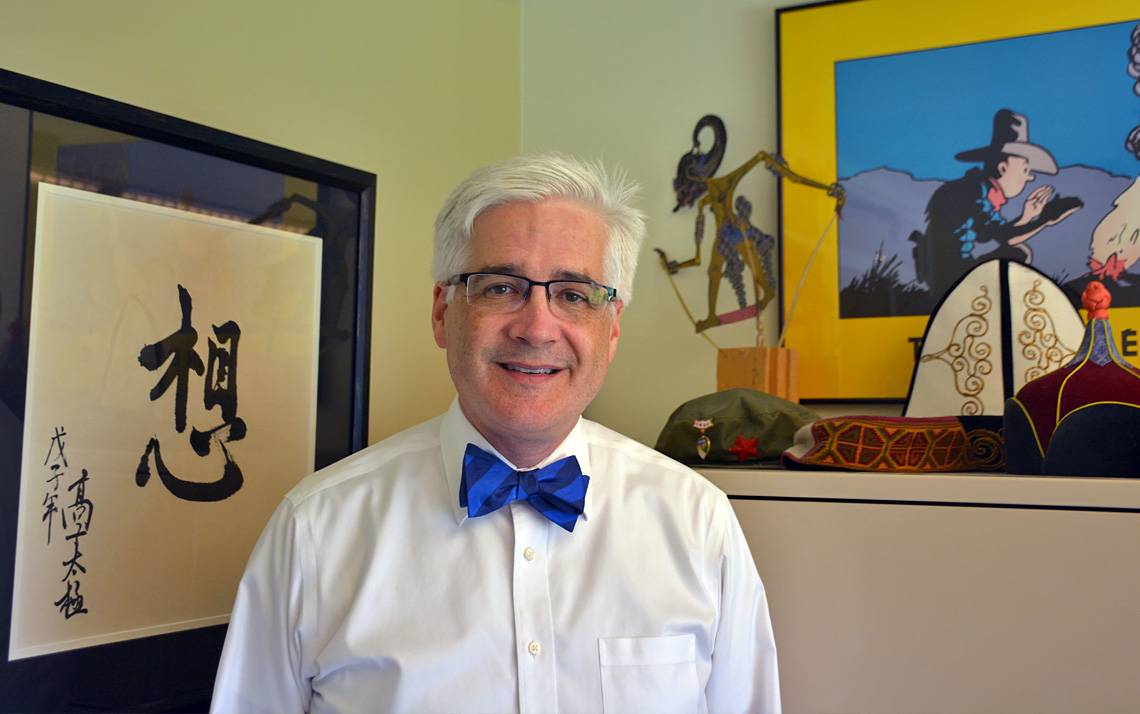 Name: Jonathan Abels
Position: Executive Director of the Duke Center for International Development in the Sanford School of Public Policy
Years at Duke: 23 years
What he does at Duke:
Jonathan Abels leads operations for the Duke Center for International Development (DCID), which welcomes students and officials from all over the world through a graduate program, executive training, policy advising and research. Since the department was founded in 1985, guests have hailed from more than 100 countries.
"My job is keeping all the wheels on the bus attached and rolling in the same direction," he said. "I feel like I'm breaking log jams somewhere most of the time. One of the benefits of being at a place as long as I have is knowing who to call when we have an issue and how to resolve it."
Abels oversees the center's Master of International Development Policy, executive training for government officials and international development work led by faculty and staff.
"I have a faculty member working in Sierra Leone doing a feasibility study on them building a new international airport," he said. "I have another faculty member returning from Jordan doing a study with the World Bank."
A memorable day at work?
Abels remembers moving into the newly built Sanford building in the fall of 1995. The building was the hot spot on campus, with everyone wanting to host an event in the building.
"It was like an M.C. Escher drawing with twisting stairs going everywhere and you continually had to orient yourself or get lost," he said. "We were one big family, and Terry Sanford had an office on the main floor and was always happy to share his ideas if you bumped into him."
A special object/memorabilia in his office:
Abels' office is decorated with memorabilia from around the world, but it's a collection of photos showing him on family vacations in Canada and interacting with colleagues – talking with them while perched on a low wall outside, dressed up as an angel and devil for Halloween and posing for a staff picture from the mid 1990s – that he holds dearest.
"There are pictures of my family and where I vacation," he said. "There are others of my colleagues. I'm especially lucky to have long working relationships with them, and I trust them immensely. There really is a sense of a shared community and caring for each other, and I think my pictures reflect that. "
What he loves about Duke:
"I love that I'm in an institution that is seeking knowledge and sharing knowledge," Abels said. "We are engaged as our former President Richard Brodhead said, 'knowledge in the service of society.' We fulfill that in our center."
First ever job:
At 12 years old, Abels worked as a newspaper delivery boy. He delivered the Columbus Citizen-Journal in Ohio, to about 100 homes.
"The one thing I never had but always wanted was the change machine on the belt," he said. "I never had one but always wanted one. I always thought those were the coolest things that every paper boy should have."
What's something people don't know about Abels:
"I was a Rotary Youth Exchange student in Sweden," Abels said.
Abels took a gap year between high school and college to live with a family in Växjö, a town in south Sweden. There, he took classes on the language and culture of the Scandinavian country.
"It was a phenomenal experience. It had a big impact on my view of the world. It was one of those experiences that change your life."
Advice he always gives:
Abels likes to introduce new employees to representatives from Human Resources, IT and building facilities in his school.
I say, 'become their friends and do not make them angry,'" Abels said. "If you make them mad, they'll still help you out, but it'll be so much better if you made an effort to be friendly to them."
Nominate a colleague to be the next Blue Devil of the Week.