Price Speaks to New Graduate and Professional School Students
President looks at what Duke's history could mean for the new scholars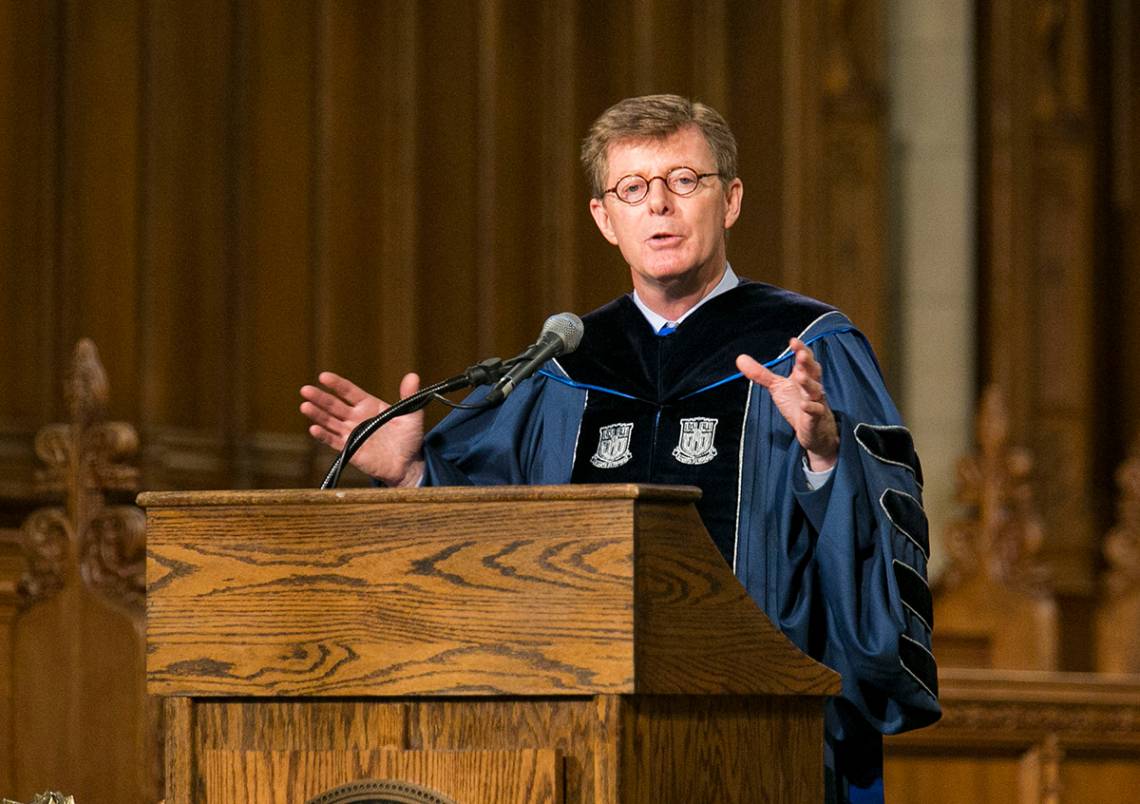 It is my pleasure to welcome you to Duke University.
As many of you know, this is my first academic year as Duke's 10th President. In fact, this is only my second formal address at Duke – so I hope you will go easy on me.
I spent some time this summer brushing up on Duke history. It turns out that exactly 130 years ago, this institution – then known as Trinity College – had just hired another new President, John Franklin Crowell.
Dr. Crowell casts a long shadow. He's best known around here for moving Trinity College to Durham. Less well know is the fact that he corrected the mistranslated college motto. What's more, he served for two seasons as football coach – including a Thanksgiving victory over UNC in 1888. Our current football coach, David Cutcliffe, may have made a mistake by giving me a key to the football stadium.
Dr. Crowell's most important legacy at Duke might seem more prosaic, but it was profound: he shifted the institution away from an archaic classical curriculum to focus on the modern research techniques that were just beginning to gain traction in higher education. He believed that this university should "leaven the popular consciousness," by which he meant that the work conducted here should serve the public by broadening our collective understanding of the world and helping to solve its most intractable problems.
That was a somewhat radical vision for higher education in the late 1880s – at the time, going to college in the United States meant a great deal of rote memorization of Greek and Latin. Well, we retain our interest in antiquity in the Classical Studies department.
But Dr. Crowell's vision of research as public service -- and its stewardship by the Trinity and Duke faculty and staff through the intervening decades -- allowed the small provincial college he knew to grow into a thriving, world-class research institution with 10 graduate schools and over 70 graduate and professional degree programs.
As incoming graduate and professional students, you represent the full diversity of thought that emerged from that vision -- although, to be sure, you'll be conducting research into some areas that Dr. Crowell never could have imagined. For instance, the personality quirks of lemurs and what they can tell us about mammalian development Or how to build biochemical scaffolding for vaccines and tissue generation. Or making the connection between ozone pollution and cardiovascular health.
Regardless of your field, the work that you will do here will prove invaluable, not just to the Duke community, but to the world at large. You are joining an institution that has produced Nobel Prize winners and Turing Awardees, Pulitzer Prize winners and MacArthur Fellows. And you have the opportunity to leave your own mark on Duke's history, both on campus and after you've moved on.