Employee and Family Catch Football Fever
Staff and faculty have until Aug. 31 to reserve tickets to Employee Kickoff Celebration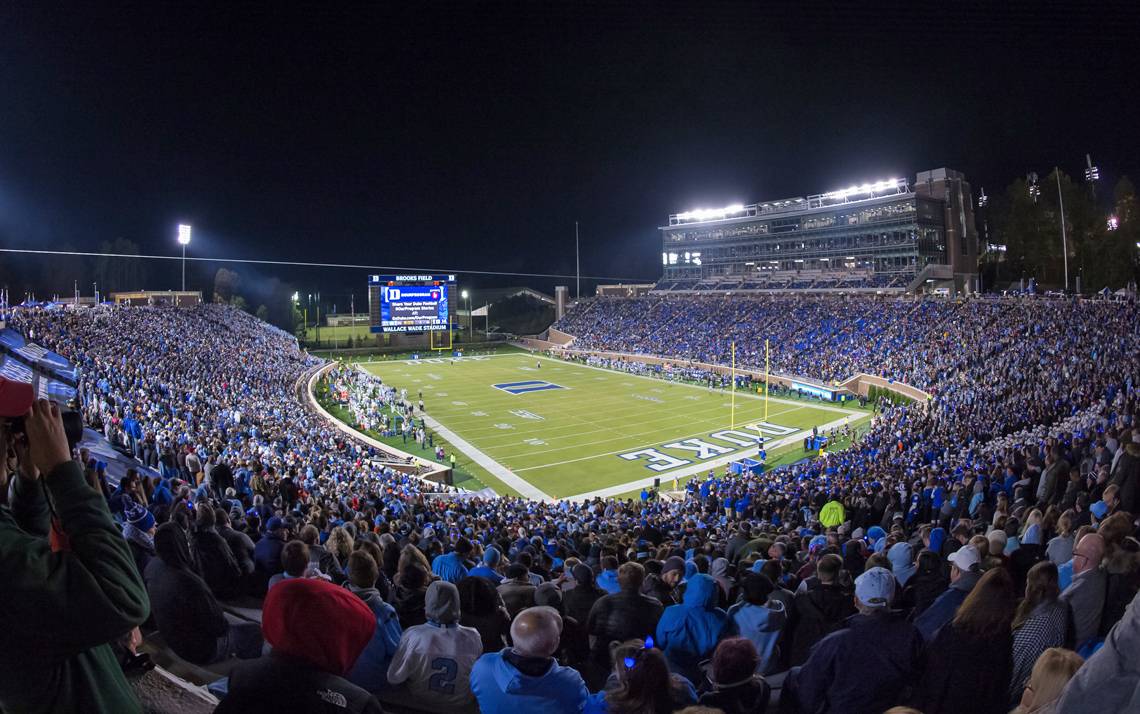 While Shanese Gibson-Sparks had seen plenty of football on television, she got her first chance to watch college football in person at last season's Duke Football Employee Kickoff Celebration.
One of the things TV doesn't capture, she said, was the intensity of the fans.
And some of the most intense fans at Brooks Field at Wallace Wade Stadium that day happened to be sitting with her: Husband, Christopher, and their 12-year old son Mekhi. Her son brought along his friend Nate, a rabid Duke fan.
"The minute we found out we were going to go to the game, (Mekhi) knew the perfect friend to bring because he was like his hype man," said Gibson-Sparks, a Duke Credit Union financial services specialist. "They talked about it for at least a week beforehand."
On Sept. 2, Gibson-Sparks and her family plan to be back again when North Carolina Central University takes on the Blue Devils.
"They've already asked about it," Gibson-Sparks said. "They're like 'Is it about that time, mama?'"
Duke employees have until Aug. 31 to order up to four free tickets to the game at no charge. After that, up to four additional tickets may be purchased for $5 each. A game ticket is required for stadium entry for any fan age 3 and older.
From the pre-game tailgate site to the ticket ordering process, here's what to know:
Pregame Celebration
In a change from previous years, the pregame event for Duke employees will take place inside the stadium from 3-4:30 p.m.
Stadium gates will open for employees and their guests at 3 p.m. There will be face-painting, interactive kid-friendly activities and live music. Employees will receive vouchers for a meal at designated concession stands.
From ticket ordering to concession vouchers, here's what you need to know for this season's Duke Football Employee Kickoff Celebration.
How to Get Tickets
The process for getting tickets is different this year.
Athletics has introduced digital ticketing, so benefit-eligible Duke staff and faculty can print out their tickets in advance after ordering their tickets online. This option is recommended to avoid waiting in lines for tickets.
Those without online access or a printer can choose to pick up their tickets and vouchers at Duke Athletics ticket window at the Scott Family Athletics Performance Center. Tickets can be picked up in advance beginning Aug. 1 during regular business hours (8:30 a.m. – 5 p.m.) Monday through Friday, or on game day up until half-time. Employees must present their DukeID to pick up tickets.
Employee ticket orders end at noon Thursday, Aug. 31. After that time, staff and faculty will have to buy tickets at full price through the Duke Athletic Ticket Office.
How Concession Vouchers Work
Instead of a catered meal, faculty and staff will receive one voucher per ticket (maximum of 8) for a meal redeemable at Blue Devil Concessions stands #2, #3, #4, and #5 (West Concourse) and #7 and #11 (East Concourse) inside the stadium.
Each voucher is redeemable for popcorn, a fountain drink and one of the following:
Hot dog
Veggie wrap
Barbecue sandwich
Concession vouchers will be included with online ticket order, or they can be picked up at will call with tickets.
Concession vouchers are only valid between 3-5:30 p.m. as part of the pregame event on Sept. 2 and cannot be used during the game. Vouchers must be redeemed at one time, and no substituting of meal options is allowed.
Where to Park
Parking is free on game day in general public parking lots:
Valid permit holders can also park for free in general public lots if their permitted facility is unavailable (e.g. Whitford, Blue Zone, Card, etc.).
Bag Policy and Safety Protocol
In order to keep with security protocol, bags or purses of any kind (including but not limited to backpacks, duffel bags, tote bags, fanny packs, clear bags, drawstring/cinch bags, messenger bags, plastic grocery bags, camera bags, binocular bags, etc.) are not permitted to enter Brooks Field at Wallace Wade Stadium on football game days.
Use this guide to avoid a return trip to your vehicle on game day.
Also, there is no stadium re-entry once a ticket has been scanned for entry at the stadium gates. This means if you leave the stadium during the employee celebration, you will not be able to re-enter the stadium.
For additional Duke Football game day information, see the A-Z Game Day Guide. The Duke Athletics ticket office may be reached at 919-681-2583.