Duke-Sponsored Stepping Stones Is Kindergarten Pre-Camp for New Students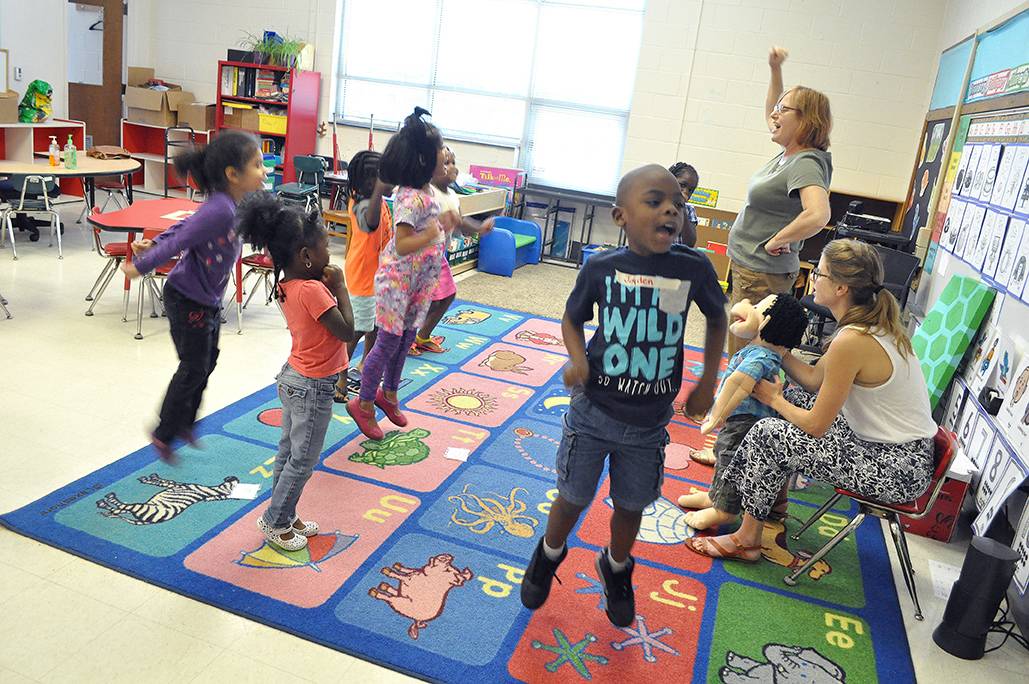 If you're happy and you know it, show a smile.
If you're mad and you know it, take a deep breath.
If you're proud and you know it, say "I did it!"
Seven students hopped up and down on a colorful alphabet rug, singing these instructions together. In a Y.E. Smith Elementary School classroom this summer, they learned how to control their emotions, a critical social skill needed to navigate their first year of school.
All of these 5- to 6-year-old students are about to enter kindergarten at Y.E. Smith in August. For four weeks in June and July, they attended Stepping Stones, a kindergarten readiness program sponsored by the Duke Office of Durham & Regional Affairs that teaches academic and social-emotional skills at Y.E. Smith Elementary, Lakewood Elementary and Forest View Elementary schools in Durham.
The program focuses on students who have not attended a prekindergarten program. In Stepping Stones, they learn letters of the alphabet, numbers, how to emotionally separate from their parents and prepare for the school day, how to deal with conflict in the classroom, sit criss-cross applesauce, and raise their hands to be recognized.
Stepping Stones also includes parent nights, when teachers hold meetings with parents and emphasize the importance of providing constant encouragement at home as well as advocating for their child's education throughout the school year.
"All these factors set our Stepping Stones students on a path to success from the start," said Eliza Mathew, senior program coordinator of education initiatives for the Duke Office of Durham & Regional Affairs. "Stepping Stones empowers children and their parents to be confident as they enter their first day of kindergarten."
On a recent Tuesday morning, two presenters from Duke's Center for Child & Family Policy brought puppets and practiced emotional competency skills with the Stepping Stones students at Y.E. Smith Elementary. A fuzzy green puppet named Tiny the Turtle talked about coming out of his shell and how to handle conflicts such as a student taking someone's toy without asking first.
Students also learned how to curl into a ball, like a turtle retreating into its shell, to take a moment to breathe, especially if they are angry.
"I can do it," the students chanted, practicing the shell maneuver. "I can calm down."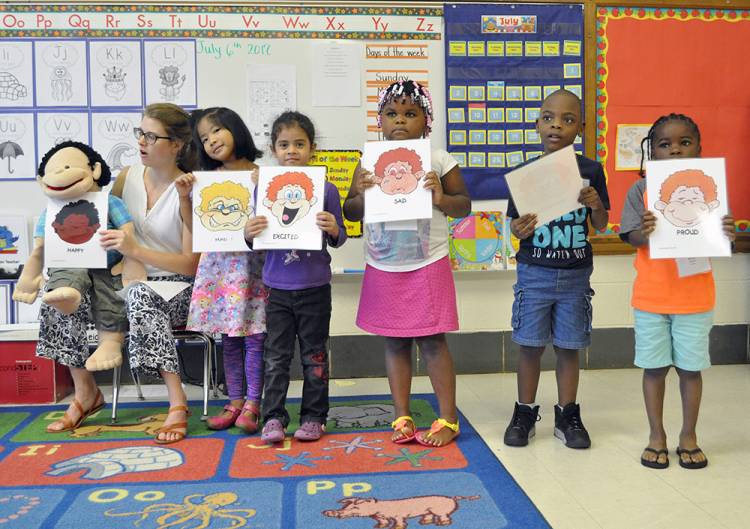 The students then made s'mores together, following the steps of gathering the graham crackers, chocolate and marshmallows. They also practiced washing their hands after snack time.
Y.E. Smith teachers Takeia Smith and Carolyn Vaughan have led the school's Stepping Stones classes every Monday through Thursday. Vaughan said the students who cry or are unsure at the beginning of the program show progress in just four weeks.
"We try to teach them to use their voice, raise their hand and ask questions," Vaughan said. "They come in (to kindergarten) ready. You can tell the ones who have been in our Stepping Stones program. They help teach the other students what to do."
Martha Hernandez-Aparicio, who has served as Y.E. Smith Elementary's Stepping Stones coordinator for six years, said the Stepping Stones parents will have an easier time dropping their children off for the first day of school in August, and the children will already know how to behave in class.
"Families feel (Stepping Stones) has helped them and helped their child," Hernandez-Aparicio said. "If the child was shy, they're not that shy anymore. Now he likes to share. Now he's playing. Now he's more outgoing. Now he's more respectful. … The kids who go through Stepping Stones become the leaders at our school."