Duke Campaign Raises $3.85 Billion to Empower Service to Society
Record giving by more than 315,000 donors and foundations helped propel the 7-year campaign past goal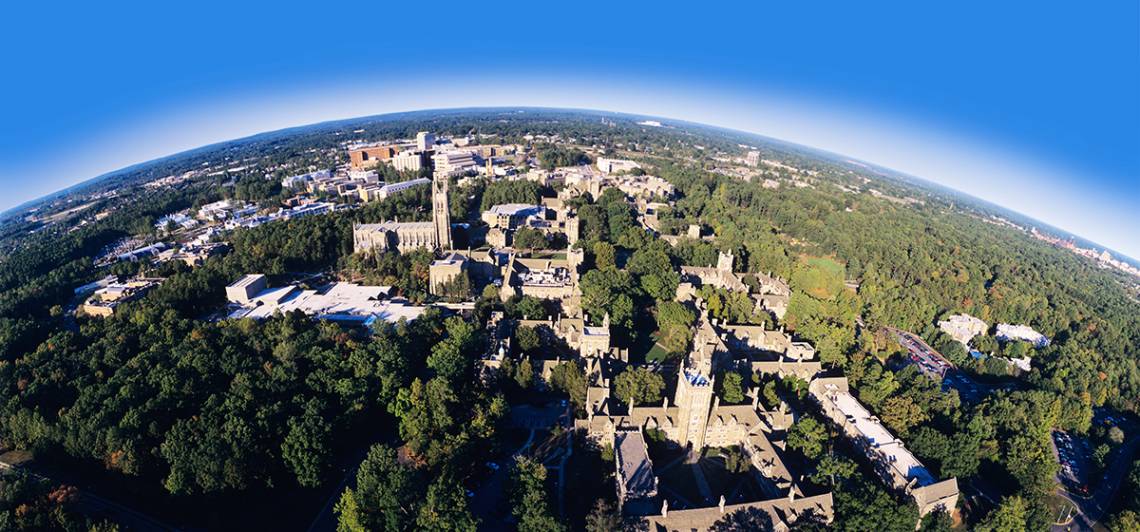 Duke Forward, the largest fundraising campaign in Duke University history, has concluded by raising $3.85 billion over the past seven years.
Record giving by more than 315,000 donors and foundations helped propel Duke Forward past its original goal of $3.25 billion, including $589 million in new commitments of gifts and pledges from July 1, 2016, to June 30, 2017. The $581 million received in cash is a 15 percent increase over the $506 million received in the previous fiscal year -- a new high for the fifth consecutive year.
"Duke Forward will empower the next generation of students and faculty to advance ideas and solve complex global challenges," said Vincent Price, who became Duke's 10th president on July 1. "This is an incredible accomplishment to inherit, and I am grateful to my predecessors, to our development staff, and most importantly to our donors, whose tremendous investment makes it possible for Duke students and faculty to innovate, engage and improve our world."
The comprehensive campaign, which began on July 1, 2010, and ended on June 30, 2017, benefitted all 10 of Duke's graduate and undergraduate schools, Duke Athletics, Duke Libraries, Duke Health and a range of university-wide initiatives and programs. It transformed the physical campus and funded priorities such as financial aid, faculty development, research and patient care, and hands-on learning opportunities for students.
"We are deeply grateful for the alumni, patients, friends, faculty, staff and others who showed their extraordinary support for Duke during this campaign," said Dr. A. Eugene Washington, chancellor for health affairs at Duke University and president and CEO of Duke University Health System. "These resources will empower our people to seize this golden moment in the world of health to advance knowledge and improve lives across the world."
Donors to the campaign also helped advance interdisciplinary research, innovation and entrepreneurship, the arts, energy, global health and the environment.
"Every aspect of Duke's academic mission has been touched by this campaign," said Provost Sally Kornbluth, the university's chief academic officer. "It has made possible our ability to continue the delivery of novel, innovative teaching and learning programs and to provide the resources necessary to drive cutting-edge research by our faculty."
The campaign, co-chaired by trustees emeriti Anne T. Bass, Bruce Karsh '77 and David M. Rubenstein '70, was Duke's first university-wide campaign since the Campaign for Duke, which ended in 2003 and raised $2.36 billion.
"We are thrilled to have exceeded our fundraising goal. But this campaign isn't just about the dollar goal. It's about the people the dollars support -- and how they turn big ideas into real solutions," said Robert S. Shepard, vice president for alumni affairs and development.
Highlights of Duke Forward's impact include:
STUDENT EXPERIENCE
Raising $473 million for financial aid and fellowships, and establishing the Karsh Office of Undergraduate Financial Support.
Creating 594 new scholarship and fellowship endowments across all 10 schools, including the David M. Rubenstein Scholars Program for first-generation, low-income students.
Starting the Innovation and Entrepreneurship Initiative to support innovation and thought leadership by students, faculty and alumni so they can create solutions for local and global communities. The initiative helps students get their businesses rolling by funding programs in entrepreneurship such as the Duke Start-up Challenge, where students compete for $50,000 grants, and the Melissa & Doug Entrepreneurs, where students learn from experienced mentors. Undergraduates also can work toward a certificate designed to allow students to pursue cross-disciplinary study of innovation and entrepreneurship that complements any major.
FACULTY EXCELLENCE
Recruiting and retaining dynamic scholars and teachers by creating 85 new endowed faculty chairs, visiting professorships and professors of the practice across campus.
CAMPUS TRANSFORMATION
Creating new or upgraded spaces for:
The arts in a new 71,000-square-foot center for rehearsal, performance, video production and classroom instruction; Baldwin and Page auditoriums also were renovated to enhance acoustics, upgrade seating and improve stage features.
Environmental studies and a new home for the Nicholas School of the Environment that exceeds LEED Green Building platinum certification, the highest level of sustainability.
Athletics, including improvements to Brooks Field at Wallace Wade Stadium, expansion of Cameron Indoor Stadium, and creation of the Morris Williams Track and Field Stadium, the Scott Family Pavilion and Athletics Center, and the Blue Devil Tower.
Libraries, including renovations to Perkins, Bostock and Rubenstein Libraries that created destinations for community and for individual and group study.
Duke Chapel, whose stained-glass windows, ceiling and roof were repaired and revitalized in its first major restoration since its construction in the 1930s.
West Union, which has been renamed the Richard H. Brodhead Center for Campus Life. The new student dining and gathering space features 13 eateries, meeting rooms and a teaching kitchen.
Alumni and campus visitors with the construction of three new buildings and the restoration of a historic home that will collectively be called the Karsh Alumni and Visitors Center. The largest of the new buildings will be a 20,000-square-foot events pavilion that will provide a hub for annual events such as reunions and homecoming.
INTERDISCIPLINARY EDUCATION & RESEARCH
Establishing Bass Connections, an interdisciplinary program that bridges the classroom and the real world, giving students a chance to work with faculty to address complex societal problems such as health care access, clean energy and social inequality. In Bass Connections' first four years, the program has:
-- Brought together 1,147 undergraduate, graduate and professional school students, 464 Duke faculty and more than 100 external partners in 23 countries on five continents.
-- Fielded 176 project teams to address issues across five key themes: Brain & Society; Information, Society and Culture; Global Health; Education and Human Development; and Energy.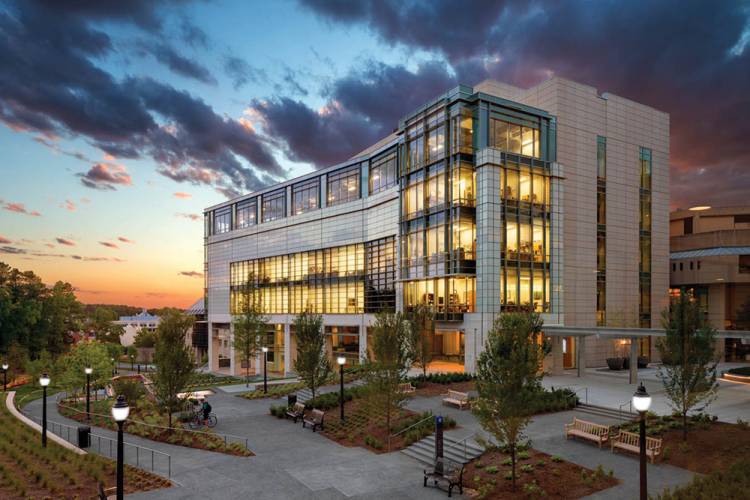 PATIENT CARE, RESEARCH AND EDUCATION IN DUKE HEALTH
Adding more than 1 million square feet for clinical care, research and education, including the Duke Cancer Center, Duke Medicine Pavilion, Hudson Building at Duke Eye Center, Mary Duke Biddle Trent Semans Center for Health Education, and the School of Nursing's Christine Siegler Pearson Building.
Increasing faculty and student support to enhance educational and research opportunities.
Making significant investments in basic and clinical research, notably in the areas of cancer, cardiology, neurobiology and neurodegenerative diseases, ophthalmology, and cellular therapies to develop new treatments for a number of conditions, including autism.
Creating the new Urbaniak Sports Sciences Institute and the new Duke-Margolis Center for Health Policy.
LOCAL AND GLOBAL CHALLENGES
Increasing DukeEngage endowment funding to support the university's signature service learning program. Duke students have volunteered more than 1.25 million hours in 79 nations worldwide through DukeEngage to date.
Raising $90 million in new funding for the Global Health initiative for research and programmatic efforts across Duke's 10 schools, including $30 million in new endowment for the Duke Global Health Institute.
NEXT MONTH: Watch for the Duke Forward impact report, which will feature additional examples of how the campaign is advancing ideas, making connections and moving the world forward.