Comments Sought in Regular Review of Nasher Museum Director Sarah Schroth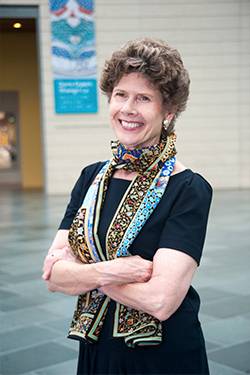 With Sarah Schroth entering her final year of a five-year appointment as Mary D.B.T. and James H. Semans Director of the Nasher Museum of Art, Provost Sally Kornbluth has convened a faculty committee to review her performance and help frame key objectives for the next appointment period.
Reviews are standard procedure for university leaders near the end of their term. The committee will be chaired by Tom Rankin, Professor of the Practice of Art and director of the MFA in Experimental and Documentary Arts.
The other members, who were selected in consultation with the Executive Committee of the Academic Council, are:
Mark Antliff, Mary Grace Wilson Professor of Art, Art History & Visual Studies
Deborah Jakubs, Rita DiGiallonardo Holloway University Librarian and the Vice Provost for Library Affairs
Scott Lindroth, Vice Provost for the Arts and Professor of Music
Kristine Stiles, France Family Professor of Art, Art History, and Visual Studies
Kornbluth has charged the committee to issue a report by Dec. 1.
An important part of the review process is the gathering of opinion from the university's many constituencies. Comments on performance and suggestions for the future are important to the committee's work.
The committee invites individuals to share their thoughts by email or letter. Communication should include the nature of the interactions with Schroth so that the committee can understand the context of the comments as fully as possible. The committee will discuss responses, and a summary will be included in the written report to the provost. The committee will keep all comments confidential.
For those wishing to submit comments in writing, please send them to admin-review-input@duke.edu. If you would prefer to communicate your comments in person or by phone, contact Tom Rankin at tsr2@duke.edu.