PUBLISHED
The Class Photo: Meeting Friends, Sharing Stories and Chanting About Another School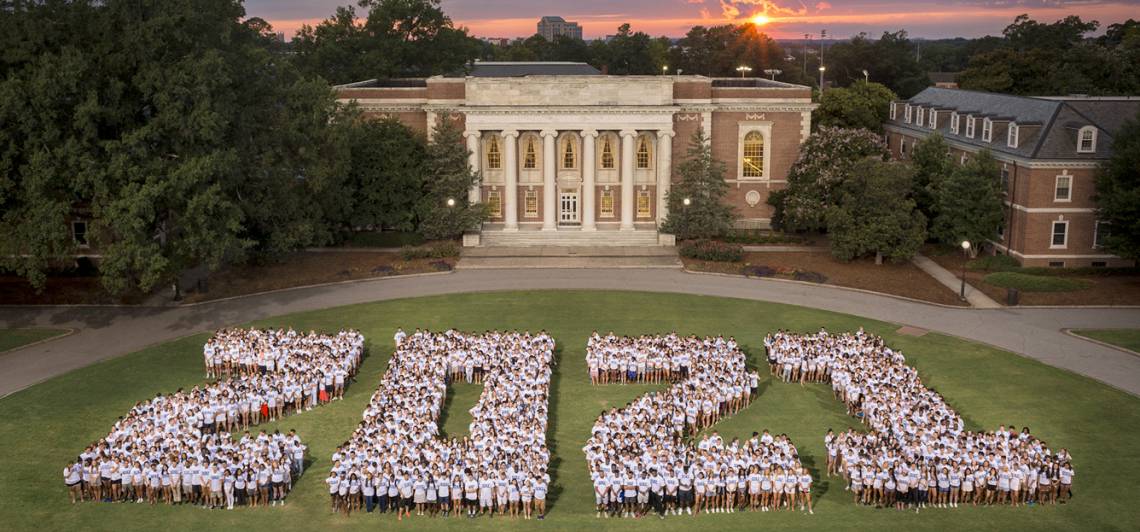 The clouds rolled in fast five minutes before the Class of 2021 photo was to be taken. Some 40 feet in the sky, four university photographers stood on cranes to adjust lighting and keep an eye out for lightning.
But as the new first-year students made their way to their positions, the clouds broke, the rain held off, and another colorful class photo was taken, with a little bit of sunset fire to add drama to the image.
In its 13th year, the class photo has become an orientation week tradition. Football coach Dave Cutcliffe was on hand to greet the students and get them jumping for the photo. On cue, he had the students giving a profane chant about a nearby rival educational institution.
For parents and others who wanted to watch, the event was live streamed by student broadcasters working with the Office of News and Communication.
The event gives students another chance to meet their classmates and socialize. Following the photo they walked to Brodie Gym for the annual Brodie Blowout.
The day began with the undergraduate student convocation where new President Vincent E. Price delivered his first official university address. Many students and staff spent the day documenting their day on social media.
Here at #Duke2021 class photo night, where the dudes behind Bagley and Carter got a tough draw. pic.twitter.com/DNZ8V8Kbfl

— Stephen Schramm (@stephenschramm) August 23, 2017
The week's events also brought thoughts alumni and other members of the Duke community.
To learn more about the making of the class photo, read this Working@Duke story.