Ranjana Khanna Appointed to Lead Franklin Humanities Institute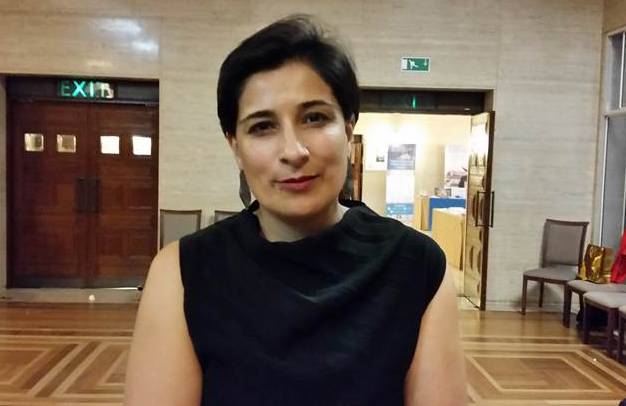 Ranjana Khanna, a noted interdisciplinary and feminist scholar, has been appointed the next director of Duke's Franklin Humanities Institute (FHI), to begin January 2018, Provost Sally Kornbluth announced this week.
Khanna, who is a professor of English, Literature, and Gender, Sexuality and Feminist Studies, has had a long affiliation with the institute, which was created in 1999 to be a crucial hub at Duke for scholars across the disciplines to collaborate on humanistic writing, research and teaching.
Her research focuses on post-colonial studies, feminist theory, psychoanalysis, literature and political philosophy. Her writings include the books Algeria Cuts: Women and Representation, 1830 to the Present and Dark Continents: Psychoanalysis and Colonialism.
"Ranji Khanna is a dedicated champion of the humanities and will continue the important work of maintaining Duke's excellence in this area. She is also a creative thinker who understands the value of interdisciplinary collaboration," said Gennifer Weisenfeld, dean of the humanities.
Khanna received both her B.A. and Ph.D. from the University of York and has taught at University of Washington in Seattle and at the University of Utah. She joined the Duke faculty in 2000.
At Duke, Khanna has held several leadership roles, including a term as the Margaret Taylor Smith Director of the Program of Women's Studies (2007-2015). She also has been honored for her work with students, having received the 2015 Graduate School Dean's Award for Excellence in Mentoring.
Khanna was married to the late Srinivas Aravamudan, former humanities dean, FHI director, and director of the Humanities Writ Large initiative, a Mellon Foundation-funded project involving FHI that aims to redefine the role of the humanities in undergraduate education.
She will succeed Deborah Jenson, who will step down from the position at the end of December 2017. Jenson, who is professor of Romance Studies and Global Health, will continue to serve as co-director of the FHI Health Humanities Lab.
"We are so pleased that Ranji Khanna will be taking on the directorship at FHI," said Edward Balleisen, vice provost for interdisciplinary studies. "She has the creativity and commitment to build on the wonderful intellectual platform constructed by Deborah Jenson, along with FHI's staff and faculty governance board."
FHI leverages the collective strength of Duke humanities by bringing together faculty from 18 departments and programs in the humanities, arts and interpretive social sciences. Housed in bays 4 and 5 of Smith Warehouse, FHI also sponsors speakers, workshops and seminars that feature Duke's humanities faculty, while bringing in distinguished scholars from elsewhere as well.
It is home to the Humanities Laboratories Initiative, the PhD Lab in Digital Knowledge, the Duke Human Rights Center@FHI and the Center for Philosophy, Arts and Literature. Its faculty bookwatch program highlights new writings by humanities faculty, while a faculty book manuscript workshop helps advise scholars in new writing.
FHI has also been a locus for new thinking about the humanities. Its Humanities Futures initiative explores how the humanities disciplines are being shaped by interdisciplinary studies. And the Ph.D. Lab in Digital Knowledge uses new digital scholarship to provide new areas of humanities research. Following the legacy of John Hope Franklin, it has consistently attended to questions that are local and contemporary, while maintaining a global and historical perspective.
"Since its inception, FHI has kept Duke in the forefront of innovative humanities scholarship, teaching, and civic engagement" said Provost Sally Kornbluth. "We are confident that under Ranji's leadership, FHI will continue to set the standard for excellence in humanistic inquiry."