The Future of Work
Job roles evolve as nature of work changes at Duke
An intricate replica of a child's heart emerges from a machine about the size of a MINI car in a corner of Duke's Innovation Co-Lab on West Campus.
The pink plastic 3-D model serves as a bellwether for the future of healthcare and reflects a growing trend of new types of roles developing within Duke's workforce.
Five years ago, Duke did not have 3-D printers. Today, it operates more than 60, including the high-end unit that takes an MRI scan of a heart and churns out a detailed model that enables physicians to better diagnose and evaluate a patient's internal organs before surgery.
Now, someone oversees the machines. Meet Mitch Greene.
"Part of what I do is help teach people how to use the 3-D printers," said Greene, who was hired last year. "I also give tours and spend about half my day refilling and maintaining the printers."
Greene's role in managing 3-D printers as studio technician at the Co-Lab is one of hundreds of positions created or reclassified at Duke in recent years. These roles, many of which didn't exist at the University and Health System in years past, include everything from dosimetrist in radiation oncology to genetic counselor and operations coordinator for global administrative support.
As automation and artificial intelligence replace jobs at one end of the workforce spectrum, new roles emerge on the other. The U.S. Bureau of Labor Statistics added 24 new occupations in its latest update in 2010 to classify and categorize workers. This trend is expected to accelerate in the coming years. According to "The Future of Jobs Report" issued last year by the World Economic Forum, "65 percent of children entering primary school today will ultimately end up working in completely new job types that don't exist yet."
At Duke, the workforce is constantly evolving, said Dave Smithwick, assistant vice president for Compensation and Classification. "We process between 200 to 300 classification requests each month to address changes in departments' needs and job responsibilities," he said. "Areas such as international, research, compliance and technology are places where we are seeing more requests for new or reclassified positions."
Changes in technology at Duke's Innovation Co-Lab led to 19,486 3-D print jobs and 57,804 hours of machine time in the first year of operation.
Among the 3-D projects was the replica of the child's heart for Dr. Piers Barker, professor of pediatric cardiology in the Department of Pediatrics. Duke University Hospital has now added 3-D printing at the Co-Lab as an extension of a standard diagnostic imaging test that can be ordered for patient care just like a blood panel or X-ray.
Barker said the 3-D model provided insights not visible through two-dimensional images, which helped him find a better way to repair the patient's congenital heart defect without obstructing blood flow to the lungs and other organs.
"What you really like to do for surgical planning is to know exactly what you're getting into before you open up a child's chest," Barker said. "The more you can decrease the time you have to have a chest open to evaluate what you are dealing with, the better."
Social Side of Business
Like 3-D printing, another transformative area that has led to new types of work at Duke is social media. Duke Athletics was among the first areas to explore how to use new social media tools to engage its audience.
Jon Jackson, senior associate director of Athletics, said that since 2014, Duke Athletics has hired about 10 people to manage social and digital media, including video production for Duke's 27 teams.
Among the newly hired is Jess McNamara, who arrived in 2015 as a digital media assistant after graduating from Virginia Tech, where she played softball.
Last year, McNamara became social media manager for Athletics.
"This job is fun," she said. "I'm always learning and discovering new things. I love being able to promote our student athletes so people see their faces and get to know them better."
McNamara spends days, and many nights, managing Duke Athletics accounts for Facebook, Twitter, Instagram and Snapchat. She also helps manage Twitter for 21 other Duke sports and contributes to social media for Men's Basketball, which is Duke's largest social media audience.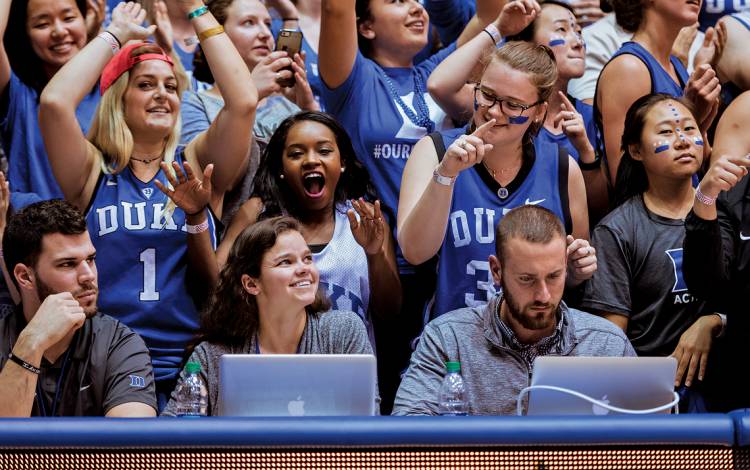 When multiple sports are in season, McNamara's job duties begin by creating graphics in the morning and end with posting the final score from a Men's Basketball game at night.
"It can be difficult to unplug sometimes," she said. "I'm constantly on social media because I don't want to miss anything. Getting sleep can be a problem when things get busy. But you can't complain about getting to go to a game in Cameron."
Duke Athletics' social media efforts have paid off.
Earlier this year, the Twitter account for Duke Men's Basketball (@DukeMBB) reached a new milestone, topping 1 million followers – a first in college athletics history. It is the most-followed social media account in college sports and has an audience larger than many professional teams.
"Social media allows us to directly communicate with people invested in Duke Athletics," Jackson said. "In the beginning, social media was more of a novelty, but now it has become a key part of our strategy in how we engage with people for the benefit of the entire University."
The Forefront of Healthcare
While McNamara finds new ways of engaging fans, Karthik Shyam is at the forefront of a new strategy in healthcare to engage patients. He is the new director of communications for the Duke Population Health Management Office, which formed in late 2016.
Population Health Management analyzes patient data from health claims and medical records to assess health risks and develops interventions before chronic or acute problems arise. The approach has been successful in improving the health of patients and reducing the cost of care.
"There are many important factors that contribute to a patient's health outcome that are difficult to address within the limitations of a 20-minute office visit," Shyam said. "We review all available data and provide recommendations to the physician based on the patient's health risks. We also connect patients with community resources to help them achieve their health goals."
Shyam's work has ranged from developing new websites to meeting with Duke and community providers to introduce the office's services and create new partnerships.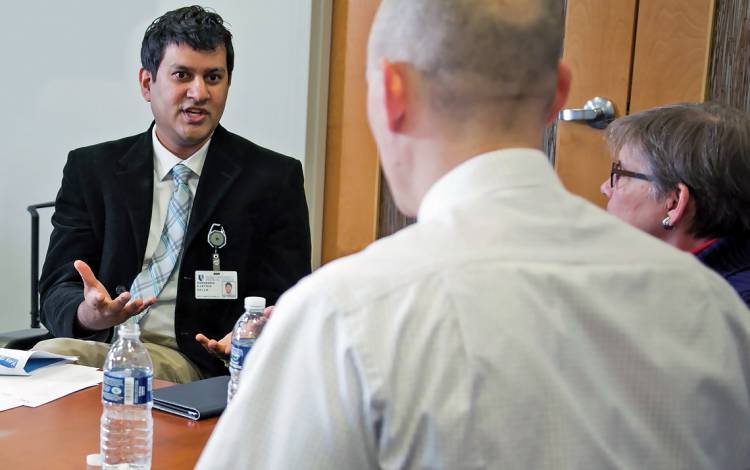 "I'm working in a very entrepreneurial environment," he said. "This is a rare opportunity to start up something new. I feel lucky to be here now, at this time."
Shyam earned a master's in public policy at Duke in 2012 and focused on health care reform.
"This job didn't exist when I graduated," he said. "I have experience in both health policy and communications, but I felt like I had to choose one path or the other. This job allows me to pursue both."
With summer here, Duke's hiring will pick up. Duke averages nearly twice as many hires during the summer with 641 per month compared to 335 per month during the rest of the year. Many of the new hires are likely to be people like Mitch Greene, the Co-Lab studio technician who maintains 3-D printing on campus.
Before arriving at Duke, Greene managed a 70-acre horse farm in Oxford, N.C. He hired contractors and got the operation off the ground before turning the farm over to his parents.
While the field of technology looks different than a farm, Greene's ability to quickly learn and adapt to change has helped him and other employees step into new workforce roles.
"With the farm, I had to teach myself how to make it work," Greene said. "I take pride in learning things fast, and that has helped me in this job. Things are always changing. Sometimes we get a new piece of equipment or the platform changes, and I have to learn things all over again."