Blue Devil of the Week: Healing by the Numbers
Kristian Knutsen helps Duke Health System see the stories in data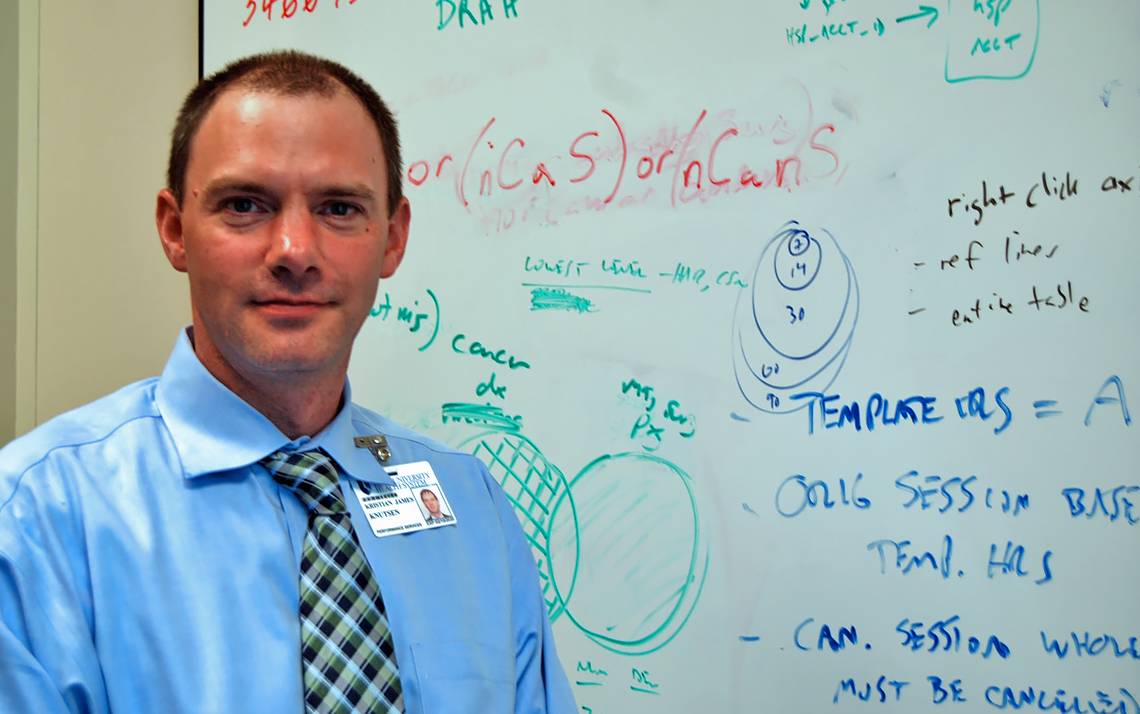 Name: Kristian Knutsen
Position: Management Engineer, Performance Services
Years at Duke: 10
What he does at Duke: Each patient who passes through the Duke Health System leaves a story. What brought them in? How long did they stay? Did they return after they were discharged?
It's the job of Knutsen and the staff at Performance Services to collect each of those stories and analyze the pool of data they create for trends, problems and opportunities. The reports Performance Services produces are used by everyone from the leaders of the health system to individual physicians to guide decisions.
One of Knutsen's focuses is readmissions. He helped create a way to detail the frequency and the reasons people get readmitted.
"We turn the data into information and knowledge that decision-makers can use with the end goal of improving the situation," said Knutsen, one of 15 Duke employees honored this spring with Duke's Meritorious Award for contributions to the university and health system.
What he loves about Duke: "I love that Duke has allowed me the opportunity to work on stuff I love to work on. I like working in the data, I like building the reports. They've allowed me to do that. I also like the fact that I feel that everyone at Duke is very dedicated to their jobs. It's Duke. It's a prestigious place to work. And everyone is a problem solver. … If everyone around you is focused, dedicated and trying to fix problems, it makes your job easier. If you're surrounded with like-minded people who are trying to do a good job, you're going to do a good job, too."
A memorable day at work: Instead of one particular day, Knutsen points to a series of days, not long after he got his job, when he shadowed members of the health system staff who provide the care he monitors from afar. He spent time with employees in radiology, the intensive care and the emergency department at Duke Regional Hospital.
"The experiences of getting to see the actual patient care in action, that was really cool," Knutsen said. "That's where the rubber meets the road. … Those are the people we're trying to impact."
A special object/memorabilia in his workspace: On his desk, next to his computer, there's a photo of his four-year-old son Brady.
"This is my favorite picture of him," Knutsen said. "It's different. It's in black and white, and I just love the way he's smiling."
First ever job: When he was 17, Knutsen got a job as a busboy at Ralphie's Diner in his hometown of Lutherville, Maryland. He didn't get paid much, but he remembers the waitresses giving him a small share of their tips.
"Hard work pays off, I guess," Knutsen said with a chuckle.
Best advice received: Knutsen said that simple words from his mom, Sandra Knutsen, have stuck with him.
"Always do your best," he said.
Something most people don't know about him: "When I was a kid I wanted to be a geologist," Knutsen said.
Knutsen didn't end up pursuing geology as a career, but he said he still enjoys learning about it and adding to the collection of rare rocks he's amassed. He credits his grandfather, fellow geology hobbyist Ivar Knutsen, with stoking that particular passion.
"It's something that most kids grow out of, but I didn't," Knutsen said.