Beat the Butterflies with Toastmasters
Getting over nerves is only the start in Toastmasters Clubs at Duke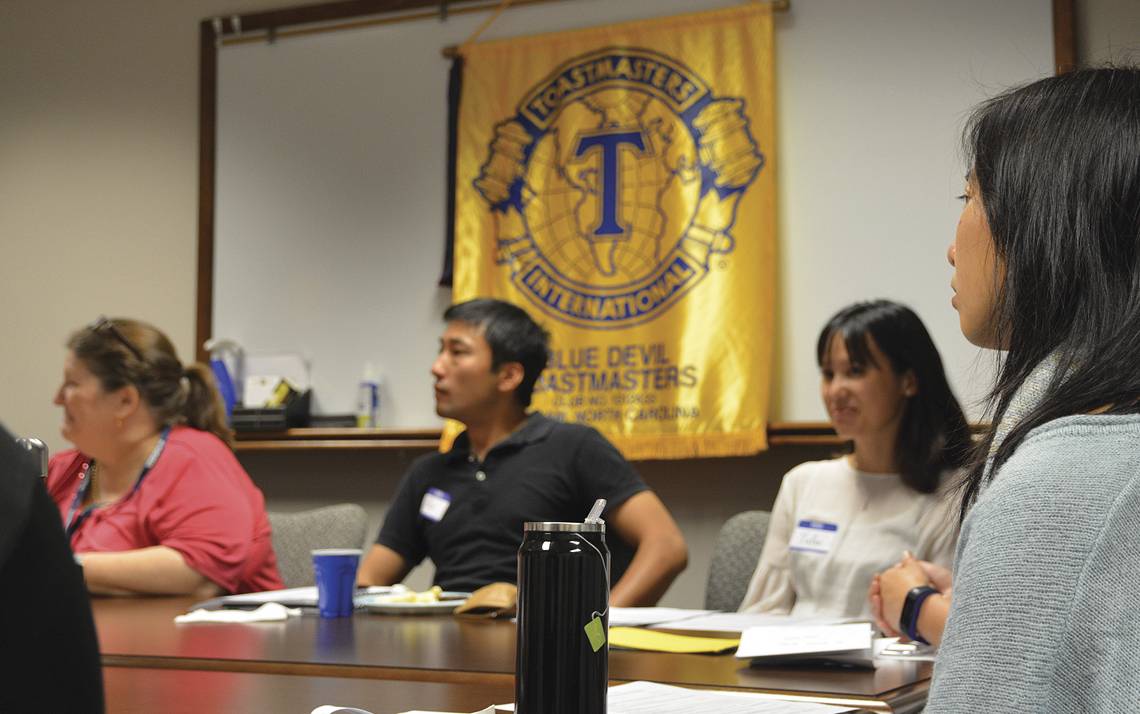 If you're familiar with Toastmasters, you've probably heard a story like Lesley Looper's.
The unit supervisor at Duke University Libraries wasn't keen on public speaking. After joining a Toastmasters group, she had to give a report on an award at a large meeting. Focusing on what she learned at Toastmasters, she quelled her nerves and delivered.
If this is the only kind of story you've heard, though, you may not be all that familiar with Toastmasters.
For Looper and fellow members, getting over nerves is a first step on a journey that's helped them in several ways. And with three Toastmasters clubs operating on campus, overcoming nerves is a journey any Duke community member can take.
"The skills that we pick up cover an interesting range," said Looper, president of the Blue Devil Toastmasters.
Here are skills you can learn through Toastmasters:
Organize thoughts
Biochemistry graduate student Jonathan Li had a tendency to ramble, turning simple sentences into winding soliloquies. He joined Blue Devil Toastmasters to remedy that.
He's benefited from exercises during Toastmasters meetings to pull together a timed speech on an unknown subject in a moment's notice. It makes him quickly decide which thoughts need to be expressed and which are best left out.
He calls upon these skills when he fields questions about his work. No matter what comes, he's ready.
"You have to come up with an explanation on the spot," Li said. "I get less shocked when people ask me questions I've never thought about before."
Manage time
Peg Helminski, Department of Radiology staff assistant, can tell when someone with Toastmasters experience runs a work meeting.
During Toastmasters meetings, speeches are evaluated by how speakers adhere to time constraints. Sticking to an agenda is constantly stressed.
"You get a really strong sense of what time is and how to put your information out in the most concise possible way," said Helminski, a member of Duke Toastmasters since 2013.
Master language
Lab administrator Maggie Mbugua starts each semester with a lengthy presentation to Pratt School of Engineering Teaching Assistants.
This hasn't always been easy for Mbugua, who moved from Kenya in 2006. Growing up, she learned English but spoke Swahili and also a mother tongue unique to her community.
After lessons on vocabulary, body language and time management at PRATTically Speaking Toastmasters, she has honed her communication and leadership skills.
"Most of the time, I will think in my mother tongue but then I have to translate that into English, without distorting the meaning as perceived by others" Mbugua said. "That becomes an obstacle. … Over time, Toastmasters has helped me have a good command of the language."