At Summer Retreat, Faculty Brush Up on Their Writing
Four-day Duke Faculty Write workshop gives scholars an opportunity to move forward on projects
The Duke Faculty Write Program's annual retreat came just in time for statistician Elizabeth "Liz" Turner who was facing a looming deadline for an important grant proposal. 
With time short but the pace of the academic year finally past her, Turner packed her bags for the cozy amenities of the King's Daughters Inn, where she and two dozen faculty colleagues spent four days talking about writing, sharing advice and getting down to work.
Writing is a way of life for many of Duke's faculty, and it comes in different forms. At the retreat, faculty members sought help with grant proposals, scholarly manuscripts, conference papers and even novels or poetry. The workshop had something for all of them.
Retreat facilitators Jennifer Ahern-Dodson and Monique Dufour have cultivated a sense of writing community and connectedness since 2012 when they cooked up the idea for the very first Duke writers retreat. During the four days, the writers learn to re-evaluate their own writing processes and begin to make progress on their individual projects.
For Mary "Tolly" Boatwright, chair of the Department of Classical Studies and professor of ancient history, the writing retreat is a chance to step away from the hectic academic semester and get to work on her book about the women of Imperial Rome.
"This is a great way to sort of reset for the summer," said Boatwright, during conversation at lunch in the historic Durham landmark off of East Campus. "This time is for me."
In a morning session this past Tuesday, the assembled writers sipped their coffee while they discussed their goals for the day. They came from different academic disciplines and their projects are at varying stages of completion. Yet they shared an air of optimism even when some described projects that have dragged on for over a decade.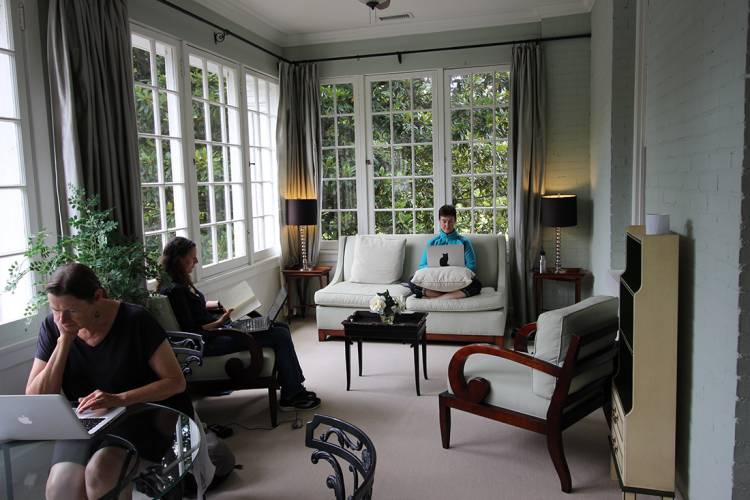 Monique Dufour, a professor at Virginia Tech, began the workshop by reminding faculty members that they should always ask themselves, "Am I moving forward? Am I realizing my work?" Momentum is essential to the writing process, Dufour said. For those with little time or who are stuck, she suggested working in regularly scheduled small increments, saying that before long these little bits begin to add up.
Dufour described five phases of the writing process: prewriting, composing, revising, editing, and release. Many people believe that they must proceed through these phases in a straightforward, linear fashion. However, Dufour said, this model of the writing process doesn't work well for longer, more complex writing projects, and if writers stick to this linear process, they are in for a lot of frustration.
For example: Dufour gave the example of an author who completes the prewriting phase before writing, spending vast amounts of time on research and organization but never penning a single page. This example drew several nods of heads from the faculty members.
"The secret to writing momentum is working with the time you have in any phase of the writing process on any tasks that move you forward," Dufour said.
But the workshop was more than just getting advice.  For some portion of the day, the faculty members took advantage of the serene environment to work on writing or thinking strategically about their project. The guest rooms of the Inn were filled with sound of typing. Many of the writers collected in the sunroom, which was under the shade of a swaying Magnolia tree.
By the end of the four days, several faculty members declared they had made progress.  However, Ahern-Dodson said while productivity is important, the major focus was on developing writing processes and a sense of connectedness to other writers.  The hope, she said, was that faculty members could use these processes  to write under any conditions and in any timeframe throughout the year. Many retreat participants are also outstanding teachers and administrators, and she wants to help them integrate their writing and research among their many commitments.
"We are more than the measure of our outputs," Ahern-Dodson said. "The experience of writing in academia also is important and critical to our continuing capacity to find meaning in our work. Writing alongside other scholarly writers, discussing our work with colleagues across disciplines and position types, and experimenting with a range of strategies to advance our ideas in writing not only advances individual faculty, but also adds value to the institutions where we work."
Liz Turner is a regular attendee of the Faculty Write Program offerings during the academic year, and she follows their advice in her work.
"I try to reserve the time for producing new writing rather than just doing emails," she said. Turner also uses the workshop mantra "release before you're ready" to guide her writing. This refers to a common practice of holding on to a project before until its completion. In fact, Dufour and Ahern-Dodson advise writers to seek feedback routinely before they send work off for official review.
While working on her grant proposal, Turner took her lessons to heart and released an early draft to her colleagues. She was rewarded with a helpful conversation about the logic of her argument. By the end of the workshop, she had reorganized her final draft. 
Rebekkah Huss is a 2017 NC Central University graduate who is a writing intern this summer with Duke's Office of News and Communications.