Half Century at Home
For fifty years, Carol May has let the pride in Duke and her work show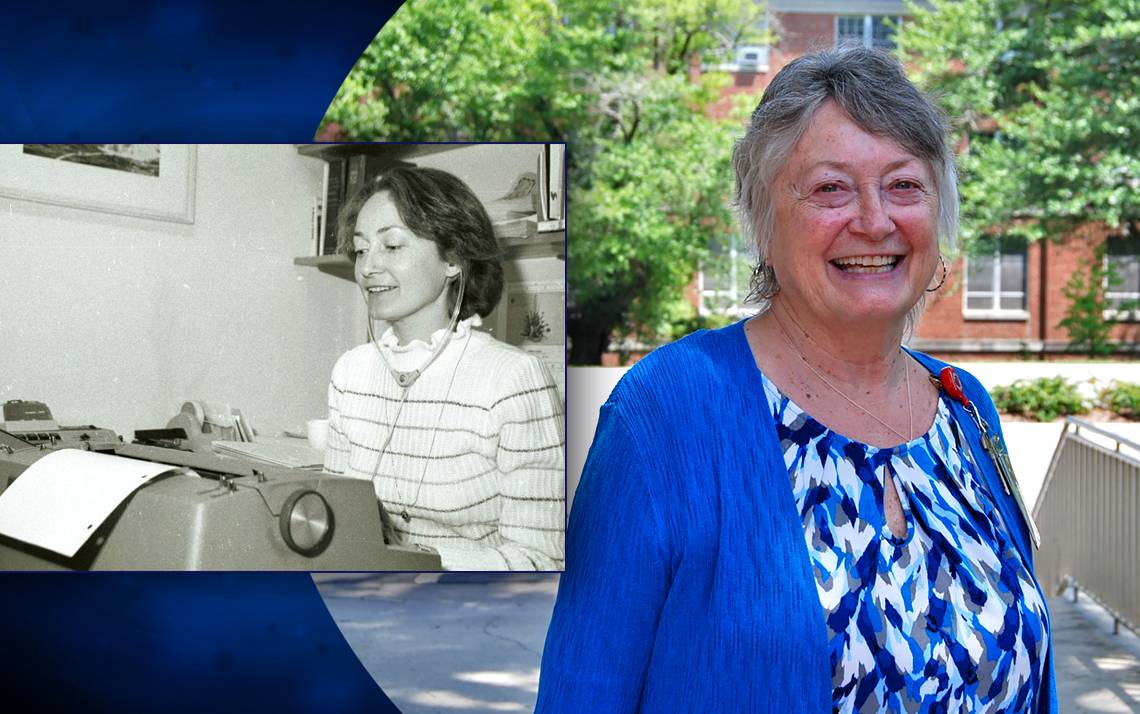 A springtime walk around West Campus and the Sarah P. Duke Gardens was all it took to show Carol May that Duke was where she needed to be.
A 20-year old recent graduate of then Lees-McRae Junior College, May was touring campus with fellow candidates for medical secretary internships. The blooming flowers, gothic architecture and warm, friendly faces left an impact.
"I don't need to go anywhere else, this is my home,'" she said at the time.
That was in 1967. Fifty years later, Duke is still home.
May, a staff assistant in Duke's Division of Pulmonary, Allergy and Critical Care Medicine, will celebrate a half-century as a Duke employee this month.
"When people say, 'Where do you work?' to say 'I work at Duke', I'm proud of that," May said. "I'm a Blue Devil."
May, who transitioned to part-time in 2009 after 42 years, is one of only 32 members of the faculty and staff who have start dates prior to 1968 and who are still drawing regular paychecks from Duke.
Her time at Duke began with an internship in 1967 with Duke University Hospital but quickly led to a full-time job when a position opened in the office of Dr. Herbert Saltzman, director of Duke's new Center for Hyperbaric Medicine and Environmental Physiology. The center's home, the F.G. Hall Laboratory, was still under construction when May joined the staff.
That lab was her home for the next 30 years.
With eight large hyperbaric chambers capable of simulating the pressure of up to 1,000 feet of seawater, the lab has seen plenty of action. And May has been around to see much of it.
She recalled the Duke men's basketball team visiting the lab before heading to the 1990 Final Four in Denver to get a feel for the altitude's effects on their bodies.
And in the early 1980s, while filming the largely forgotten sci-fi thriller Brainstorm, Academy Award winner Christopher Walken spent time in the lab. May remembers him plopping down on a couch next to her desk in between scenes once. She asked him how his day was.
"I don't remember!" May said when asked what he said back. "I was too nervous."
After Saltzman retired, May spent 12 years working for doctors in the Bell Research Building, which was later torn down to make way for Duke Medicine Pavilion.
For the past eight years, she's worked in Hanes House as the staff assistant for pulmonologist Alice Gray.
"She believes in what we do," Gray said. "She is committed to the quality of the place in everything she does."
While May's commitment to her work hasn't changed, nearly everything else about it has. These days, she manages schedule, travel plans and patient information on a computer. When she started, her desk featured a typewriter, carbon paper and correction fluid.
If she needed copies, May walked to a print shop in Baker House. If she had mail, she'd have to go to the post office in Duke South. If she needed a chart, she'd write a request, seal it in a canister and shoot it to the medical records office via a pneumatic tube.
"They'd call you when it was ready to pick up," she said.
May was around before Duke North existed.
She was around to see Duke's Personal Rapid Transit system – the hospital's own light rail line – get built, used and removed.
A passionate fan of Duke athletics, she's had football season tickets for more than four decades and men's basketball season tickets since the 1979-80 season.
She's seen the size of the total student body more than double and the size of the faculty roughly quadruple.
Despite the changes Duke has seen during her 50 years, May said her affection for it remains the same.
"I always felt like I was put here at the right time," May said. "Somehow I hit everything just right. The people have been wonderful."