Kazakhstan is in the midst of comprehensive education reform, and Duke's Fuqua School of Business has played an important role in the development of one of this country's most prestigious institutions: The Graduate School of Business at Nazarbayev University.  On May 27, the two schools signed a contract that renewed their strategic partnership through December 2022.
Nazarbayev University (NU) is located in Astana, a city known for both its futuristic skyline and its bitterly cold winters. Kazakhstan is the largest of the post-Soviet Central Asian countries and its rich fossil fuel and mineral resources laid the foundation for economic development.
"We are developing day-by-day," said Assemzhan Kispayeva, senior manager for NU's Graduate School of Business (NUGSB).  "Sometimes you go to sleep, and when you wake up, there's a new building you have never seen before."
In 2006, Kazakhstan President Nursultan Nazarbayev called for the establishment of a "world-class university" in Astana. In 2010, NU accepted its first cohort of students.
NU was built following a new model for Kazakhstan. The university is officially designated as an "autonomous educational institution," which means it is independent from bureaucratic governance or any restrictions on academic freedom. To establish new best practices for higher education in Kazakhstan, NU has partnered with more than ten elite institutions around the world, including the University of Pennsylvania, University of Wisconsin-Madison, University of Cambridge and the Lee Kuan Yew School of Public Policy in Singapore.
NU Graduate School of Business Developed in Partnership with Fuqua
The Fuqua School of Business was first approached by NU in 2009. The two schools completed a market study, demonstrating the feasibility of a graduate business school at NU. Since 2012, Fuqua has been a strategic partner to NU—offering advice and insight into best practices for everything from classroom design, to admission standards, to curriculum development and faculty recruitment.
 "We've always operated as a true partnership," said Valerie Hausman, Fuqua's associate dean for global executive education. "There is deep collaboration across all areas."
The NU Graduate School of Business (NUGSB) now offers full-time and executive MBA programs, executive education, a master's of science in finance, and a masters in engineering management. All degrees awarded are solely from NU, though the university's many programs benefit from its international alliances. 
Fuqua's Director for Business Development for Kazakhstan Robert Olinger has travelled to Kazakhstan on a near-monthly basis since 2011. "When I arrived [at NU] there was one building," said Olinger. "Now there is an order of magnitude more and the campus is alive and full of students."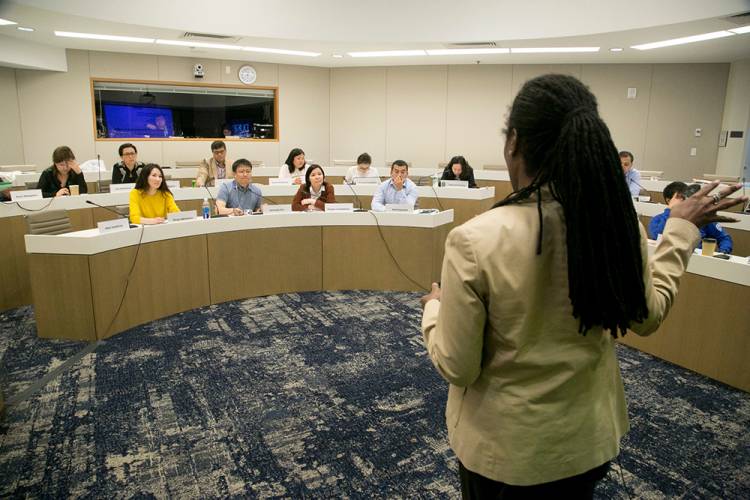 "We are providing a type of education that has not existed in this country for many years," Olinger said. "However, it is deeply valued. There is potential to make dramatic impact on the country, not just on individual students or their companies."   
"Together we are building a business school that reflects Kazakhstan's unique position in the world—both as a leader in Central Asia, and as an important bridge between the most influential economies of Asia and Europe," said NU Executive Vice President Maksat Mamashev. Mamashev, a graduate of Fuqua's Global Executive MBA, knows the two schools well. "As a graduate of Fuqua," he continued, "I can confidently say that graduates of NUGSB go through the same rigor."
A Hunger for Business Education
Compared to those enrolled in other NU programs, executive MBA students are typically more advanced in their careers and complete the degree while maintaining positions in government or the private sector. "This option did not exist for full-time workers before," said Olinger. "There is a hunger for access to this type of education."
For Assemzhan Kispayeva, senior manager for NUGSB, her decision to return to her home country after completing an MBA abroad was motivated by a sincere desire to impact positive change. "I decided to apply my knowledge in Kazakhstan and raise the region," she explained. This potential for impact is also keenly felt by the business students Kispayeva supports. This April, Kispayeva and twenty-seven students from NU's Executive MBA program came to Durham for a two-week residency at Fuqua. 
"Kazhakstan was a relatively young country when I started my career. When I graduated from university, pension reform from the Soviet system to individual savings had just started," said Akylzhan Baimagambetov, director of the department of balance payments and currency regulation at the National Bank of Kazakhstan. "This program gives us the chance to deepen our understanding about how business works. It has helped me do more for my country."
Aliya Salybekova, deputy director for Bailyk Almaty LTD, first grew interested in finance as an exchange student in a Tennessee public high school.
"It opened up my mind, I was so excited. My class invested $25 in Coca Cola stock," remembered Salybekova. Today, she is aware of how her NUGSB degree will affect her ability to successfully steer Bailyk Almaty, a money exchange network, through the drop in oil prices in Kazakhstan. "It is a shock for the banking system and it is tough for medium and small enterprises. Only the strong ones will survive," said Salybekova.
David T. Robinson, professor of finance and the J. Rex Fuqua professor of international management at Fuqua, has visited NU to teach on five occasions. Robinson is familiar with the deep commitment expressed by NU students. "The students are very hard working and have a great attitude towards the classroom," said Robinson. "Many of them are in quite senior positions in Kazakh business society, which means that as a teacher, I feel like I'm really having an impact by shaping the way they think about the business decisions they face every day."
Fuqua and Nazarbayev University Renew Strategic Partnership
At Fuqua, the dissemination of best practices is considered a natural extension of the school's mission. "Fuqua has a belief that business is global," explained Hausman. "In order for business leaders to be effective, they have to be deeply sensitive and aware of what is happening around the world." The Fuqua-NU relationship has transformed the school's understanding of, and its relationship to, Central Asia.  
Hausman anticipates that Fuqua's role will evolve as the strategic partnership continues to develop and mature. "The ultimate goal is for NU to succeed independently," she explained. With facilities built and classes in place, the focus is transitioning to further develop the research mission of NU. As NU seeks to grow into a top global research university, both schools anticipate increased opportunities for faculty collaboration.
Jennifer Francis, vice provost for academic affairs at Duke, and a Fuqua faculty member, hopes to extend the benefits of this partnership between Fuqua and NU to other Duke students. "This partnership offers a strong opportunity for immersive education experiences, and we are exploring possibilities for including Nazarbayev University among the university's exchange programs," said Francis.