PUBLISHED
Uzoma Ayogu: Technology to Make Life More Livable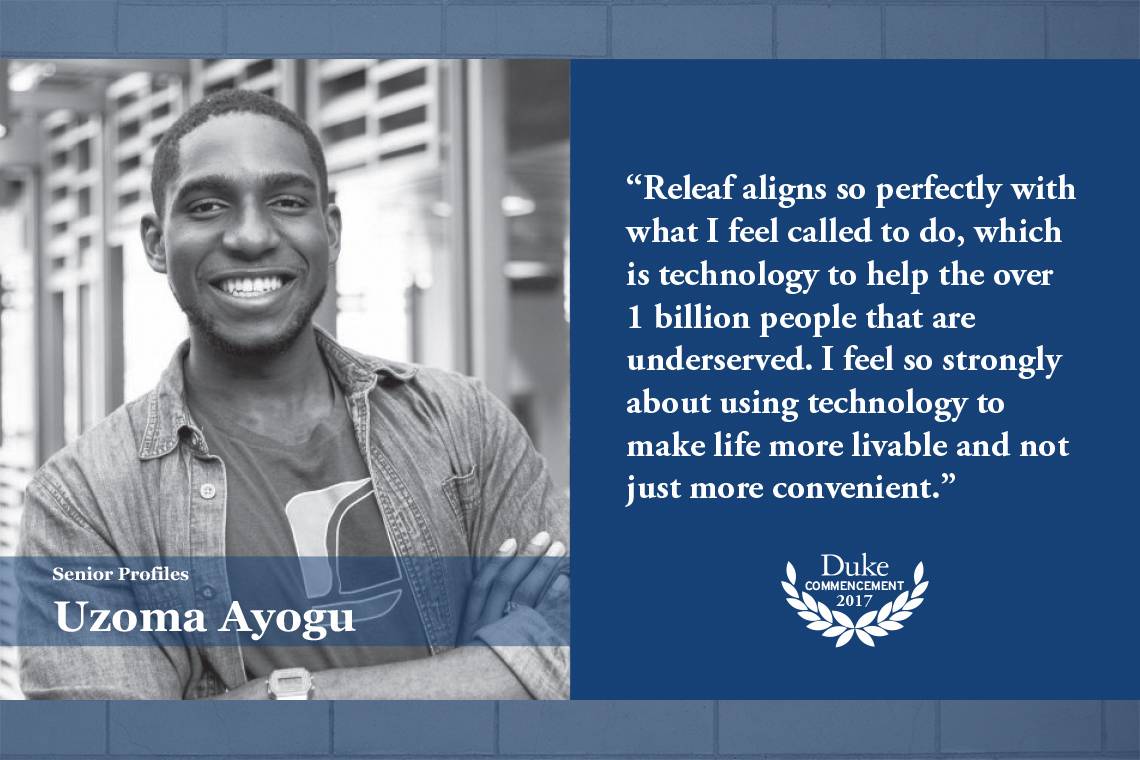 UZOMA AYOGU
Hometown: Cape Town, South Africa (Jos, Nigeria)
Major: Mechanical Engineering
Clubs/Organizations: Alpha Phi Alpha, Dukes & Duchesses, Engineering Student Government, Pratt Diversity & Inclusion Committee, intramural soccer
Favorite Duke memory: Winning the intramural soccer championship after eight seasons of trying with my same friends from freshman year with eight different countries represented. We had lost three finals and three semifinals and we won in penalties after extra time. As soon as we won we poured champagne on each other. It could not have been a more perfect final game.
When Uzoma Ayogu applied to Duke, he wrote in his essay that he somehow wanted to help his birth country, Nigeria.
Commencement Homepage
That dream has become reality through Releaf, his company that helps connect investors with small-to-medium enterprises (SMEs) in Nigeria.
Uzoma started the platform before he became a member of the 2017 class of Melissa & Doug Entrepreneurs, a student entrepreneurship program administered by Duke Innovation & Entrepreneurship (I&E) that helps students build their own ventures. Uzoma says the program helped him connect with customers and build his entrepreneurial skills.
His dedication to the work of Releaf will continue after he graduates from Duke with a degree in mechanical engineering. Uzoma asked Microsoft to defer its job offer so he and his co-founder can move to Nigeria and help expand the company's work beyond Nigeria to other African countries.