Sophia Jamal: Social Entrepreneurship as a Breeding Ground for Curiosity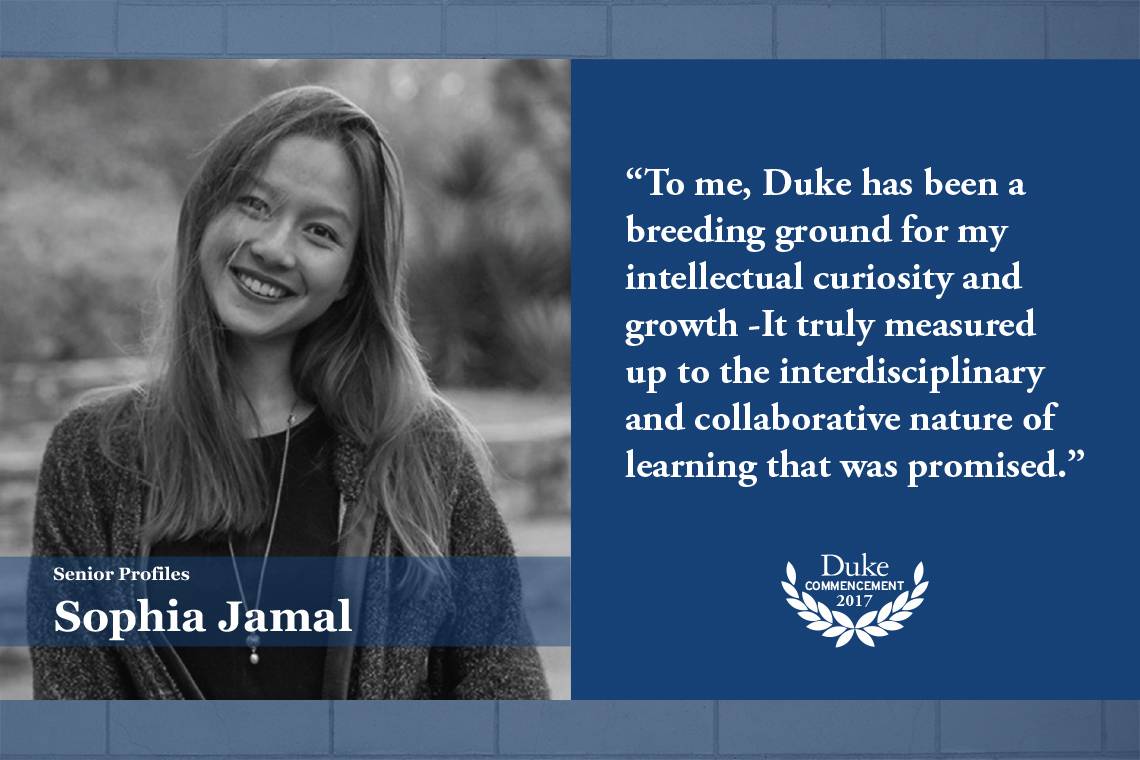 Sophia Jamal
Hometown: Kuala Lumpur, Malaysia
Major: Public Policy Studies
Certificate: Innovation and Entrepreneurship
Clubs/Organizations: President of Duke International Association, Project Member for Duke Design For America, Social Media Lead for Helius Foundation (as part of Net Impact's Social Innovator's Program)
Any other activities you participated in: Duke Innovation & Entrepreneurship's conference on women entrepreneurs, United World at Duke
Post-graduation plans: I will be returning home to Malaysia to work under the Strategic Management Unit for Malaysia's sovereign wealth fund. Before I begin work, I am excited to rejuvenate by spending many hours reading books and bonding with my family after studying abroad for six years.
Favorite Duke memory or what Duke has meant to you: To me, Duke has been a breeding ground for my intellectual curiosity and growth. It truly measured up to the interdisciplinary and collaborative nature of learning that was promised.
Sophia was engaged in anti-human trafficking efforts, including anti-indentured servitude, before coming to Duke, and she majored in public policy because she thought complex problems required the assistance of government. She added a certificate in Innovation and Entrepreneurship to expand her knowledge and problem-solving toolkit.
Commencement Homepage
As a consumer, Sophia realized it was difficult to find ethical fashion brands – those with fair working conditions that are non-exploitive and committed to fair trade, sustainable production, the environment and animal welfare – unless she spent hours combing online search results. Then, upon speaking to people in the ethical fashion industry, she learned that it was difficult for smaller ethical brands to access customers and compete against huge retail companies.
With these issues in mind, Sophia developed Ethos, an online marketplace for ethical clothing brands, providing a one-stop shop for customers looking for ethically made goods. Although Ethos is still in the creation phase, Sophia said she's excited to see where she can take it. After graduation, she plans to return to her native Malaysia to experience the emerging entrepreneurship space there.