Putting the Arts in Health
Visual, musical and literary programs promote well-being for patients and employees
On a quiet weekday, William Dawson strums a classical tune on his guitar in a Duke Hospital courtyard.
Chaplains and other staff sit in the audience as Dawson pays respect to Duke Health employees who have passed away, one of Dawson's many duties as the Musician in Residence and one of four artists on staff for the Arts & Health program at Duke.
Founded in 1978, Arts & Health brings visual, peforming musical and literary arts to Duke Health and the University as a way to bolster patient and staff well-being. From journaling sessions to free music concerts and employee art shows, free Arts & Health programs help relieve the stresses of illness or other worries.
"Not only is the program a healthy distraction, people learn skills they can take home with them." said Sharon Swanson, volunteer services manager with Arts & Health at Duke.
Performing Arts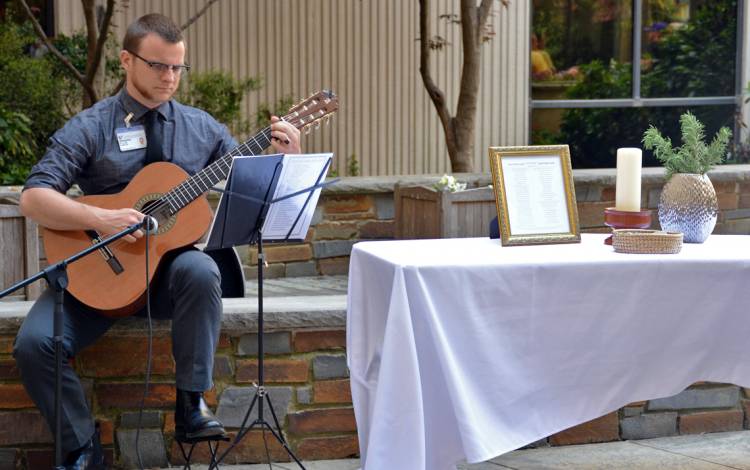 Employees who enjoy a little music at work might visit one of the lunchtime concerts scheduled at Duke Hospital through July 5, or appreciate one of the student or professional musicians often playing throughout the public spaces of the hospitals and clinics. This auditory ambience comes thanks to Dawson, who oversees 65-plus hours of music performed a week at the hospital.
Dawson, a multi-instrumentalist who spent two years playing and recording with the platinum-selling Squirrel Nut Zippers, understands the healing power of music.
"We all know that having a good state of mind can really help you. Music helps with the body-mind connection," said Dawson, who spends much of his time carrying around a ukulele—his favorite instrument for the job because it's light—playing at patients' bedsides.
"If they're under 15 years old, it's 'Let it Go' from 'Frozen', and if they're older folks it's the 'The Old Rugged Cross,'" he said of patients' song preferences.
Patient David Stucker wanted to hear "L-O-V-E", a romantic old standard first recorded by Nat King Cole in the 1960s. Dawson played and sang with the Chapin, S.C. resident while Stucker was still in the ICU recovering from a double lung transplant.
Diagnosed with pulmonary fibrosis in 2013, Stucker's new lungs allow him to do what he loves again—sing. The nuclear energy strategist and amateur musician met with Dawson four times during his hospital stay.
"Music is joy and beauty and love," Stucker said. "William's visit was totally unexpected but wonderful and in keeping with the level of care I've had at Duke, just everything was over the top."
Literary Arts
People often tell Katja Hill that they're not creative and they can't write. Once she convinces them they can, they journal away their troubles for hours, a welcome distraction and a bit of regained control in a world of illness and chaos.
Hill directs the journaling program "Write For You," which is open to staff and patients on the second Friday of every month from 11 to 11:45 a.m. at the Duke Cancer Center.
"Writing is a way to restore privacy and agency to a person," said Hill, who also conducts by-request workshops and retreats for staff. She recently led a half-day self-care retreat of the Bereavement Advisory Council, which is comprised of about 15 staff members, such as chaplains and palliative care staff, who deal with end-of-life care.
"Katja's really innovative. It's like a breath of fresh air. It's not often in a work day that you get to sit and think about a poem," said Duke Chaplain Artie Hendricks, one of the retreat's leaders.
Hendricks said that Hill's use of poetry and writing exercises proved useful to staff, many of whom experience loss of life on a daily basis, often with little time to process feelings.
"I try to offer ways for people to put their thoughts on the page and get back some control," Hill said.
Hill also heads the "Poetry in the Halls" project, which hangs copies of poems by locally and nationally recognized writers throughout the public spaces at the hospital and clinics. She also leads the Art Kit program, which allows staff and patients to request a journaling, origami, brain teaser, coloring book or playing cards art kit.
Visual Arts
Jennifer Collins-Mancour's and Bill Gregory's touch is seen around the hospital, in the 4,000-plus paintings, sculptures and other artwork featured throughout health system buildings, both in private rooms and public spaces.
The team also coordinates rotating exhibits throughout the hospital and clinics including the annual Duke Health Employee Art Show July 27 to Sept. 20 in the Mars Galleries and the annual Holiday Art Invitational, which is Nov. 6 through Jan. 10 in the Arts & Health Galleries. Local artisans, including Duke employees, are encouraged to submit work for consideration in the Invitational. Deadline for submissions is Aug. 1.
"The thing about art is that it's awe inspiring. It humanizes the atmosphere and it gives you a distraction when you're in pain," Collins-Mancour said.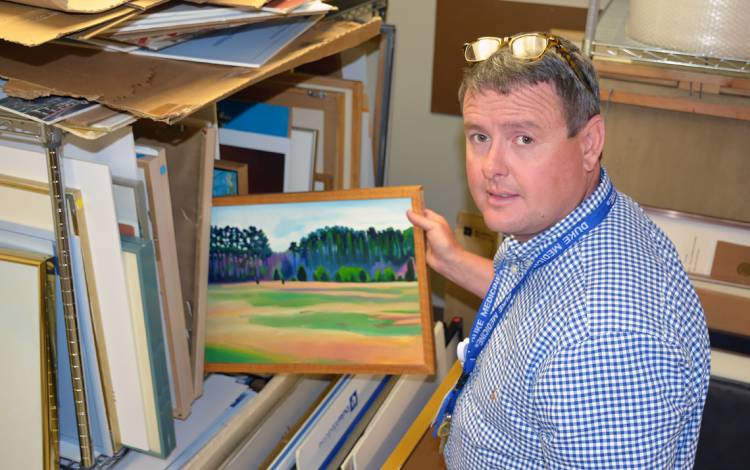 Collins-Mancour said that the hospital's permanent artwork mostly features tranquil regional landscapes that have universal appeal. A goal of the program is to have art in every single patient room, a goal that's 70 percent met right now.
"Artwork and visual stimulation is something that actually does help people," Gregory said. "It takes them out of their situation for a moment."
Other Ways to Appreciate the Arts at Duke University Hospital:
Concourse between Duke Medical Pavilion and Duke North
Ongoing Exhibits currently featuring the "Fish Bouffant" show by New Bern artist Craig Gurganus through July 5.
Morrison Gallery near Clinic 1D
This intimate space was recently named in honor of long-time Arts & Health employee Sam Morrison who celebrated 39 years of employment with Duke. The space currently features "The Dance," sculptures by local artist Cynthia Aldrich.
Mars Galleries
These staff-access-only galleries, on the inside of the concourse connecting Duke Medicine Pavilion and Duke North, are used for departmental exhibits and will also be used for the upcoming Duke Health Employee Art Show.
Self-Guided Art Tours: Duke Cancer Center, Duke Hospital and Duke Medicine Pavilion
These self-guided tours were developed to give staff, patients, and loved ones a peaceful diversion and chance for some exercise. Artist in Residence Bill Gregory designed these pamphlets, available at hospital information desks.