A New Sign at Duke's Campus
Limestone tablet is designed and carved to reflect university's historic architecture
Weighing about 1,100 pounds, a masterfully carved limestone tablet now adorns the entrance to Duke's campus.
Engraved with "Duke University" and ornamental tracery, the piece was installed in the stone wall at the entry gates at Duke University Road and Chapel Drive on Monday.
"There was a need to better mark this as the ceremonial historic entrance on to campus, and this celebrates the entry," said Mark Hough, Duke's university landscape architect.
The Indiana Buff Limestone slab was procured, designed and engraved by the John Stevens Shop, which has inscribed scores of stones, including John F. Kennedy's grave in Arlington Cemetery and the Martin Luther King Jr. National Memorial and monument at the National Art Gallery, both in Washington, D.C.
Nick Benson, owner of The John Stevens Shop in Rhode Island, which was founded in 1705, designed the "calligraphic fraktur" lettering and ornamental tracery for the 68.5 inches by 40 inches tablet at Duke.
"I work up a layout for the piece, and we transfer that layout to the stone and then it's a matter of pecking away with a mallet and chisel, so it's all hand cut," Benson said.
Special attention was paid to ensure the design of the tablet's ornamental tracery echoes Duke University Chapel's window tracery, he said.
"The nice thing about it is it really does tie in well with the rest of the architectural flavor of the university," Benson said. "When you look at it there in the wall, it looks like it's always been there. It fits in very, very well."
After the stone was engraved, crews from Cleve Wagstaff Stone Masonry, which has performed work at Duke for 30 to 40 years, used hand tools and small electric cutting tools to create a spot to anchor the three-inch thick tablet within the wall. Wagstaff will then mortar the edges of the stone to match existing limestone details.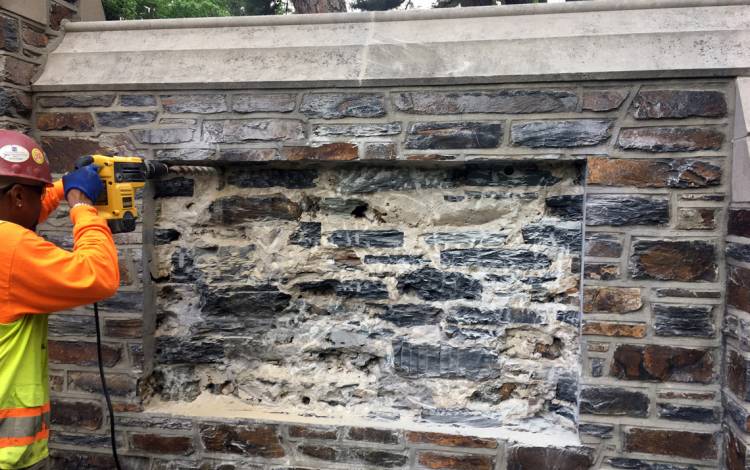 The tablet marks only the second time in 87 years that the front entrance gates have been modified. In 2015, Duke Facilities Management Department studied the original Horace Trumbauer drawings and noticed that the sketches of the entry included lights that were not installed. Facilities worked with Vega Metals, a Durham metal shop, to create the sconces. Landscaping was also upgraded and up-lighting installed to accentuate the area.
"This gateway is really part of a very carefully orchestrated entry sequence, and the tablet completes that experience," Hough said.