PUBLISHED
Lauren Rosen: Wearing Duke Pride on Her Sleeves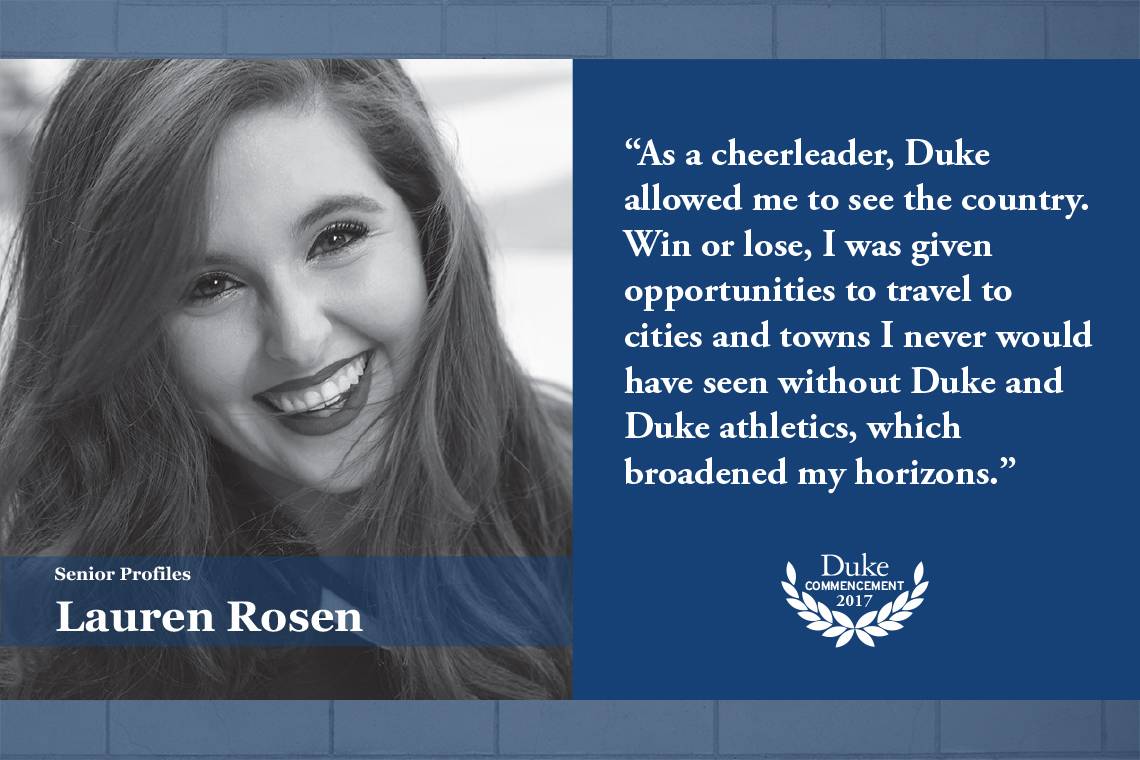 Lauren Rosen
Hometown: Houston, TX
Major: English
Minor and any certificates: Political Science, Theater Studies
Clubs/Organizations: Varsity Cheerleading, Me Too Monologues, Duke Athletics Office of External Affairs
Any other activities you participated in: Project BUILD
Post-graduation plans: Master's Degree in Sports Media from Northwestern's Medill School of Journalism.
Favorite Duke memory or what Duke has meant to you: As a cheerleader, Duke allowed me to see the country. Win or lose, I was given opportunities to travel to cities and towns I never would have seen without Duke and Duke athletics, which broadened my horizons. Oh, and watching men's basketball win a national championship in 2015 didn't hurt.
Lauren Rosen wore her Duke pride on her sleeves – both of them – during her time at Duke.
Commencement Homepage
"Lauren Rosen has been a cheerleader for Duke and it students, literally and figuratively," said Dean of Students Sue Wasiolek. "As a member of the cheerleading squad all four years, Lauren has carried the Duke spirit around the world, serving as one of its most ardent ambassadors."
Lauren was also a participant in, and a director, of the MeToo Monologues at Duke. This documentary theatre project provides an opportunity to confront and discuss real experiences and issues of racial prejudice, sexual assault, mental health and body image. Students send in their anonymous stories, and they are performed by student actors/volunteers, giving the anonymous student the voice they didn't have when their issue occurred. For Wasiolek, Lauren's involvement in the project was a continued demonstration of her spirit, allowing her to "cheer" for students and advocate for their well-being by sharing their stories.