PUBLISHED
Kirsten Bonawitz: Drawn to Genetics and Alzheimer's Disease Research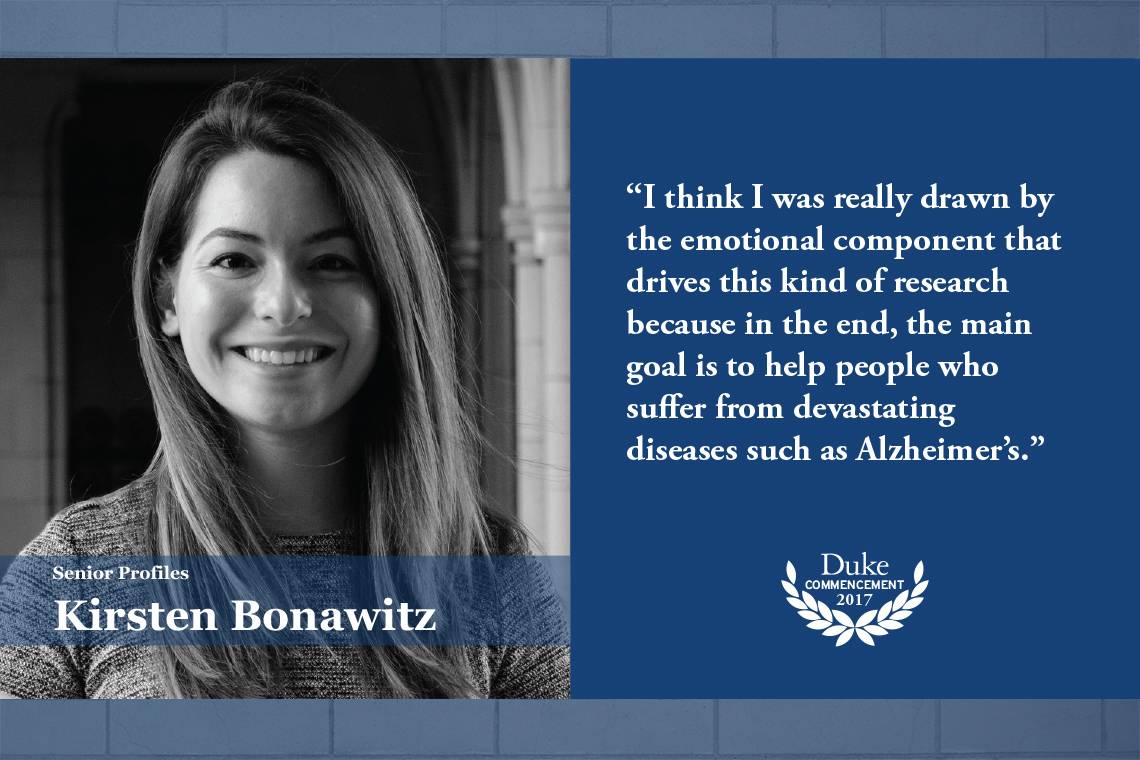 Kirsten Bonawitz
Hometown: Stevensville, Michigan
Major: Neuroscience
Minors: Biology, Chemistry
Clubs/Organizations: The Community Empowerment Fund, Duke Emergency Medical Services volunteer, On Tap, Alpha Phi Omega, Bass Connections Student Advisory Council, Neurogenesis Journal publishing editor
Any other Activities You Participated In: Research in the Chiba-Falek lab
What Duke has meant to you: Life-long friendships and endless opportunities.
Helping people is genuinely part of Kirsten Bonawitz's nature. Through the Bass Connections follow-on grant she received, Kirsten worked on elucidating the role of genetics in the development of late-onset Alzheimer's disease. "I think I was really drawn by the emotional component that drives this kind of research because in the end, the main goal is to help people who suffer from devastating diseases such as Alzheimer's," said Kirsten.
Commencement Homepage
During Kirsten's research, she collected neurons from normal and mild-cognitive impairment human brain samples, extracted RNA for the purpose of gene expression analysis and initiated the collection of neurons from mild and severe Alzheimer's samples. This approach will aid in determining at which point in disease progression and within which specific cells gene expression changes occur, explained Kirsten. "This project plays and will continue to play an important role in my academic and professional career," she said.
Kirsten also served as a volunteer for Duke Emergency Medical Services. She is one of four pre-med students credited with saving a popular Duke professor's life after he had a heart attack in Perkins Library in fall of 2015. Kirsten and the other EMS student volunteers resuscitated professor George Grody, who suffered from cardiac arrest. After graduating, Kirsten will work as a medical fellow in Guatemala with The Global Public Service Academies. She also plans to apply to medical school.