Justin Bryant: Finding New Ideas from Students in China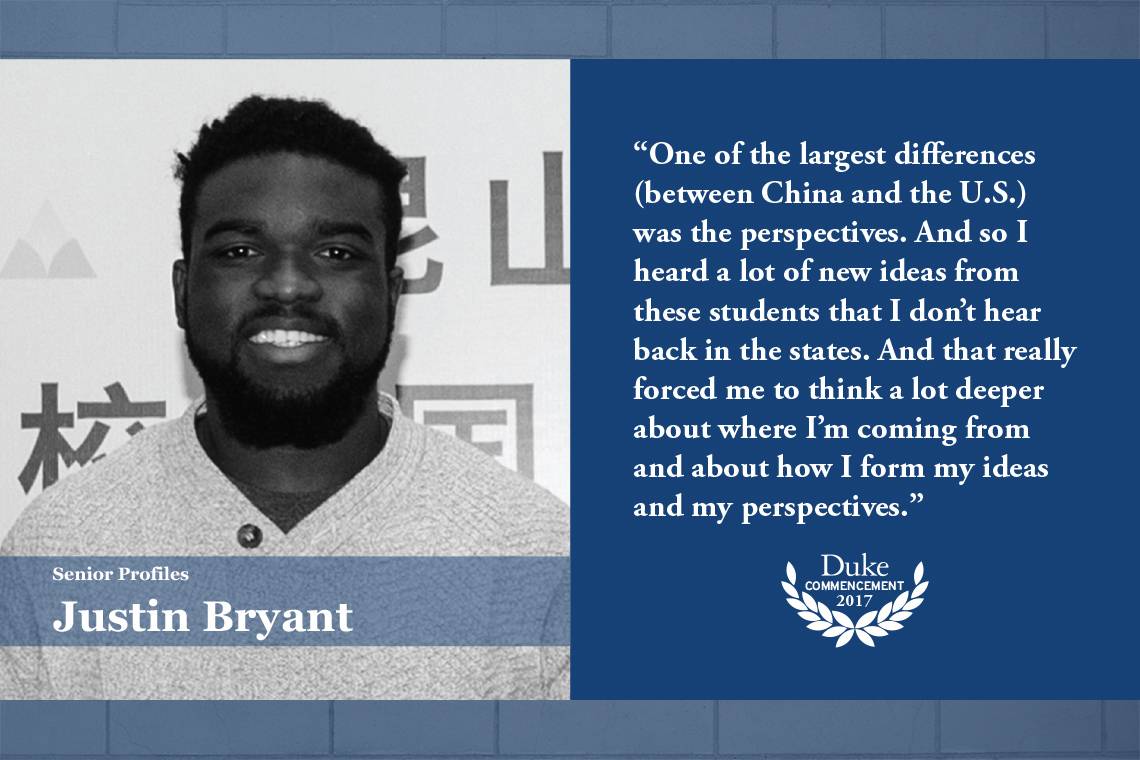 Justin Bryant
Hometown: Johns Creek, Georgia
Major: Public Policy Studies
Certificate: Information Science and Information Studies
Clubs/Organizations: Director of Administration for the Durham Kitchen Connection, a representative on the President's Council on Black Affairs and Vice President of the Duke University Marching Band.
Other activities you participated in: Served as a legal and government affairs intern at Microsoft in Beijing, and was a research intern at the Southern African Clothing and Textile Workers' Union in Cape Town.
Justin Bryant is a Reginaldo Howard Memorial Scholar who aspires to work in technology and innovation policy and is interested in pursuing elected office.
Commencement Homepage
While at Duke, Justin participated in the Duke Kunshan University Global Learning Semester program in Kunshan, China, where he served as undergraduate chairman of Kunshan Student Ambassador Council. For fun, Justin also formed and directed the Shockwave Acappella Ensemble at Kunshan. 
"One of the largest differences (between China and the U.S.) was the perspectives. And so I heard a lot of new ideas from these students that I don't hear back in the states. And that really forced me to think a lot deeper about where I'm coming from and about how I form my ideas and my perspectives," he said.
Justin was selected to be a member of the Schwarzman Scholars Program, where he will pursue a master's degree of global affairs in public policy at Tsinghua University in Beijing, China. Justin is among 125 recipients selected from 2,747 applicants across 119 countries.