Jonathan Aisenberg: Diving Into Academics and the Arts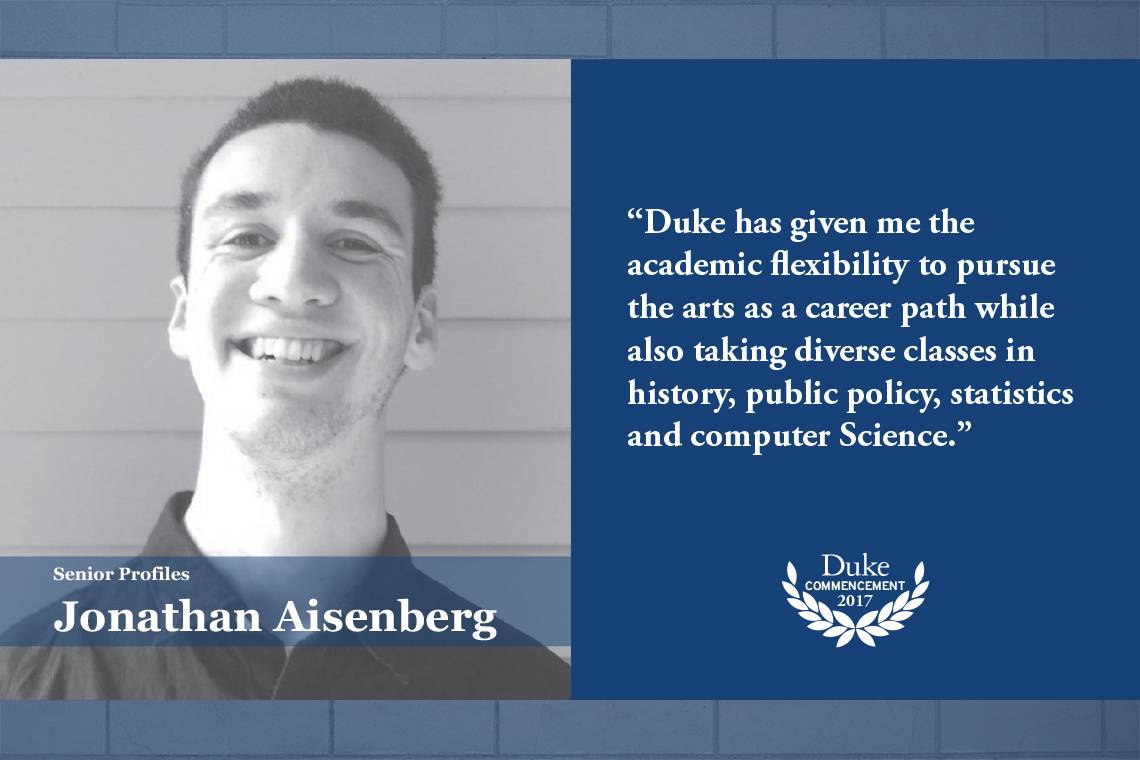 Jonathan Aisenberg
Hometown: New York, NY
Major: Music
Minor: History
Clubs/Organizations: Playreading Chair of Hoof 'n' Horn, President of Duke Chorale
Other activities you participated in: Undergraduate history research grant to conduct archival research in Scotland. Phi Alpha Theta National Honor Society. Graduating with Highest Distinction in Music, under Professor Anthony Kelley. Recipient of the William Klenz Prize in Music Composition. Member of the Duke Performances Task Force, Featured speaker for Duke Arts & Humanities Open House.
"Duke has given me the academic flexibility to pursue the arts as a career path while also taking diverse classes in history, public policy, statistics and computer science," says Jonathan.
Commencement Homepage
To fully take advantage of a liberal arts education, Jonathan chose to minor in history to learn how to communicate effectively both in language and in music. He relished getting to take classes and getting to know professors Stephen Jaffe (music) and Gunther Peck (history.)
Jonathan holds a particular fondness for contemporary classical music, jazz and choral music. He has enjoyed directing, playing and composing music at Duke. He also helped to organize the inaugural Spring Breakthrough course on the musical "Hamilton" with professor Noah Pickus. Though he never performed on stage for Hoof 'n' Horn, Duke's student-run musical theatre organization, Jonathan played a crucial role in directing and playing for many, as well as chairing the committee that recommended shows to produce.
One memory he says he will cherish was hearing the Duke Symphony Orchestra premiere of an original work of his, and putting together a distinction recital of original works performed by friends. Jonathan told the Duke Chronicle that the composing process made him think of giving birth. "I've literally worked on this piece for nine months, and then it comes out and you hear it. And hopefully you love it like you do a baby."
As for the future? "TBD!" says Jonathan. He is looking to enter arts administration in New York City or Washington, D.C.