Florence Tesha: Duke Is a Door That Opened Many Doors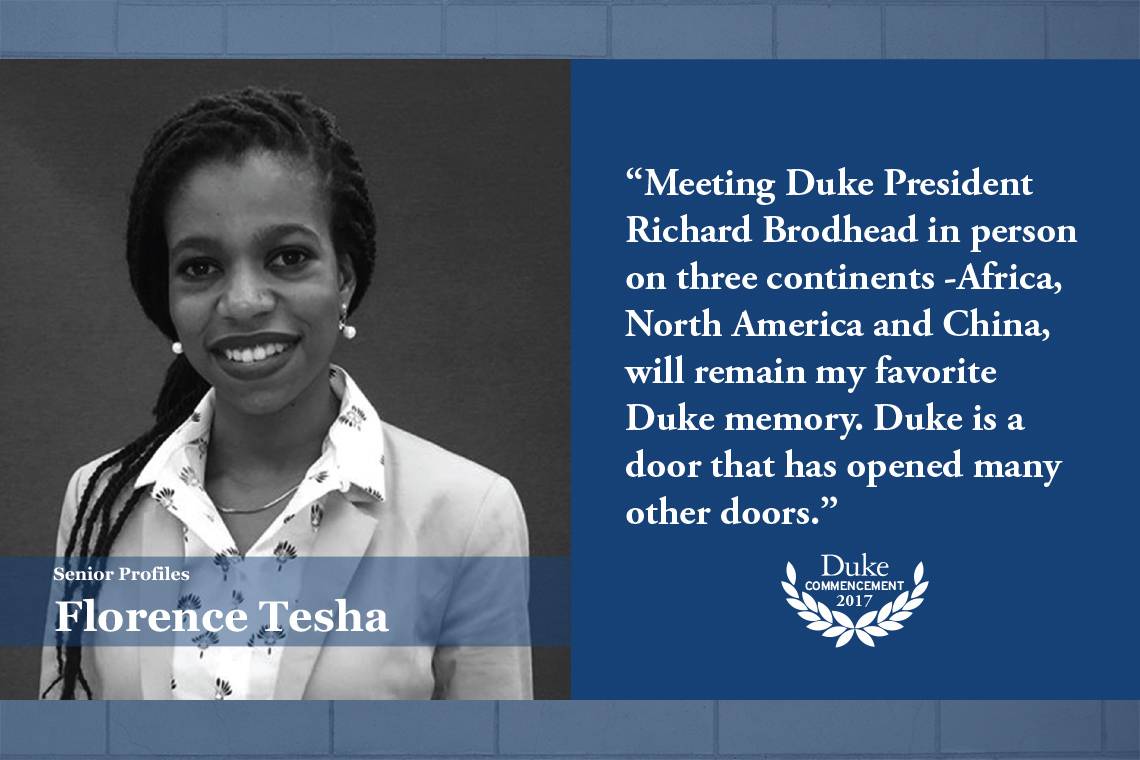 Florence Tesha
Hometown: Mbeya, Tanzania
Double Major: Asian and Middle Eastern Studies (Chinese), Global Health
Clubs/Organizations: Center for Multicultural Activities, MasterCard Foundation Scholars, Secretary of Kunshan Student Ambassadors Council (KSAC), Vice President of Communication at Kunshan International Association, Laboratory and Administrative Work Assistant at Duke One Health.
Any other activities you participated in: Member of the winning Team of the Social Entrepreneurship Accelerator Competition Spring 2014, Duke in China (Beijing), Duke in Kunshan (Fall Semester Abroad), SIT Brazil - Salvador Study Abroad Program (Public Health, Race and Human Rights), Undergraduate Student Speaker at the Duke AFRIx event, Duke-UNC Leadership Summit
Post-graduation plans: Full-time work as a Community Development Manager in Munich, Germany.
Favorite Duke memory or what Duke has meant to you: Meeting Duke President Richard Brodhead in person on three continents - Africa, North America and China, will remain my favorite Duke memory. Duke is a door that has opened many other doors.
Growing up in the shadow of Mount Kilimanjaro, Florence Tesha had never traveled too far outside of her village before coming to Duke.
Commencement Homepage
It is perhaps because of this that while a student, she decided to embrace everything new and different from her own experience.
Florence, a MasterCard Foundation Scholar, double majored in Asian and Middle Eastern Studies and Global Health. These interests led her to study for eight weeks in Beijing as part of Duke In China; to attend Duke Kunshan University in her sophomore year; and to participate in the Salvador Study Abroad Public Health, Race and Human Rights Program in Brazil.
Florence will once again embrace a new culture when she moves to Munich after graduation where she will work as a Community Development Manager.