PUBLISHED
Faculty Members Say Firing of FBI Director Challenges Constitution, Democracy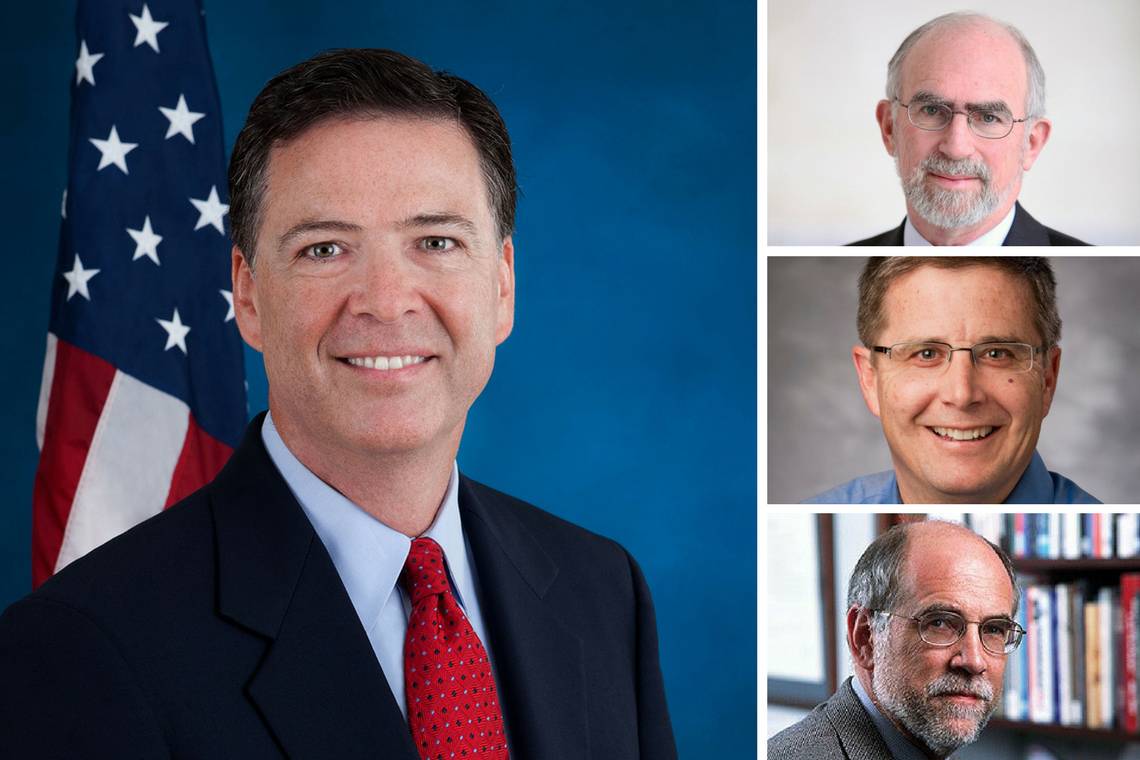 President Donald Trump's firing Tuesday of FBI Director James Comey could threaten democracy, the Constitution and national security, three prominent Duke faculty said.
"The firing of FBI Director James Comey is a serious, democracy and Constitution-threatening action. Comparisons to the Saturday Night Massacre and Watergate may in some ways be overdrawn, but in two fundamental ways the similarities are undeniable," says Christopher Schroeder, a law professor who served as an assistant attorney general in the Office of Legal Policy at the United States Department of Justice.
"First, in each case, the president fired the individual responsible for investigating potentially criminal behavior of the president's inner circle, including the president himself. Second, in each case the president stood before the nation and lied about the facts, rhetorically flicking his wrist at charges claimed to be baseless, or in today's parlance, fake news, or sent his aides out to do it for him." 
Schroeder and other faculty also recommended an independent investigation of Russian interference in the US election and possible connections with the Trump administration.
"Will we get an independent investigation? This depends critically on whether there is a third similarity between 1974 and today. Nixon ultimately walked the country back from a precipice only when Republicans Hugh Scott, John Rhodes and Barry Goldwater met with him and reported that Nixon's support among his own party's elected officials had evaporated. Republican members of Congress viewed the situation from the perspective of the health of the nation and its institutions."
Peter Feaver, a professor of political science and public policy, said firing Comey won't end questions about Russian activity.
"The legitimate questions about what the Russians were doing cannot be fired away. Indeed, if Comey has damaging testimony to offer, he would seem to be even more of a threat as a former FBI director than as an acting one," Feaver, a former national security adviser to President George W. Bush, wrote in a blog post on Foreign Policy.
"The Russian issue, which was a cloud that hovered over Trump's first 100 days, increasingly looks like it will darken his second 100 days, and beyond."
Feaver said the way forward should involve an independent commission patterned on the 9/11 Commission "and empowered to give the American people a complete accounting of what foreign powers did to intervene in the 2016 election."
Bruce Jentleson, a professor of public policy and political science, also called for an independent prosecutor, and said the firing has far-reaching ramifications.
"As serious as Watergate was, this case may not only be a violation of the Constitution but could compromise the nation's security," says Jentleson, a former senior adviser to the U.S. State Department policy planning director who in 2012 worked on the Obama campaign.
"An independent prosecutor needs to be appointed, quickly and with sufficient assurances of independence to have the confidence of the country. At the same time Congress must keep pushing its investigations, as should the media and others."