PUBLISHED
Emma Wright: Walking Solo on the Appalachian Trail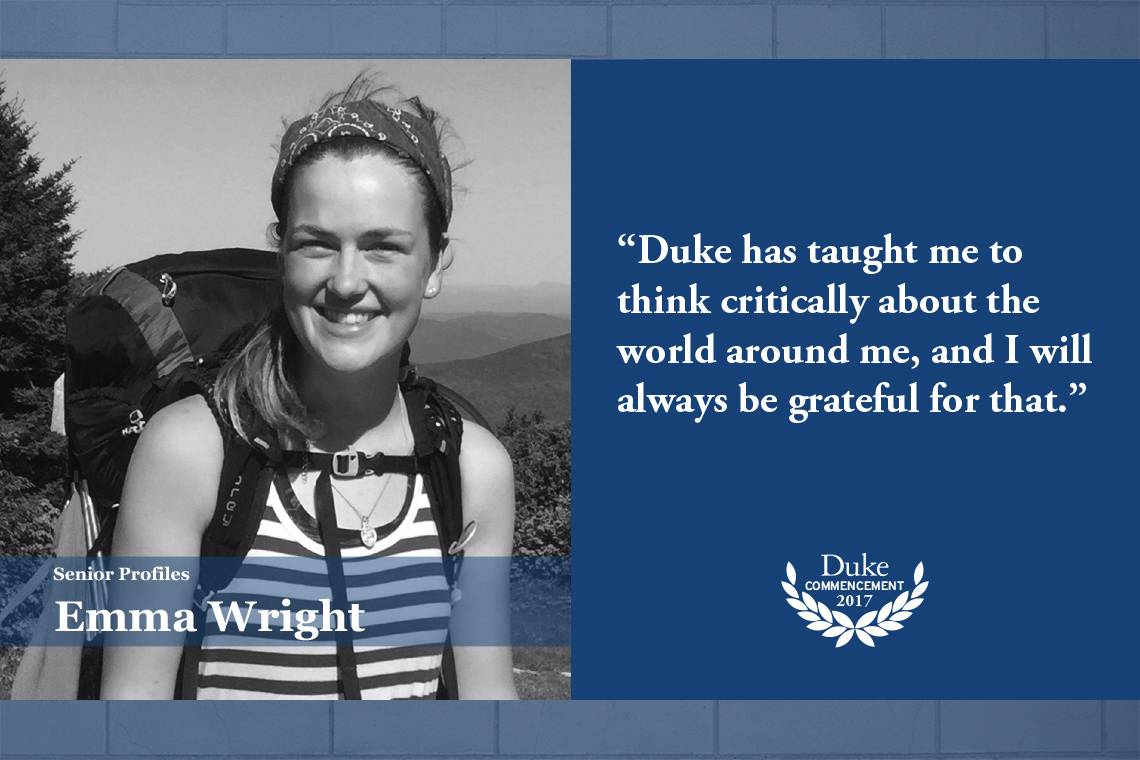 Emma Wright
Hometown: Arlington, VA
Major: Cultural Anthropology
Clubs/Organizations: Baldwin Scholars; Swerve Women's Club Ultimate Frisbee; Duke Chapel Choir, Duke Engage: Uganda.
Any other activities you participated in: Duke Episcopal Center; CAPE; DukeEngage Uganda (2014); FAC (2014); SIT Study Abroad in Chile (Fall 2015); I took a semester off from Duke during the spring of my junior year to thru-hike the entire Appalachian Trail.
Post-graduation plans: Because I took a semester off from college to hike, I will be completing my undergraduate degree at Duke in the fall. Then I will be staying in Durham for the immediate future and discerning my next adventure. I might apply to physical therapy grad school, or divinity school, or who knows what else. PCT maybe?
Favorite Duke memory or what Duke has meant to you: As I think back on my time at Duke, there is no one defining moment that stands out above the others. Rather, it is the countless hours spent studying in Perkins, tenting in K-Ville, singing in the chapel, playing Ultimate Frisbee, making mistakes, failing and bouncing back stronger than ever that have made Duke unforgettable. Through the infinite opportunities available here, I have been forced to reflect on my priorities and learn how to chase after my goals with intentionality. I have learned that relationships matter more to me than grade point averages. And life experiences matter more than prestigious resume builders. Duke has taught me to think critically about the world around me, and I will always be grateful for that.
On a Schiff Summer Fellowship that supports independent research in the humanities, Emma took a semester off from her campus experience to hike the entire Appalachian Trail.
Commencement Homepage
Walking a mostly solo journey from Georgia to Maine, she spent five months trekking as a thru-hiker, observing and studying the culture of the mobile trail community.
Emma's cultural anthropology research during the journey was based on participant observation and interviews (formal and informal) with thru-hikers, trail angels and friends of the trail. This research will then be used for her senior thesis. Emma, a Baldwin Scholar from Arlington, Virginia, blogged her entire trail experience.
Emma will finish her course work in the fall and is preparing to apply to physical therapy graduate programs. According to Colleen Scott, director of the Baldwin Scholars Program, Emma was brave to take this kind of break in her studies. "Emma was willing to get off the Duke treadmill to take on a different mental and physical challenge." She is already hatching a plan to tackle her next adventure goal, the Pacific Crest Trail.