Duke in Pics: Valor Games on Campus
Camaraderie and competition on display as disabled veterans face off in adaptive sports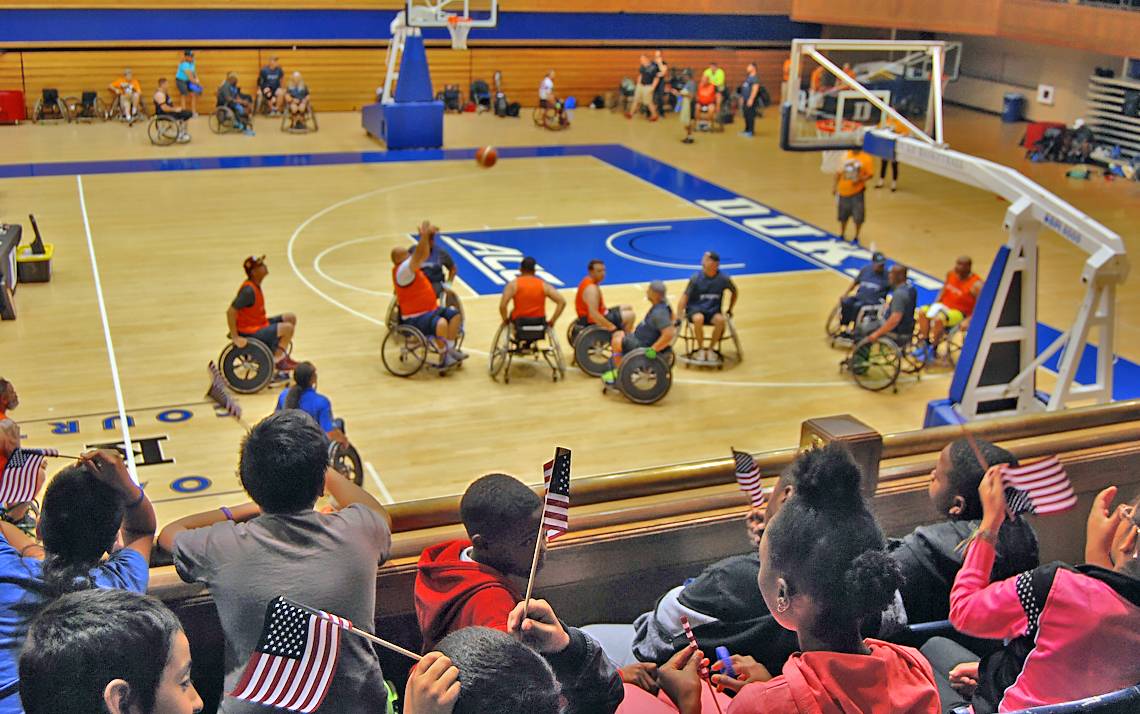 Around 45 students from Durham's Eastway Elementary sat in Section 7 of Cameron Indoor Stadium on Wednesday, waving small American flags and watching the wheelchair basketball game on the court.
On a field trip in conjunction with a lesson on disability awareness, the students cheered for each basket. They cheered for both teams.
Competition was important during Wednesday's session of the Valor Games Southeast at Duke, but camaraderie and gratitude seemed just as prominent.
The three-day event, which is organized by Raleigh-based non-profit Bridge II Sports and wraps up Thursday at Morrisville's Lake Crabtree County Park, features 110 disabled veterans and active duty soldiers.
On Wednesday, Cameron Indoor Stadium's court was split in half, with wheelchair basketball on one end and rowing on the other. Archery was held outside on the grass of Krzyzewskiville, Card Gym was home to table tennis, and powerlifting was decided in a corner of Wilson Recreation Center's sprawling weight room.
In the lobby of Cameron – across from the bowls of water set up for service animals – staff from Duke Central HR Recruitment and Duke Disability Management System met competitors while sharing information about working at Duke, which employs roughly 800 veterans.
"I have served in combat and I have been injured a few times," said Duke employment representative and veterans outreach coordinator Brian Royer, who served in the Marines. "I know how hard it is to get acclimated back. But these guys are super-competitive. It's pretty cool to be a part of."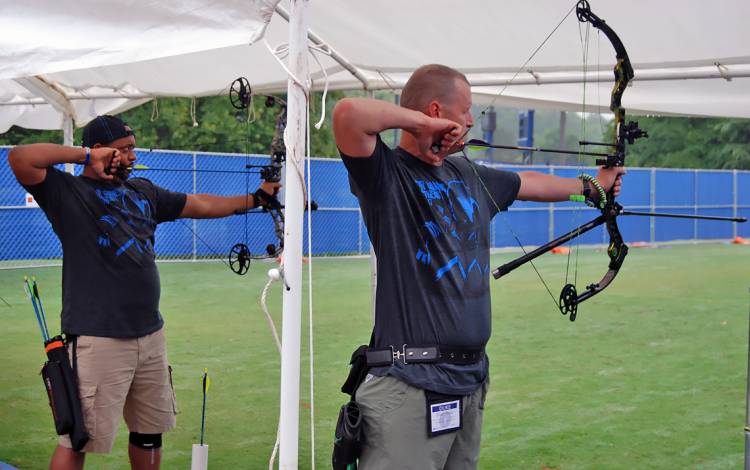 Army veteran Brian Miller walked back from the target somewhat disappointed with where one of his shots in the archery competition landed.
"I blame the arrow," joked Miller, who had his lower left leg amputated in 2011.
He was a late addition to the Valor Games field, making the jump from the waiting list to the tournament field last week. After handing the offending arrow to his wife Rachael, he politely asked her to grab him another one.
"And make sure it's a good one," he said.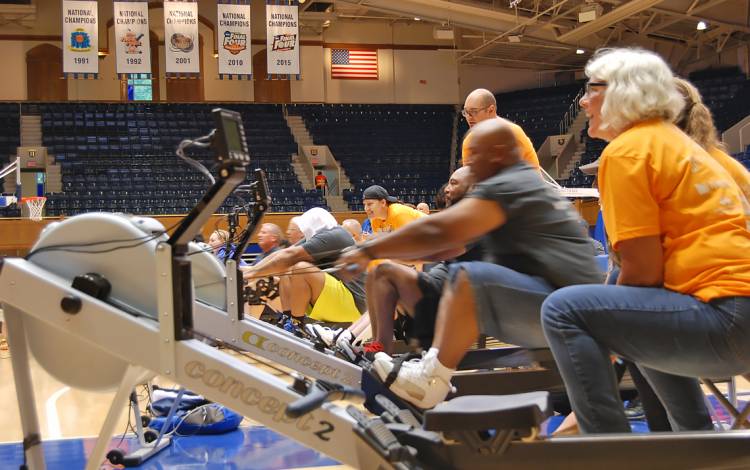 Charlotte's Nate Bias won his morning heat in the rowing competition with a time of 1:38.8, though he was slightly irked because he stopped too early, thinking the race was over.
"My time could have been a little bit faster, but I still had a good time," Bias said.
Now retired from the Air Force, Bias, who has a rare disease that affects his lungs and kidneys, has kept active. This is his second trip to Valor Games Southeast, where he competed in sitting volleyball, boccia, basketball, shot put and rowing, which he'll also do in the Invictus Games later this year in Canada.
Bias is easy to pick out among the rowers thanks to the white towel he drapes over his head during the race.
"It's for the faces," Bias said with a laugh. "It's for the ugly faces I make. I like to cover it up. It's my focus towel."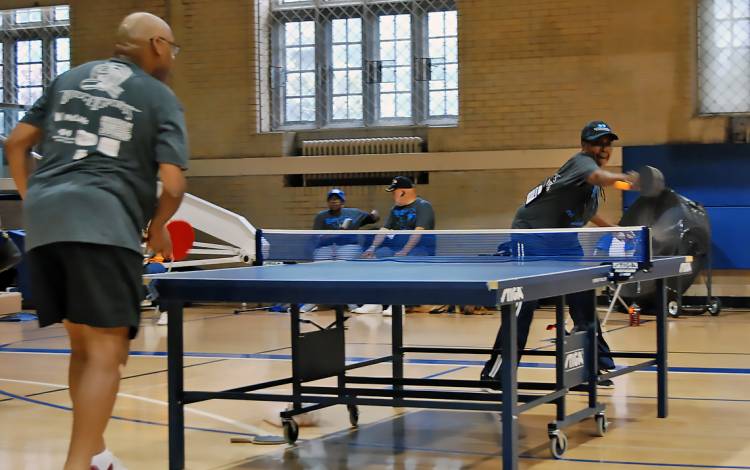 Daniel Harris and Teresa Brown, a pair of Army veterans from Virginia, squared off in table tennis in Card Gym. Harris won the best-of-three match, which ended with a hug.
Harris said events such as the Valor Games are vital in creating an informal network of veterans, making sure nobody feels alone.
"We travel in groups and we'll meet different people, or some of the same people, and we end up forming friendships forever," Harris said. "… When you face combat like we have, there are unsaid things that you can't talk to the public about, but I can talk to Teresa about it. She understands."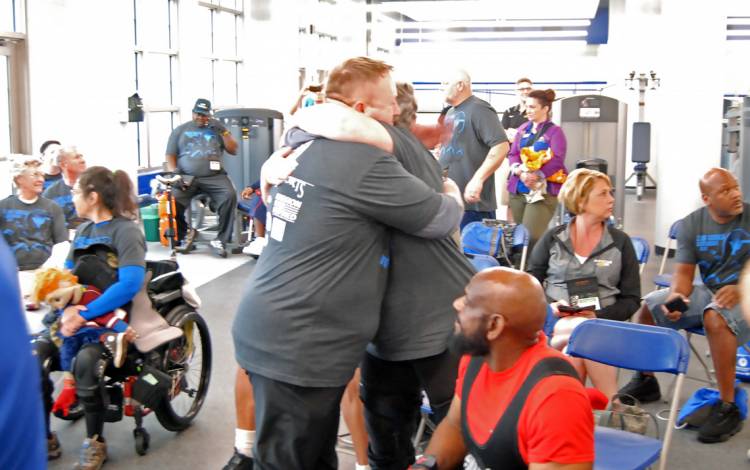 After benching 100 pounds in the powerlifting competition, Claudia Barber-Martin got hugs from fellow competitors, including Army vet Paul Belk.
"I've gone higher," said Barber-Martin, who can bench 150 pounds and has dead-lifted 300 pounds.
Barber-Martin started going to adaptive sports events as a volunteer. But it didn't take long for the Navy veteran to start competing herself.
Now, Barber-Martin, who competes with two bone-on-bone knees, travels the country hitting events like the Valor Games. This is the final stop on a 35-day trip that's featured competitions in Indiana, Mississippi and Florida.
"I live for this," said Barber-Martin, who lives in Michigan. "I tell my case manager at home at the VA that this is my therapy. This is what keeps me going."