Duke in DC Panel Leads Conversation on Artificial Intelligence and Jobs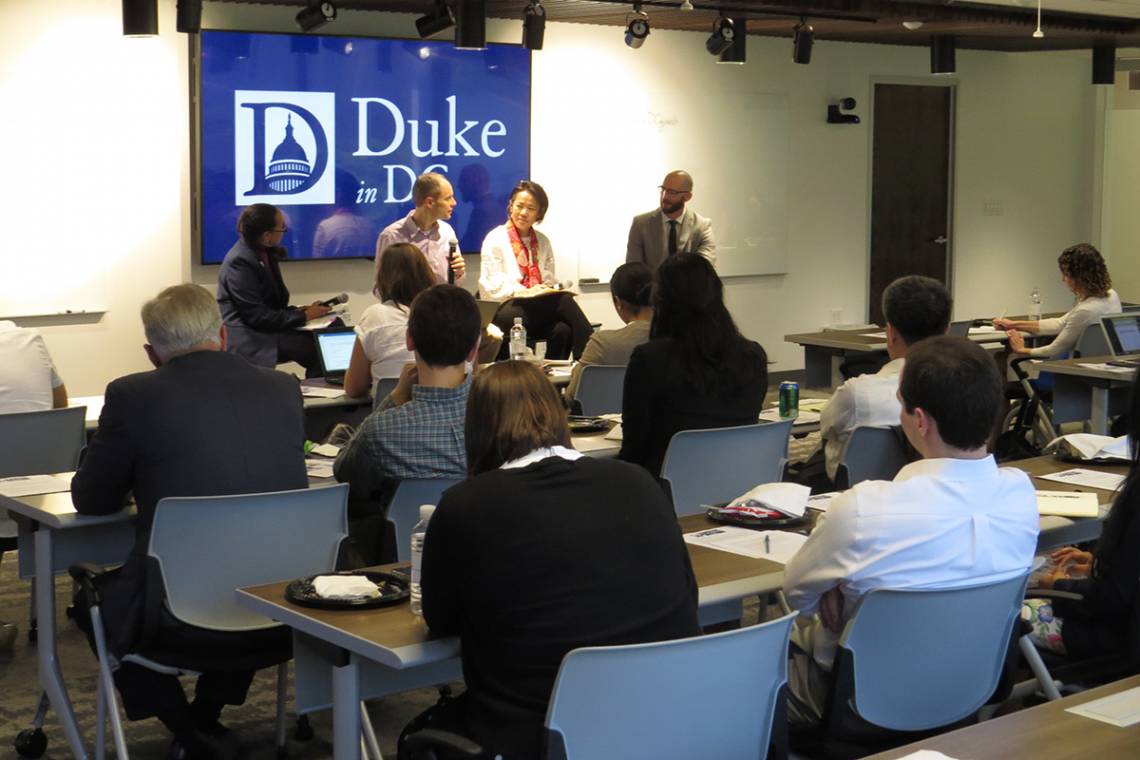 Duke in DC hosted a conversation May 10 on Artificial Intelligence and its coming effect on the job market. The first in a new series called Ethical Policy Conversations, last week's event sought to expand the scope of policy and popular discourse about the next generation of jobs in America.
Before a diverse crowd of policymakers, regulators, academics and industry professionals, panelists highlighted the value of collaboration between those groups in crafting policies and strategies on artificial intelligence (AI) that work in a changing job environment. The conversation was moderated by Vox Interviews writer Sean Illing.
One of the panelists, Duke alumna Andrea Martin (T '81), a senior policy adviser to US Rep. Andre' Carson (D-IN), talked about how the topic is discussed in behind-closed-doors meetings on Capitol Hill. Martin said lawmakers must be ready to start thinking differently about the changes AI will bring to the job market.
"There is a big gap right now between the way people want to live and what might be coming…I see people are just not ready for the transition," Martin said.
Duke Professor Vincent Conitzer explored the topic from the perspectives of computer science, economics and philosophy. Rather than argue that AI will necessarily replace humans wholesale, Conitzer argued that AI will likely make most jobs safer and easier -- though this may result in fewer humans being needed for the job.
"AI still fails in sometimes surprising ways… things that are second nature to a human, are incredibly difficult for AI to replicate," Conitzer said.
For example, radiologists will be able to more accurately diagnose certain types of brain tumors and municipal authorities will be better able to ease traffic congestion, he said. Discussing autonomous cars, he added that while these vehicles can greatly reduce the burden of long haul trips, for now they do not know how to resolve those sticky moral situations sometimes involved in traffic situations.
AI doesn't replace the need for humans, Conitzer said: It replaces the need for humans as production specialists and pattern recognizers.
Part of the fear around AI is because of misconceptions about its capabilities, said Carolyn Nguyen. Director of technology policy & strategy at Microsoft. AI does not know what it does not know and as such lacks a level of common sense, Nguyen said.
She used as an example the story of when Ben Bernanke tried to refinance his house after leaving his chairmanship of the Federal Reserve. The algorithm that processed his application denied him a refinancing because he did not have a "steady stream of income." Any human with common sense, according to Nguyen, would have been able to know that Ben Bernanke would be able to pay off his home.
"When there's a big new shiny object... the tendency is to go back to the way things were," Nguyen said. "If you're a regulator, everything is a law; and the tendency is to go back to writing laws."
The most difficult aspect of the AI jobs revolution according to Duke in DC's panelists may not simply be retooling the workforce, but changing the very definition of a job and how we think about them.