PUBLISHED
Commencement Speaker Elena Elliott: One Student's Pathway to Duke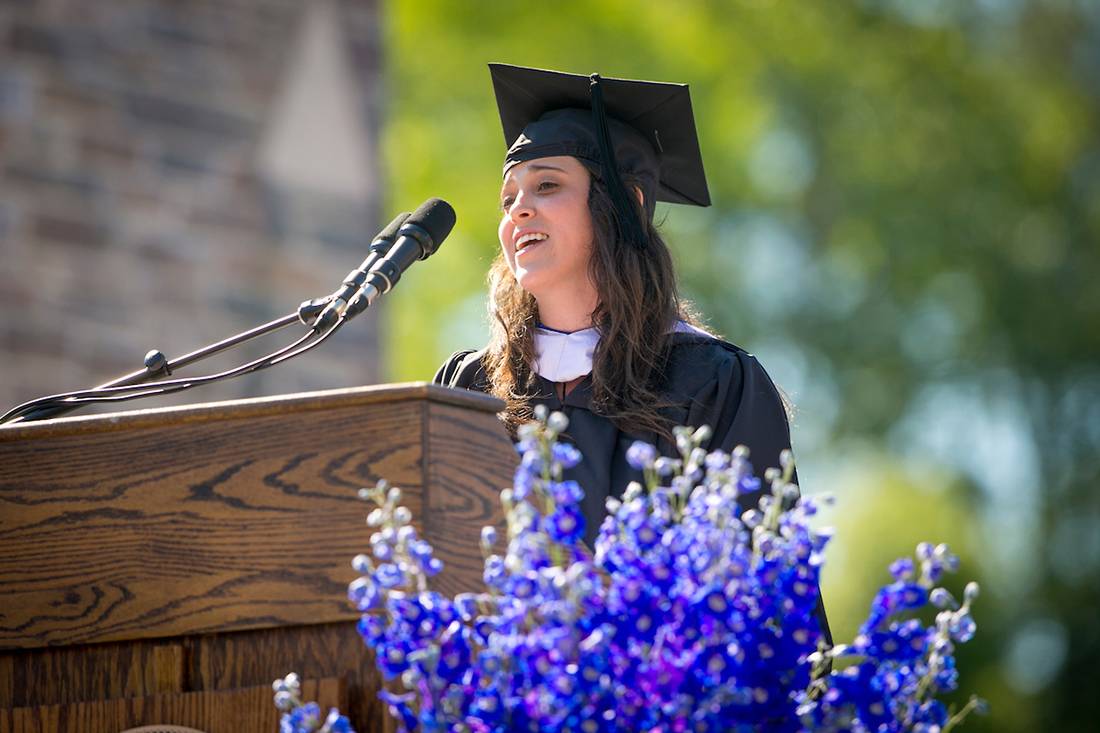 We all took journeys to get here. Journeys that started well before we frantically logged onto the Duke admissions page and received that life-changing notification.
Each of us took a different path to get here, and while our individual journeys may differ, I believe they share common themes of adversity, sacrifice and love.
My journey involves three generations of women. It starts with one, Maria Jasso, who earned only a sixth-grade education and ends with one who received one of the finest educations. It's about the seemingly inconsequential moments and people that put me on the path that led to this moment today.
My journey begins with my grandmother, or as I call her, my Abuela.  In 1946 in a rural town outside of Monterrey, Mexico, my grandmother lost her mother, and had to leave school and take a job in an effort to help her family.  She walked into a Kodak store with a "help wanted" sign, and the owner took a chance on this girl with no experience and hardly any education. He taught her the business and eventually helped her open her own photography studio.
Those years were difficult ones for her. She faced hardships that not many should have to, but somebody was there to lend a hand. He altered her life path and ultimately he altered mine.
Much like my grandmother, we've all dealt with adversity. Sometimes it's been small. We got a C in a class or we didn't get that dream job at Google or Goldman Sachs. And sometimes the challenges we faced have been much more difficult than that. We've lost friends that were supposed to graduate with us today. We've lost family members that we always thought would be sitting up in the stands watching as we received our diplomas.
But we got through these hard times, both big and small. We had friends, family, and sometimes even professors or RAs that helped us through. They held extra office hours to help us pass their classes or they ate meals with us in silence just so we didn't have to be alone.
Our lives were altered by these moments, and the people that helped us through them. We'll face more adversity in our lifetime, and hopefully someone will be there to help us through. We'll also encounter moments where we might choose to help others through difficult times. In those moments I hope we decide to take that on, for those instances of kindness and caring could change a life forever.
My story picks up again in 1980 when my grandparents made the decision to relocate their family to the United State. Now while my grandmother forged her own path in Mexico, my mother had to find her way in a new country.
My mom, Adriana, had just turned nineteen. She had a high school diploma and a few college courses under her belt, but that all meant little the moment she arrived. She spoke little English so she took a job in a hotel restaurant as a busgirl. There she worked alongside another young man, named Byron, who helped her with her learn English, and she was able to practice with customers. As she picked up the language she received several promotions and eventually left the hotel to do bilingual commercials for a furniture store, a store where she met my father. That young man, who took the time to teach my mother English altered her life course, and thus altered mine.
Life is filled with new beginnings, much like the one my mother faced when she arrived in the US. We all had one such beginning when we walked on to Duke's campus one hot and sticky August day. The random people down the hall and in our programs became our best friends and they helped ease the transition away from homes we knew to establish entirely new ones here at Duke. The coming months will mark another set of these new beginnings. We'll start new jobs or graduate programs, in cities all across the globe. I hope we find friends like the ones we found during our first weeks here, and I hope some one, like my mother's early friend Bryon, is there to help us navigate these new landscapes.
The final part of this journey is my own story and how I was able to graduate from Duke University. For one I had a mother who put her own education on hold to make sure I could succeed. I also had a very loving father, Robert, who worked hard to put a roof over my head and food on the table, all while rushing home from work every night to make sure he could read me a chapter of the newest Harry Potter book. I had two exceptional older sisters who paved the path for me and showed me what success could look like.  Yes, I worked really hard in the years that led up to me coming to Duke, but I doubt that it would have been enough for me without a family who encouraged me to attain the best education possible, especially when that wasn't the norm for many of the students in my community.
Which brings me back here, today, to a stadium filled with people who gave us all a chance. In this stadium are family members, who put their careers on hold for us, or who came to an unfamiliar place in search of better opportunities for us. Professors who opened their labs to give us unbelievable research opportunities. Mentors who offered words of wisdom when they didn't have to. Administrators who created programs like Duke Engage that opened our eyes to communities around the globe. There are Duke alumni who helped us get that first internship or job at their company, and donors whose contributions to financial aid put me on this stage today. We are surrounded by people that gave us opportunities to succeed.
And within our graduating class, there are friends who stayed up with us all night in Perkins making sure we finished those midterm papers, or brought us cold medicine and coffee after a frigid night of tenting in K-Ville.  
Today is dedicated to these people, both in and outside of Duke, whose faith in us put us where we are. I am forever grateful to these many people and I am forever grateful to Duke.
Class of 2017. Today is about us and our accomplishment. But tomorrow is about someone else.
Remember the role we can play in creating big days for others. We could give the young girl with the 6th grade education a chance, teach our coworker English, or provide financial aid to a girl from Dallas, a daughter of an immigrant, so that she can realize her dream of attending Duke University.
I hope we strive not only to make ourselves successful, but to be part of the stories that make others successful as well.
Congratulations and thank you.