Blue Devil of the Week: Rewarded for Giving Back
Duke Law's Balfour Smith volunteers at Duke Cancer Center, where his longtime partner was treated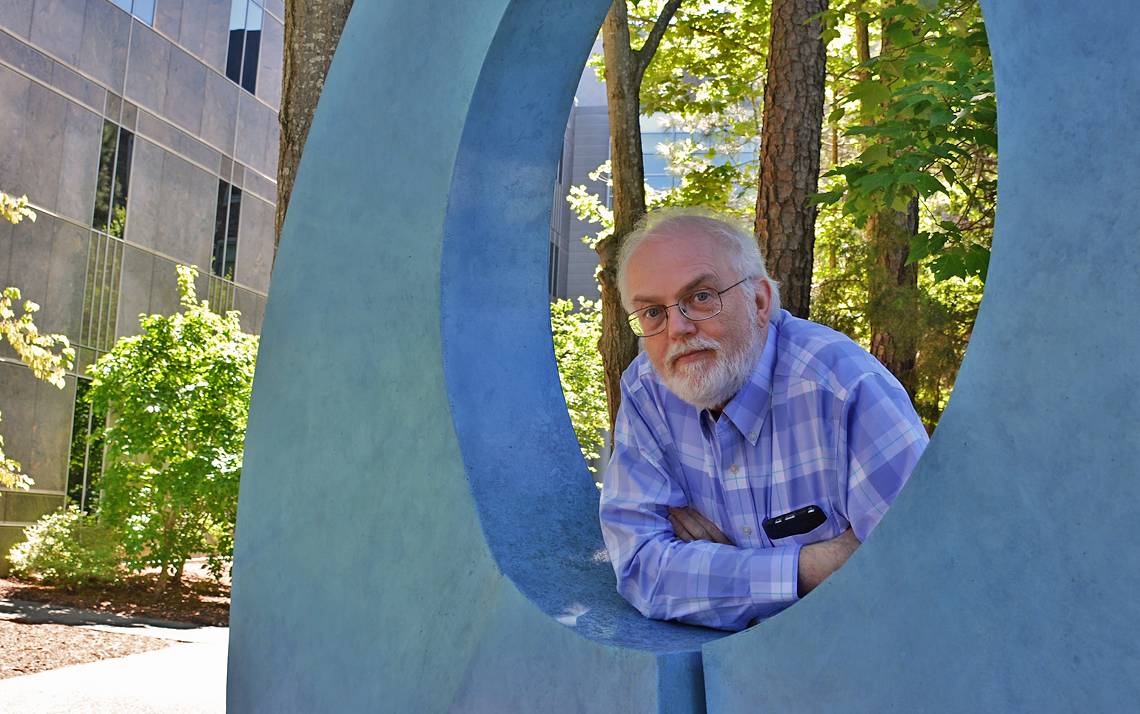 Balfour Smith
Program coordinator for the Center for the Study of the Public Domain at the Duke Law School
12 years at Duke
2016 Meritorious Award winner
What I do at Duke:
"I support the faculty and their teaching," Smith said as bright spring sunshine poured through the windows of a Duke Law School faculty lounge. "I feed the students on occasion also." When he's not corralling snacks and drinks for 230 hungry law students in the "Foundations of Law" course, Smith supports law school faculty in myriad ways, such as proctoring exams, prepping presentations and even inputting text and speech bubbles on a graphic novel recently published by the Center of the Study of the Public Domain. The graphic novel, entitled "Theft! A History of Music" lays out a 2,000 year-long history of musical borrowing from Plato to rap.
What I love about Duke:
"The best thing I like is working with the students. They're eager to get the most they can out of their time here." Smith also enjoys the detailed nature of his work. A former typographer, he worked for several years in the advertising industry creating precise arrangements of type for diverse clients and projects. "I like minutiae. I'm a details person, or I try to be."
A memorable day at work:
For several years, Smith helped with parties Duke Law School faculty and staff hosted for patients at the Duke Children's Hospital. "I was Santa Claus and I didn't need a lot of padding," Smith joked, stroking his full-chin, snow-white beard, which also aided the costume.
What you may not know about him:
Smith received a Meritorious Award this year for his volunteer work at the Duke Cancer Center. As part of the Cancer Pro Bono Legal Project (CPBLP), Smith uses his notary skills to assist patients with legal matters and papers. "This was a way I could give back," Smith said. Smith's partner of 25 years, Donald Fitzhugh, died of cancer at Duke Hospital in 2011. The Cancer Pro Bono Legal Project meets at the Duke Cancer Center on the first and third Friday of each month to provide legal documents like power of attorneys, health care power of attorneys and advanced directive to cancer patients and their families. The project requires a notary to be on hand to finalize the prepared documents.
Something unique about my office:
"I have a picture of Donald on my desk."
First ever job:
"I worked at McDonald's. I was a burger flipper. My older brother became my supervisor and that was not great and I quit."
Best advice ever received:
"Don't worry what other people think. Do what makes you happy as long as it doesn't hurt people." Smith got that advice from his father, a hard-working immigrant who grew up in Scotland. Smith, 60, grew up in San Francisco during the height of the 1960s counterculture era, from which he also pulled a lifelong leaning toward iconoclastic thinking.
If someone wanted to start a conversation with me they should ask me about:
"I go to the theater. I love the theater. I once flew from San Francisco to Stockholm, Sweden, to see a play . . . that was in Swedish." The play was William Shakespeare's "A Winter's Tale," a favorite dramatic play. "I joke to people that I should have my 'gay card' revoked because I don't like musical theater, I like drama. I like being made to think."