Baby Lemurs Equal Big Jobs
For Duke Lemur Center staff, birthing season is both challenging and rewarding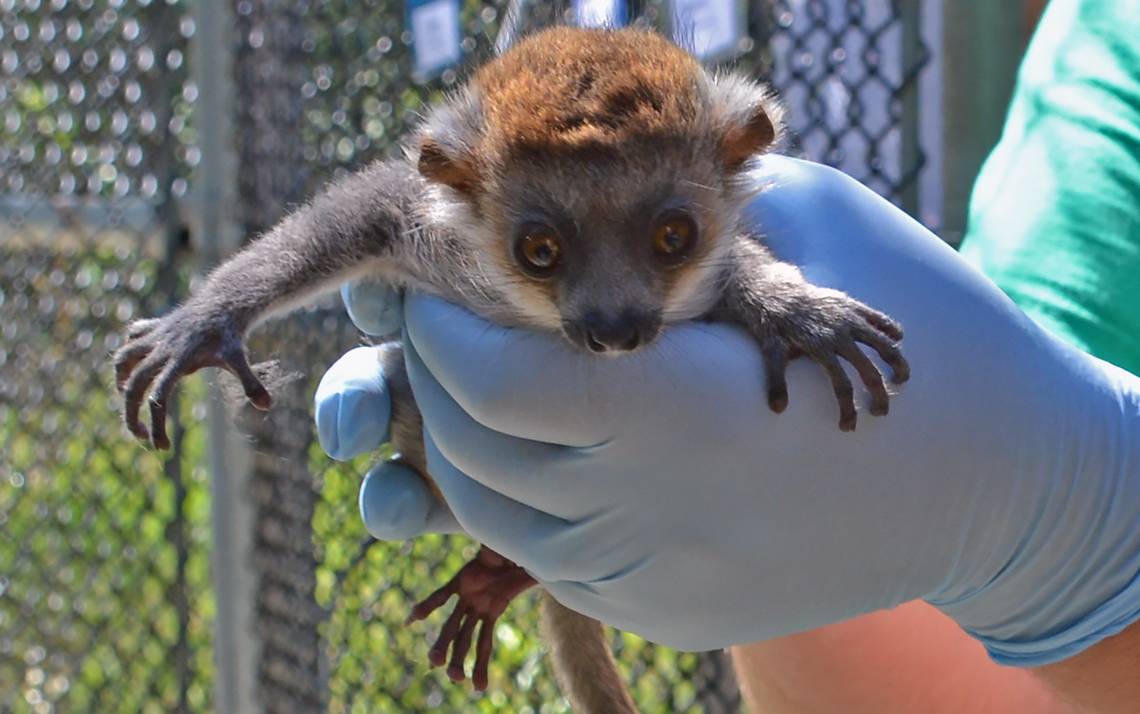 At 29 days old, the third baby born to Carolina, a seven-year old mongoose lemur, is easy to miss.
Clinging tightly to his mother in one of Duke Lemur Center's fenced-in enclosures. His golden brown fur blends with hers, making him nearly invisible.
At this age, he's too young for a name. He doesn't get one of those until he hits 30 days.
But to Becca Newton, one of the Lemur Center's primate technicians, he's already made an impression.
"He's got personality," Newton said earlier this month. "He's very spunky."
Due to the breeding cycles of most lemur species, spring is birthing season. Carolina's baby is the seventh born to the center's lemurs this year and more are on the way. With small, fuzzy infants to look after, the center's two veterinarians and 15 technicians consider this time of year to be the most fun.
But expecting mothers and new infants must be watched closely. And with no guarantee of survival, it's also the busiest, most nerve-wracking part of their calendar, too.
"That's accurate," said staff veterinarian Cathy Williams. "But the results when it works as nature intended are wonderful."
If everything goes smoothly, the mothers care for their offspring while Lemur Center staff keep track of the infants' weight and make sure they are clinging appropriately to their mother, nursing and growing as expected. In more difficult cases, the center's veterinarians might have to take a more active role, providing the infant with medical care, supplemental warmth or formula.
Curator Andrea Katz estimates that around 15 lemurs are born at the center each year. Since it opened in 1966, there have been more than 3,200 lemurs born at the Duke Lemur Center. Given the dwindling population of lemurs worldwide, this is no small figure.
The center, which sits on 80 acres in Duke Forest, is home to around 230 primates spanning 18 species, all of them endangered or vulnerable in the wild. With an ever-decreasing habitat in northwest Madagascar, the mongoose lemur has been declared critically endangered by the International Union for Conservation of Nature. The status is a step away from being considered extinct in the wild.
"Rare is an understatement," said primate technician supervisor Britt Keith.
In the wild, young lemurs face an array of threats. The odds of survival are better in captivity, but it's still not a sure thing.
Thus far, Carolina's new baby – born April 4 – has done well. He's spent his life with his mother, father and two older siblings in an enclosure alongside one of the center's buildings. For Keith and Newton, the connection to this lemur family goes back several years. Keith gave Carolina her name, and last summer, Newton named Carolina's second born Bonita – Spanish for pretty.
"Every birth anywhere in the lemur world is really important, so it's hard not to get emotionally involved," Keith said. "These little families become our families."
The early days of a lemur's life are challenging. Developmental issues, other lemurs and cold snaps can spell trouble.
On May 3, Carolina's 29-day old baby is weighed. The weighing process, one of the few times staffers handle the lemurs, is quick. It takes a few seconds to separate him from his mother, whisk him indoors, place him on a stuffed penguin doll and onto a digital scale.
He weighs less than a third of a pound. That's promising.
Moments later, the baby is back outside, arms, legs and tail wrapped around mom.
"Lovely!" Keith said as Carolina and her baby scamper away. "You're so good!"
The next day, on the 30-day milestone, the baby gets his name. He becomes Nacho, a name Newton picked.
Five days later, Nacho and his family are released into one of the center's densely wooded natural habitat enclosures. Disappearing into the forest, Nacho becomes one of this birthing season's happy stories.
"It's so much fun," Newton said. "Just watching these guys grow up is fantastic."