PUBLISHED
Alumni Pen Advice to Class of 2017
The Duke Alumni Association gathered advice from alumni all over the world and transformed it into 550 handwritten notes for graduating seniors.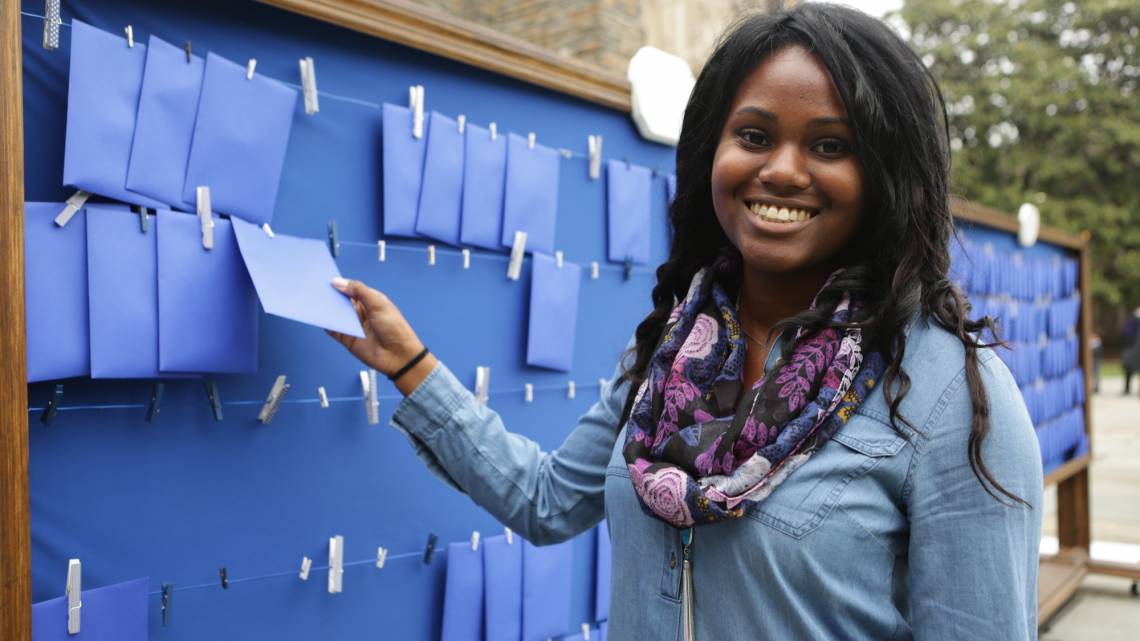 As the members of Duke's Class of 2017 prepare to graduate, Duke alumni from all over the world are offering them words of wisdom for navigating the post-graduation life.
In the weeks leading up to commencement ceremonies May 12-14, hundreds of alumni representing Duke's undergraduate, graduate and professional schools wrote to the Duke Alumni Association with their advice.
Those alumni sentiments were transformed into 550 handwritten notes with the help of Bond, a company founded by Sonny Caberwal '01 that uses robotic handwriting machines to turn typed text into inked script.
The Duke Alumni Association assembled the notes on a wall outside of Page Auditorium on May 12 ahead of Class Day, an annual celebration for Duke seniors, and invited the students to take a note.
Alumni offered wisdom from personal experience that included encouragement ("It's Okay not to go to law school," wrote Victoria Bright '10) to survival tips ("Cap'n Crunch is not just for breakfast," wrote Brian Knox '91) to tips on restarting ("If like me you did not have enough fun in college, make up for it in grad school. Harvard Business School is a blast!," wrote Lisa Banov '86).
Emmeline Zhao '11 wanted her reader to remember graduating didn't mean saying goodbye to the Duke community.
"Remember your Duke family," she wrote, "They'll be there for you every step of the way. The Duke family post-grad is even more spectacular and loving than on campus."
Inga Peterson, assistant vice president of alumni affairs who leads DAA's campus engagement efforts, said the senior notes project is an echo of what the alumni association is trying to instill more broadly among Duke students -- "a sense that the community is there, that it cares about what their paths are going to look like going forward."
Many alumni who participated encouraged graduating students to continue on the path of life-long learning.
"As you pack your bags, pack in your heart the lessons of respect for others and seeing the beauty in the world around you," wrote Anne Bavier '70. "Your quest for knowledge has not ended."
And that quest for knowledge may find a stop with alumni. Alumni included their contact information in the notes, and student leaders at Class Day encouraged the recipients to write back.
Matt Alston '17 was surprised to open his note of advice to discover he knew the note writer. Several years ago, he met Pamela Hawley '91, an entrepreneur from San Francisco, while he was a student in the Duke in Silcon Valley program and she was a lecturer.
Her note's worth of advice to Alston? To keep up with the relationships he has formed.
On a day designed to remind students of the resources available to them via their Duke alumni family all around the world, Hawley's advice couldn't have been better to read for the almost-graduate, who soon will be sharing a city with Hawley as a new associate product manager at Uber.
Creating real points of connection between graduating seniors and alumni in their lives beyond Duke would be a rewarding outcome of the project, Peterson said.
"It would be incredible if there are organic opportunities for community that come out of this," she said.