5 Free, Fun Things to do at Duke in May
Art, music and a bike tour of murals in Durham take center stage
Doctors and music. Art and bikes. Movies and starlit skies.
Enjoy some winning combinations this May with five free, fun things to do at Duke. This monthly feature will resume the first week of August when the new academic year starts, so check back then for the next installment.
May 5 – Durham Medical Orchestra's spring concert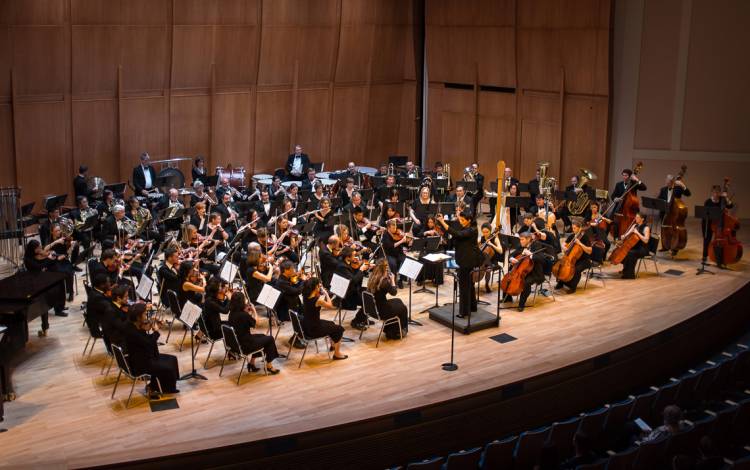 The Durham Medical Orchestra, which is comprised of 90 professionals from the health sciences field at Duke and elsewhere, presents "Joyride!" The show, which features Tchaikovsky's fourth symphony as well as other works from well-known composers, is meant to be a springtime musical journey. The music begins at 7:30 p.m. in Baldwin Auditorium.
May 6 – Bike Tours: Downtown Durham Murals
Experience the murals of downtown Durham and get some exercise along the way. The Nasher Museum of Art at Duke University offers a guided tour of the Bull City's public art. Tours, which over up to 13 murals, are open to anyone with a bicycle who is comfortable riding on city streets. The ride starts at 10 a.m. at the Central Park Pavilion. Riders are encouraged to check in at least 15 minutes early. Helmets are required. The tour is co-sponsored by Preservation Durham and the Museum of Durham History.
May 19 – Movie Night on East Campus
As part of Duke Employee Appreciation in May, East Campus will turn into the Durham's largest movie theater. Duke faculty and staff are invited to watch the family film Sing! Bring your blankets, lawn chairs and favorite movie snacks to the quad in front of Baldwin Auditorium. The movie begins at 8:30 p.m. Popcorn will be provided, while it lasts.
May 21 – Free Family Day at the Nasher Museum of Art
The Nasher Museum of Art opens its doors from 12-4 p.m. for Family Day. In addition to the museum's regular exhibits, there will be a dance performance by the Arts in Action LEAP Team and Poetry Fox will be there to craft original poems for visitors. You can watch an artist make original art or make some of your own. Admission to the museum is free from 12 p.m. to 4 p.m. on Family Day.
May 24 – Documentary Arts students show their work
Eight continuing education students from the Center for Documentary Studies at Duke will present their work as part of the program's graduation ceremony. Works of photography, audio and video will be on display to the public at 7 p.m. at the American Tobacco Campus' Full Frame Theatre. Afterward, the students will receive their Certificate in Documentary Arts.
For more Duke events, visit the calendar.