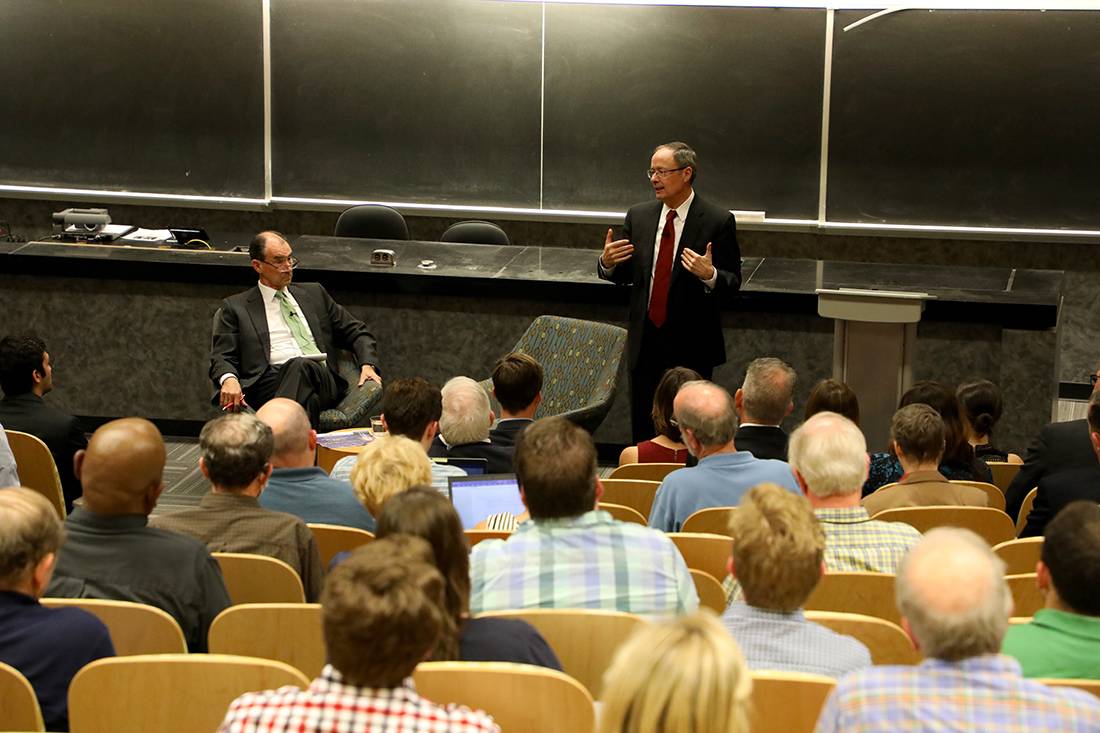 The United States' cyber defense capability is "terrible … it's wholly inadequate," the former head of the National Security Agency said Friday in a speech at Duke.
Gen. Keith Alexander, former commander of U.S. Cyber Command and former director of the National Security Agency (NSA) under Presidents Bush and Obama, said the nation's cyber offense is solid. But the U.S. needs to improve defensive capabilities to protect against the growing threats from outside the country, especially against businesses.
"Over the last decade cyber has become an element of national power used by us and by our adversaries. We need the defensive architecture that allows industry to defend itself long enough for government to (then) come in and help," Alexander told an audience Friday night at Gross Hall.
He called for a real-time system in which companies can jointly monitor attacks and block them instead of largely fending for themselves.
"That which we store our wealth on is also the biggest vulnerability we have," Alexander said. "It's not going to go away. ... We need to fix the defense."
Alexander was head of U.S. Cyber Command from 2010-2014 and director of the National Security Agency and chief of Central Security Service from 2005-2014.
He's now CEO and president of IronNet Cybersecurity, a company that provides strategic vision to corporate leaders on cybersecurity issues.
During the roughly 90-minute talk at Duke, Alexander shared insider stories, praised the work of NSA staff, took questions from the audience and made numerous jokes (i.e., he got the NSA job because selection was alphabetical.)
Along with a stronger cyber defense alliance between government and business, Alexander said terrorist groups like ISIS should not be allowed to use online platforms to recruit and share information on how to make explosives.
"I'd take them off" the Internet, he said. "Freedom of speech is for us, it's not for bad guys."
The current tensions with North Korea could also spark cyberwarfare, he said. "You can bet North Korea and others who get in a dustup with us are going to use cyber against us," he said.
One way to deter such attacks is to make it clear the United States will respond decisively, perhaps even militarily. Alexander said the current administration leans on the side of taking action rather than just talking about it.
Asked about shaky security information on which the U.S. based its invasion of Iraq, Alexander said "hindsight is 20-20," but noted Iraq had used chemical weapons in the past. He added that dismissing the Iraqi military after the invasion was a huge mistake.
Host Patrick Duddy, senior advisor for global strategy in the Duke University Office of Global Affairs and U.S. ambassador to Venezuela from 2007-10, said he, Alexander and Secretary of Defense James Mattis were classmates at the National War College.
Duddy asked Alexander about whether the United States Foreign Intelligence Surveillance Court -- or FISA Court -- which oversees requests for surveillance warrants against foreign spies inside the United States, provides adequate oversight on the intelligence agencies.
"They don't roll over, they're tough," Alexander said of the 11 federal judges.
As for allegedly listening to citizen's phone calls, Alexander said the agency monitors to and from phone numbers for possible terrorist connections, not content. "First and foremost, our government is here to protect you, not to listen to your phone calls and read your emails," he said.
Alexander said former NSA contractor Edward Snowden, who shared some of the most deeply held secrets of the agency, did huge damage to the nation's national security. He added that Russia, where Snowden is in exile, may have played a role in Snowden's actions.
He also offered encouragement to his mostly student audience. Noting the exponential advances in technology since the introduction of the iPhone 10 years ago, Alexander said: "We're going to solve cancer in your lifetime because of these (technological) breakthroughs," he said.
The talk was part of a new speaker series at Duke on the challenges of global governance, funded by the Ambassador Dave and Kay Phillips Family International Lectureship.