Three Seniors to Work with Global NGOs as Hart Leadership Fellows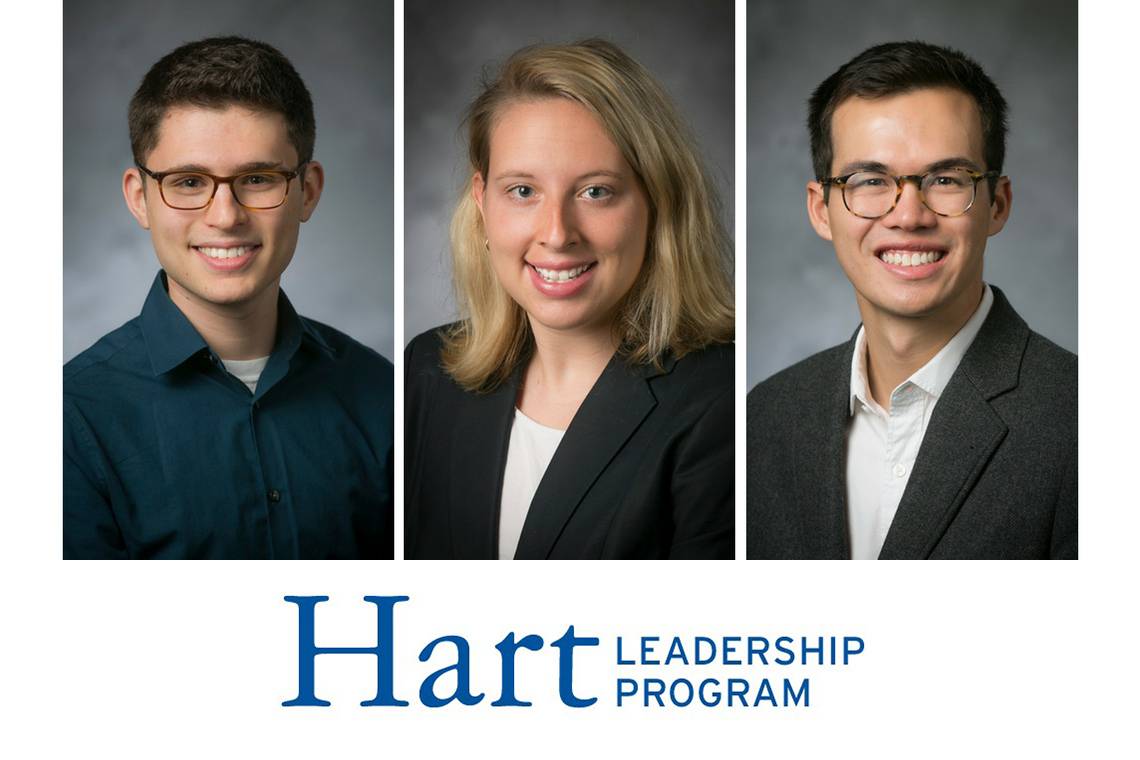 Three Duke seniors have been selected as Hart Fellows and will spend a year abroad working with innovative organizations facing complex social, political and humanitarian issues.
Since 1995, the Hart Fellows Program has placed recent Duke graduates with community-based organizations around the world for 10-month projects combining direct service, community-based research, and critical reflection. The program helps fellows develop their own visions for ethical leadership as they encounter the complexities of field work.
The Hart Fellows, part of the Hart Leadership Program, selection process is based upon criteria that include dedication to service, leadership skills, creativity and potential for professional growth.
Paige Newhouse will work in Friedland, Germany, where she will partner with the national NGO Caritas Friedland, which provides advice and support for refugees and migrants. Her interest in migration policy began in 2015, when she spent the year in Berlin working for the Berlin Policy Journal at the German Council on Foreign Relations at the start of the refugee crisis. Originally from Rushville, Indiana, Newhouse is graduating from Duke with a primary major in history and a secondary major in German.
David Rosen will spend his fellowship in Ketura, Israel, where he will partner with the Arava Institute, a leading environmental studies and research program in the Middle East. At Duke, Rosen has worked extensively on water infrastructure and international development projects in El Salvador and South Africa, as well as on political advocacy through J Street U, a student movement dedicated to supporting a two-state resolution to the Israeli-Palestinian conflict. Originally from Dallas, Texas, Rosen is graduating from Duke with a degree in environmental engineering.
Henry Warder will conduct his fellowship in Moshi, Tanzania, where he will partner with Nia Technologies and their partner clinic, the Tanzania Training Centre for Orthopaedic Technologists to study best practices for 3-D printed prosthetics. Warder's interest in prosthetics began in high school, and he built upon this interest extensively at Duke—from volunteering at a prosthetics NGO in Quito, Ecuador, to founding an on-campus organization that designs 3D printed prosthetics for Durham amputees. Originally from New York City, Warder is graduating from Duke with a degree in mechanical engineering.