Five Faculty Named Bass Fellows for Excellence in Teaching and Research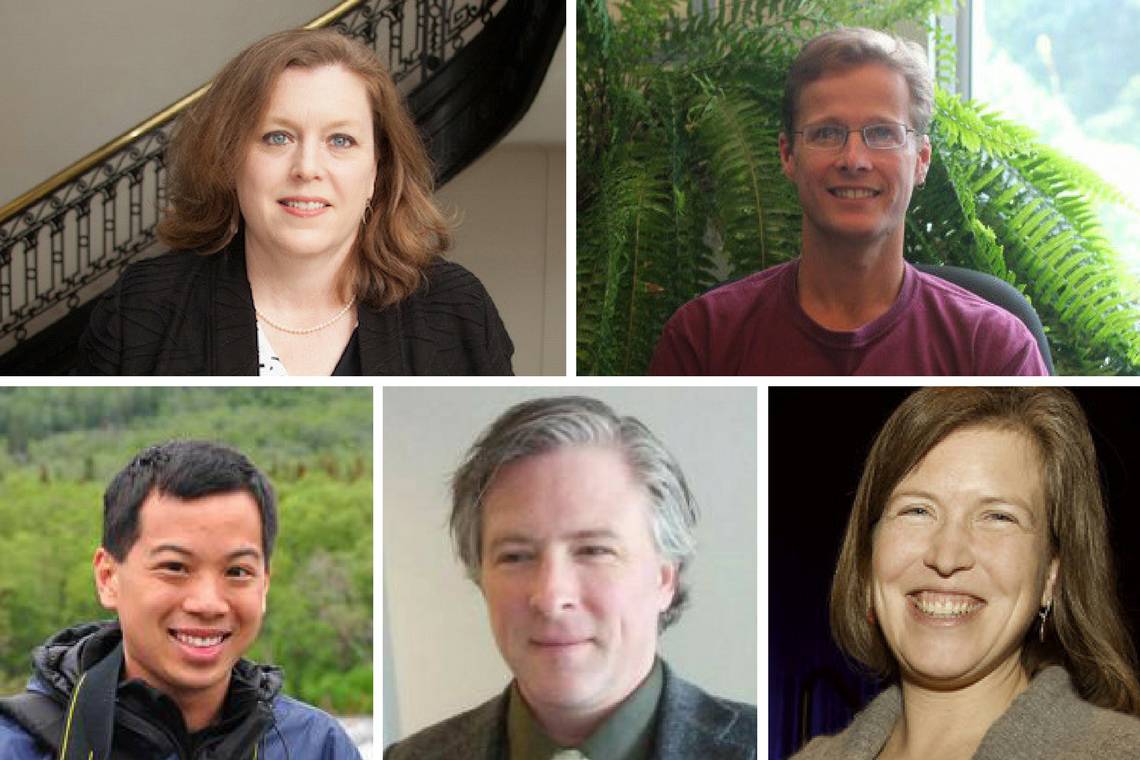 Five Duke professors have been selected as members of Duke's Bass Society of Fellows in recognition of their excellence in both research and undergraduate teaching.
"This honor exemplifies the best of Duke, where our top faculty combine outstanding teaching and world-class research," said Steve Nowicki, dean and vice provost for undergraduate education. "Bass faculty are nominated by their peers, and then vetted by a committee charged to establish both their reputation as internationally recognized scholars and their excellence as innovative and dedicated undergraduate teachers."
In 1996, Anne T. and Robert Bass offered $10 million as an incentive to Duke alumni, parents, and friends to endow chairs as part of the Bass Challenge for Excellence in Undergraduate Education.  The individual donor names each chair, and the Basses match those donor funds. These Bass chairs then recognize outstanding scholar-teachers who are strengthening undergraduate education at Duke. Bass professors normally hold the chairs for five-year terms and then become lifetime members of the Bass Society of Fellows, which now numbers 83.
The 2017 Bass Professors, who were honored Monday at a dinner at the University Club, include:
Emily Bernhardt, the Jerry G. and Patricia Hubbard Professor of Biology, is one of the leading stream-water ecologists in the world with influential publications. She fosters cross-departmental collaboration in addition to demonstrating excellent teaching and mentoring. Her presence at Duke, including her efforts raising donations to fund the Duke River Center, has convinced tenured faculty at other universities to join this institution. Bernhardt is full of ideas about research and constantly strives to make her teaching relevant to students. She redesigned the Biology Department's core ecology class to become a flipped classroom, in hopes of encouraging students to think more deeply and independently. Her teaching and mentoring make students constantly seek her as an advisor and mentor at various levels.
Kristin Goss, the Kevin D. Gorter Associate Professor of Public Policy, is founding director of the Duke in DC program. As a political scientist, she has influenced several fields of study including social movements, gender politics, and the policymaking process particularly in areas of gun control and women in politics. Through her research, she has addressed broad questions of importance in multiple disciplines. As a teacher, she has developed and successfully executed various undergraduate courses that have earned her stellar course and instructor ratings. She has been described as skilled in challenging students to dig deeply and develop well-founded arguments based upon factual evidence. Her teaching has translated into high demand for her to serve as an adviser who connects her research and scholarship to real-time political engagement in a nonpartisan and balanced manner.
Joel Meyer, Truman and Nellie Semans/Alex Brown & Sons Associate Professor of Molecular Environmental Toxicology, is recognized as a prolific researcher in environmental genomics and toxicology. He is also considered an outstanding, highly sought-after teacher and adviser at the Nicholas School of the Environment. Meyer has received the Outstanding New Environmental Scientist award from the National Institute of Environmental Health Sciences and has more than 70 peer-reviewed journal articles, including 28 over the last three years. As one of the best teachers and mentors, Meyer has created courses for undergraduate students including a first-year Bass Connections seminar, which he developed with one of his PhD students. Meyer has also been a key catalyst for vertically integrating the student body. His charisma, excitement for his subject matter, and excellent pedagogy continue to earn him outstanding student reviews.
Lenhard Ng, Eads Family Professor of Mathematics, is an associate professor in the math department and a top-level researcher whose work focuses on mathematical knot theory.  Ng's research specialty is often considered difficult and abstract, but he has been successful in both getting published in prestigious journals as well as making his work highly accessible to undergraduate students. Ng is devoted to teaching, using strategies that expand "pure" theory to include possible applications. This passion and commitment for teaching extend beyond Duke's campus and are reflected in Ng's mentorship work with local students from the North Carolina School of Science and Math.   
Marc Sommer, W. H. Gardner Jr. Associate Professor of Biomedical Engineering, is an avid researcher of neuronal circuits of the brain. He aims to understand how individual areas process signals and how multiple areas interact to cause cognition and behavior. His teaching evaluations describe him as an "outstanding, enthusiastic teacher and lecturer." Students have noted how they appreciate his "teaching of problem-solving skills" and his accessibility outside the classroom. Sommer is considered among the best teachers in the department. He also serves the department as a director of undergraduate studies, while continuing to demonstrate productive and exemplary research, despite his conceptually deep and experimentally difficult research.   
For more information, visit the Bass Society website.